St. Baldrick's Participants Shave to Save Lives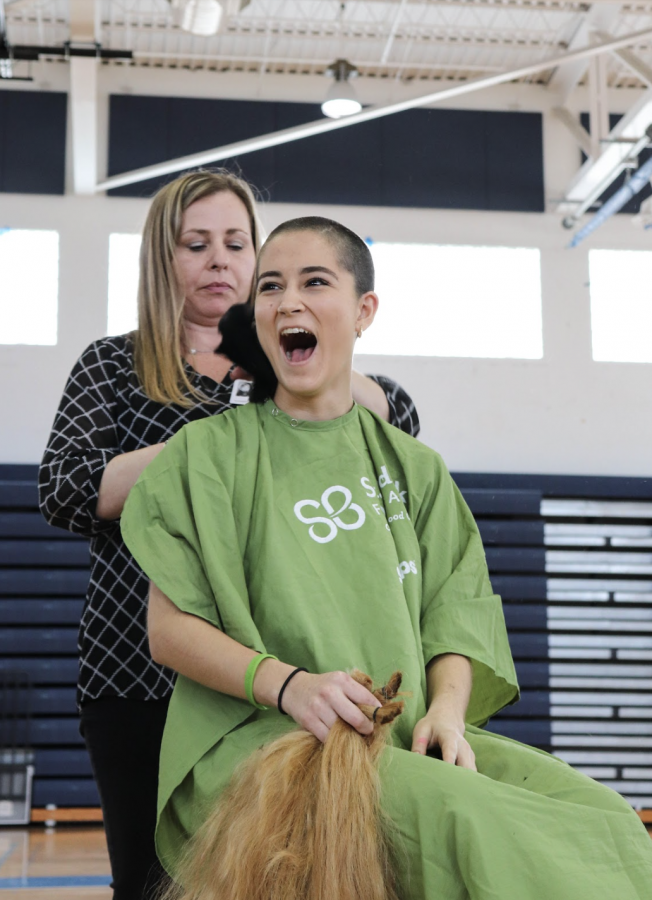 On Jan. 24, students across the gym reached out to pet something fuzzy, but it wasn't a dog: it was a freshly shaven head.
Students of all grade levels and majors took part in the 4th annual St. Baldrick's head-shaving event by donating hair, contributing donations, or enjoying live music and festivities.
"St. Baldrick's is important because it brings awareness to the need to research childhood cancer," vocal junior Amanda Shenkman said. "It shows that childhood cancer is different from the kind of cancer that adults may get and that it needs more funding."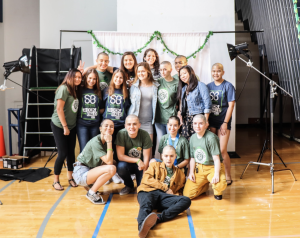 Of the 17 participants, 10 shaved their heads completely, and seven donated various lengths of hair. Prior to the event, St. Baldrick's club members were encouraged to fundraise for the organization through sponsored web pages that could be shared with family and friends. Fundraising was not required in order to participate, but nearly all members contributed funds collected from their pages, including Shenkman, who raised $835 for the cause.
"My mom and I both posted the [St. Baldrick's fundraiser] page to social media," Shenkman said. "She was a part of social media groups and forums and she got a lot of people to donate."
The head-shaving event was sponsored by St. Baldrick's club co-presidents, digital media seniors Sofia Beira and Sage Albert, who both joined the club during their freshman year. Beira and Albert have worked since the beginning of the school year to coordinate the venue, live music, photographers, and complete the extensive paperwork necessary to host a school-wide lunchtime event.
"The most rewarding part of it all is this day when you get to see people who maybe aren't a part of the club come together, shave their heads, and cut their hair," Albert said. "It's so beautiful to see anyone who's coming to shave their head for this amazing cause."
Although the event is hosted primarily to fundraise, some students shaved their heads to offer emotional support to those impacted by cancer. One of these students is communications sophomore Milani Gosman, who hopes to redefine societal beauty standards associated with hair.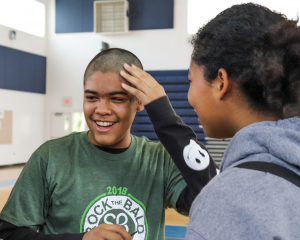 "I believe that in today's society we have such a vain perception of what beauty is," Gosman said. "I had so many people come up to me and say 'please don't do that,' but the fact that you believe that because I have no hair I'm not going to be beautiful shows that beauty standards shouldn't be set to the length of your hair."
This year, Dreyfoos raised over $4,000 that will be donated directly to the St. Baldrick's Foundation and later distributed to childhood cancer research facilities across the country. In the past four years, Dreyfoos has raised over $25,000 for these facilities. Beira and Albert hope that this event will encourage more students to fundraise for cancer research and shave their heads in the future.
"Shaving your head is so important to make a statement, but that doesn't last forever," Albert said. "The money that's raised, that is what's going to find the cures and find better treatments. That's the long term importance of the event."
About the Writer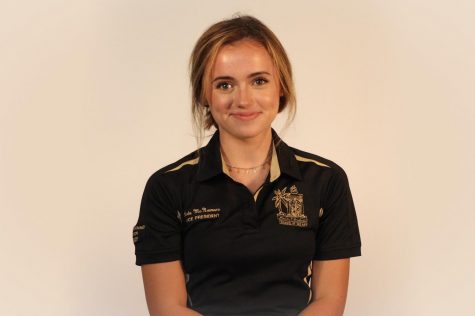 Kate McNamara, Editor in Chief
Communications senior Kate McNamara is a third-year staffer and one of the editors-in-chief of The Muse. McNamara is also one of the vice presidents of...