DREYFOOS NEWS BRIEFS: 10/9
Controversial​ ​independence​ ​vote​ ​in​ ​Spanish​ ​region​ ​of​ ​Catalonia​ ​shut​ ​down
In Spain's northwest region of Catalonia,​ ​a referendum for independence was violently shut
down by national police. Officers stormed into polling areas around the region, shutting down
voting operations. Although less than half the electorate voted, 90 percent voted in support of
secession. Protests from both the separatist and nationalist parties had erupted around the
country leading up to the Oct. 1 vote, each arguing their own side. As Catalonia is one of the
most prosperous regions in Spain, secession would result in a 20 percent drop in the country's
GDP, according to The Telegraph. The President of Catalonia is set to declare independence
from Spain after approval from local parliament, according to the Associated Press. "We must
go forward, with serenity and determination," King Felipe VI said in an address to the nation. "In that road, in that improved Spain that we all want, Catalonia will be, too."
Deadliest​ ​mass​ ​shooting​ ​in​ ​U.S.​ ​history
Bullets rained down on a Las Vegas country music festival the night of Oct. 1. The sniper,
identified as Stephen Craig Paddock, was a 64-year-old caucasian man from Nevada. The
attack left 59 dead and more than 500 injured. A motive for the attack has not yet been
identified. "We have determined to this point no connection with an international terrorist group,"
FBI agent Aaron Rouse said in an official statement. Paddock had no criminal record or history
of violent actions. However, similar arms were found inside his Mandalay Bay hotel room.
Paddock's actions have once again ignited the debate over U.S. gun regulations. In a shocking
announcement, the National Rifle Association condemned the use of "bump stocks" and
recommended regulation on their use. Paddock used the illegal bump stock modification on his
semi-automatic gun, which allowed more bullets to be fired, resulting in more fatalities.
Fifteen​ ​Cuban​ ​diplomats​ ​expelled​ ​following​ ​mysterious​ ​attacks
United States diplomats based at the embassy in Havana, Cuba experienced mysterious
hearing loss nearly a year ago, starting a diplomatic saga that extends through today. Although
the true perpetrators are still unknown, the U.S. government expelled 15 Cuban diplomats from
the embassy in Washington D.C. in retaliation this week. This response does not prove Cuba
culpable, but rather, that the Cuban government failed to stop such attacks from happening, as
clarified by U.S. officials. The Cuban government denies any part in this incident and
condemned the U.S.'s response to this event. The country had been an enemy of the U.S. for
decades, but former President Barrack Obama worked to ease tensions by ending the
long-standing trade embargo on the country. Since then, diplomatic relations had been warming
until the attacks caused a setback for the relations between the former foes.
Your donation will support the student journalists of Dreyfoos School of the Arts. Your contribution will allow us to purchase equipment and cover our annual website hosting costs.
About the Writer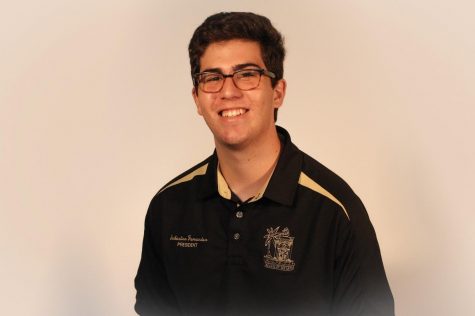 Sebastian Fernandez, Managing Editor
Sebastian Fernandez is a third-year staffer as well the digital managing editor for The Muse. Sebastian works hard to increase the digital footprint of...