Short on time? Listen to this story on Soundcloud.
One year ago, a phone call went out to the campus community. It was the first time Principal Blake Bennett introduced herself as Dreyfoos' new principal. 
"There's a lot of people in this world who don't enjoy their jobs and who don't enjoy what they do every day," Ms. Bennett said. "I feel so bad for the people like that, but I can truly say I get up every day, and I come to work, and I have the best job on the planet."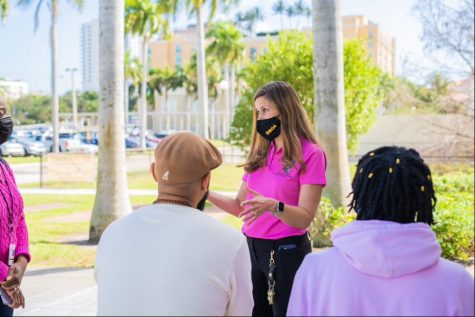 Prior to working on campus, Ms. Bennett was the principal of Wellington Landings Middle School. During her first year on campus, she faced challenges with navigating COVID-19 protocols. In addition to worrying about how to protect students from outside dangers, Ms. Bennett needed to worry about student safety on a microscopic level from a health perspective.
"I'm a worrier by nature," Ms. Bennett said. "I worry about everything, so I'm always wonder(ing), 'Are you doing everything you can to keep everybody safe?'"
Ms. Bennett structured her plan in four tenets, including establishing effective communication, assessing areas for improvement, analyzing school culture to adjust learning processes accordingly, and meeting the needs of students. She emphasized that these goals could always be worked on and are always being revisited. 
One example of these came during Spirit Week. This year, unlike the past, the school's schedule was changed in order to accommodate a reasonable lunchtime.
"When we were looking at the schedule, I was trying to figure out, 'How are we supposed to get all these things done and people are supposed to eat lunch?'" Ms. Bennett said. "Let's do a longer lunch (so) we don't have to rush through generation dances or Field Day activities, (and) we can actually enjoy them. Everybody then could still have a chance to eat and then get to class."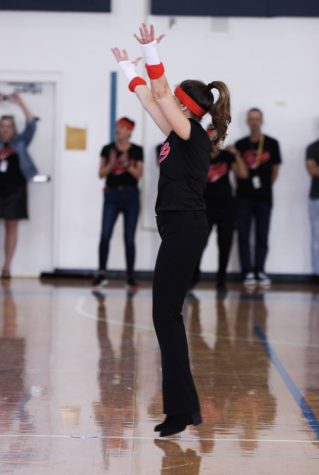 Beyond her four overarching goals, Ms. Bennett has focused on maintaining a "positive" attitude throughout the year. Every morning, Ms. Bennett welcomes students when the three chimes of the PA system ring at 8:30 a.m. 
"I think no matter what we do, whether it's a weekend or a school day, we need to start the day in a positive manner," Ms. Bennett said. "You need to set an expectation for the day."
Now being a year into the job, Ms. Bennet is already preparing for next year. Ms. Bennett is planning a joint venture with Palm Beach State College to make it easier for high school students to achieve an Associate in Arts (or AA) degree, working to foster the school's safety, and organizing greater campus safety.
"Our students are absolutely amazing. Our staff is phenomenal," Ms. Bennett said. "Everybody here is together for a common purpose, and it makes it so much fun every morning for the past year to get up and come to work."