Social studies teacher Michael Esopakis (or, "Mr. Eso") is a West Palm Beach native — "Born and raised," as he puts it. He also has a Greek flag draped alongside Beatles rock-and-roll posters in his classroom.
Mr. Esopakis spent his childhood summers in Greece on the island of Crete, where his parents emigrated from. To this day, he still frequents his home there.
"Going to Greece in the summers really allowed me to open up my mind (to be) even more global and understand that there are different cultures and ways of living," Mr. Esopakis said. "Even here in South Florida, we have so much diversity. Growing up, I had a lot of friends that were from different parts of the world. (I was able to) understand that we could be American, but we all have our own specific cultures that intertwine to create this American society."
Strings senior Nicholas Manganiotis formed an instant connection with Mr. Esopakis over their shared Greek heritage. 
"I don't really know that many people in South Florida from my own country, so that was definitely something for me," Manganiotis said. "Mainly when I speak to him, it's in Greek. We talk about current events, sporting events, or just Greek culture. It's also really nice to practice with someone at school because I don't have the opportunity besides my family."
Growing up at the intersection of Greek and American culture, Mr. Esopakis was intrigued by the arts and discovered a growing passion for music in his childhood. He taught himself the electric and acoustic guitar in middle school, composed original songs, and continued to play in bands all the way into college. His pursuit of music and his involvement with the music scene in West Palm Beach are the main reasons why he stayed local for college at FAU. He played in local bands at O'Shea's and Respectables, immersing him into the early 2000s music scene.  
"It was a pretty cool environment because you were able to intermix and make friends from different bands," said Mr. Esopakis. "You would support other bands and other musicians. Different bandmates would come and play with your band, and you would sit in on their band. And then, their following would come to your following."  
Becoming a teacher was not always part of his plan. As a political science major in college, Mr. Esopakis originally planned to work as an agent for the Department of Homeland Security. However, in early 2003, the government cut funding to agency jobs to support the war efforts in Iraq. His friend, who was a local private school principal, offered him a position to teach in Deerfield Beach while the government budget was being ironed out.
"So, I did that, and then I loved it," Mr. Esopakis said. "I thought it was just so much fun to teach, especially at the high school level. Teaching government is teaching seniors, and by then, the students are very mature. Most of them were excited about learning about politics and government. And I just got the joy of teaching. I was like, 'You know what, I'm going to do this forever.'" 
"Plus, it gives me my summers off," he added with a smile.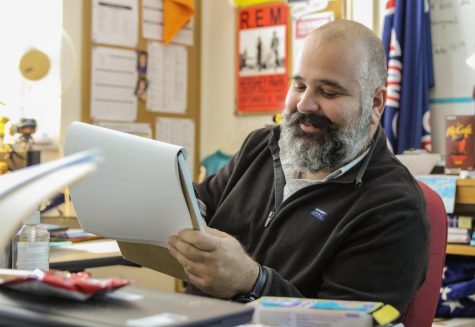 As Mr. Esopakis approaches his 15th year of teaching, his expertise as an instructor and admiration for the arts brought him here to this community. 
"I just loved music as a kid," Mr. Esopakis said. "I love the arts and especially music. I'm really bad at painting and doing other techniques, but I love it. I love witnessing it. I love seeing people do it. So, I just love expressing yourself through the arts."
Mr. Esopakis said he treasures every opportunity he gets to see the artistry and hard work of students. 
"Mr. Esopakis is very interested in what we do with our art majors at Dreyfoos," band senior Ellen Dahlstrom said. "I asked him if he wanted to hear my pre-screen recordings for college auditions. He said yes, so toward the end of class after the lesson was finished, he played one of my pre-screen recordings, the 1st movement of the "Strauss Oboe Concerto," for the class. He kept his eyes glued to the screen, and after it was over, he kept saying 'Wow!'"
With wide eyes, Mr. Esopakis recounts his first concert here when he viewed the Sept. 30 dress rehearsal performance of "Dvořák Symphony No. 8," performed by the Philharmonic orchestra. 
"I was blown away," Mr. Esopakis said. "I couldn't believe how professional the students were even when I was looking at my own students from my government class, thinking, 'I can't believe how good they are at their instrument.' And it just blew me away. Completely. I felt like I was watching something professional at the Kravis Center like the Saint Petersburg orchestra came from Russia. It was unbelievable."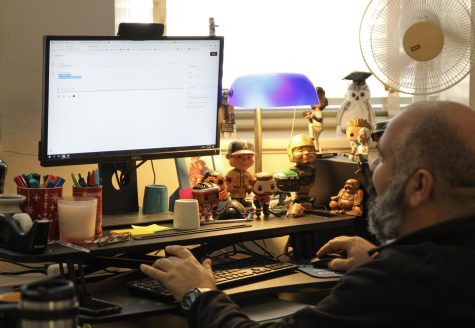 After his first semester of teaching here, he says he could discern a difference in the campus community from the culture of other high schools. 
"What I'm noticing at Dreyfoos is how friendly everyone is and how polite everyone is," Mr. Esopakis said. "I don't think people realize it … There's something special here, something magical. You see it in the character of the school, the attitudes of the students, the teachers, and staff. It's a very awesome environment to work in. That's for sure."
Ross Vening, a fellow social studies teacher, describes Mr. Esopakis as a family-oriented person. And Mr. Esopakis views himself as one of simple values.   
"I like (the Greek) mentality of lifestyle, this notion that we have to enjoy life," Mr. Esopakis said. "We have to pause sometimes and not just think of life as making money but enjoying it. It's a Mediterranean thing, where the lifestyle is that we need to work. It's like that saying where you need to 'work to live, not live to work.' That's one of the beautiful things."