February was Black History Month, an annual celebration of black heritage and achievements throughout U.S. history. To honor those achievements, Black Student Union Co-President and communications junior Emily Elias helped organize Black History Week, which occurred from Feb. 25 to March 1. Club members aimed to both recognize and celebrate influential black movements and leaders; the week focused on individual time periods.
"Acknowledging black history is so important because now more than ever, people want to know how to properly appreciate culture and how to be culturally sensitive," Elias said. "Black history is not a separate event that only impacted black people; black history impacted everybody then and now."
Elias is one of several Black Student Union leaders who planned and scheduled the week's events. Her goal is to educate her peers and make effective change.
"We really wanted to do something to celebrate Black History Month," Elias said. "Not only is it the shortest month of the year, but it is so often looked over. We wanted to give the club the opportunity to celebrate the ancestors and others the opportunity to join us in the festivities."
The week consisted of themed days that highlighted the African Caravan and individual, recent decades of black art and activism, including a recreation of the Selma Freedom March and performances of motown music. The club circulated a flyer introducing those days' activities to the student body.
______________________________________________________________________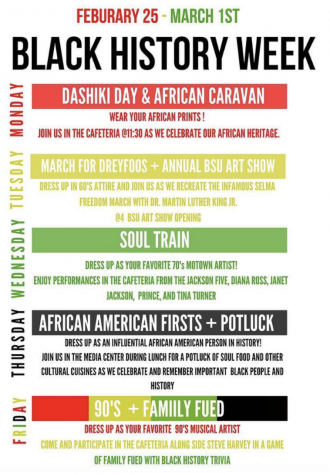 ______________________________________________________________________
"The process took two weeks to logistically figure out," Elias said. "The hard part was really getting people to be involved."
One of the Black Student Union's concerns was the potential disassociation of the student body. Turnouts have been short for multicultural clubs' events this school year; after a mass shooting in a Pittsburgh Synagogue there was low attendance for the Jewish Student Union's memorial vigil.
"I was really disappointed in the turnout of the vigil," strings senior and Jewish Student Union Co-Vice President Hayley Huber said. "When the problems don't affect you directly, there's no apparent reason to take action. That's simply not the case."
Despite hesitations, Elias and the Black Student Union pushed forward and ultimately remained determined. Assistant Principal Teneisha Finney is the club sponsor and handled approval, as well as other endeavors. Elias and other BSU leaders planned the activities and helped set up.
"The main goal of Black History Week was to immerse the Dreyfoos community in black culture," visual junior and Black Student Union Treasurer Charlene Mbaeri said. "[We wanted to] encourage the celebration of black history and create a week where the black students at Dreyfoos felt safe to express themselves and learn more about our history."
BSU leaders are planning ahead for next year's event, aiming to alter scheduling and hopefully gather more student participation. Some of the difficulties in the organizing process involved the time commitment.
"The week has been tough because I've been missing a lot of class time to set up and pack things away," Elias said. "So for next year I will make this week a month-long thing with one event per week.
Elias feels that the week was a success for Black Student Union. Throughout the school year, BSU has planned other well-received events; the club prepared an African segment for the multicultural show and on some Fridays members throw a mini block party in the cafeteria. At meetings, the club discusses pop culture, politics, colorism, and the difference between racism and prejudice.
"Our generation is reversing whitewashed history," Elias said. "Acknowledging black history is a part of that change."