BEN MYERS: A DIGITAL CREATOR
With his eyes set on excellence, vocal junior Ben Myers dedicates himself to designing digital creations. Whether through coding, mobile applications, or producing processed music, Myers finds a way to make an impact.
"It's all just motivation-based," Myers said. "If you do what you're passionate about, it'll just produce itself."
And produce it has: Myers' passion for coding led him to create Chest-Quest, a mobile game that is currently available on the Apple App Store. The app description explains that users can "tap [their] way through Chest-Quest, an addicting collector game for any type of player! Unlock over 150 chests to complete your Collection!"
"I like a game with complexity and the ability to unlock stuff," Myers said. "To code this, I have to know the language, and I have to also know how to use the App Store."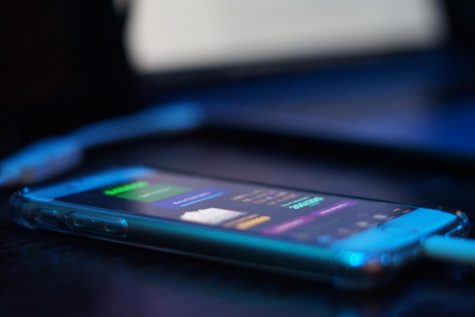 Applying the knowledge he has learned about the complexities of coding since sixth grade, Myers was able to create the app while navigating the bureaucracy of approval from the Apple App Store.  
"Once you've loaded everything, and you're connected to your computer, you run it, and it'll download to your phone," Myers said, gesturing to the app open on his cell phone. "Right now, the app I have downloaded here is the alpha version from my computer. I still have to go through all the steps on the App Store website and submit the update for review. I have to wait a day or two before that, then it's online."
When it came to identifying the actual objective of the application, the task was easy for Myers.
"The inspiration for this game was to prevent people from being bored because this is a tapping game," Myers said. "So, when I'm bored, I would just tap it."
This novel idea has translated into real success—nearly 200 users have downloaded his app. One online reviewer even went as far as to say "This game helped me through the hardest point in my life…it gave me something to live for." The app has garnered a 4-1/2 out of 5 star rating.
However, those who have downloaded his app are not the only ones who have become familiar with his coding prowess. Myers is the founder and president of Coding Club, where he teaches workshops about how to use the coding language Processing.js, a subclass of JavaScript.
"One of my inner passions is to teach people and help," Myers said. "Coding Club is just a fun way to learn to code, and it's lightweight content because it is an important skill, especially with the future."
The first of its kind at Dreyfoos, Myers' Coding Club has already made an impact on other students.
"I thought it would be really fun to join [Coding Club] and possibly learn something new," theatre sophomore Demi Master said. "Before I started the club, I had absolutely no idea what coding was or how it worked, but now I understand and could actually code my own game."
Outside of his club, Myers uses YouTube as a platform to share his passion for music with others.
"I made a YouTube channel because people can see my work," Myers said. "It obviously doesn't get a lot of attention, but I know if I ever wanted to show someone, it's right there if I want to."
The songs published on his GrooveAudio channel include covers of popular music along with his own creations. His experience with producing music shares a similar backstory to that of coding.
"I started with GarageBand when I was in middle school, and I got really proficient at that," Myers said. "Then I upgraded my tech and I got better at it."
He uses equipment like a launchpad to create beats and rhythms. For Myers, the work he does is rewarding. From his coding feats to musical triumphs, it all comes down to a simple mantra.
"I really like creating things that other people can see," Myers said. "As long as you want to do it, and you have the motivation, it's definitely possible."
Your donation will support the student journalists of Dreyfoos School of the Arts. Your contribution will allow us to purchase equipment and cover our annual website hosting costs.
About the Writer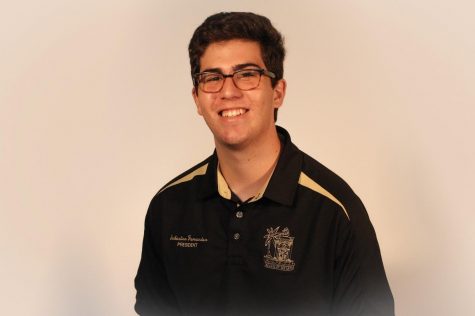 Sebastian Fernandez, Managing Editor
Sebastian Fernandez is a third-year staffer as well the digital managing editor for The Muse. Sebastian works hard to increase the digital footprint of...