NITE BOX: STUDENT BAND TAKES ON SUNFEST
Hang on for a minute...we're trying to find some more stories you might like.
Nerves build up and palms begin to sweat. Two weeks of rehearsals every day were spent meticulously learning every note to each of the 12 songs included in an hour and fifteen minute-long set. As the amps rev and microphones are checked, the musician's first step onstage shifts the dynamic of pressure. Anticipation fills the air as the crowd awaits the first guitar strum.
   Student band Nite Box received the opportunity to perform at SunFest, the annual South Florida music festival located on the West Palm Beach Waterfront. While thousands of people attend the festival annually to enjoy the multitude of musical genres, Nite Box played on Saturday, May 5, at the Tire Kingdom stage from 6:45 p.m. to 8 p.m.
"My favorite part of performing at such a big event was honestly seeing all my friends and people that cared and came out to support," digital media sophomore and guitarist for Nite Box Beau Eavenson said. "It's also just a whole different vibe to be up there instead of at a smaller event."
Nite Box is made up of band junior and frontman Dylan Thomas, his younger brother and visual freshman Jacob Thomas on the bass guitar and vocals, Eavenson on guitar and vocals, and Jupiter High School junior Walker MacMillan on the drums.
"Hopefully, after SunFest, we can get more out there and get a bigger following, because there were a lot of younger kids who I hadn't seen before there," Dylan Thomas said. "The main goal was to get exposure."
The performance was the band's first one together at SunFest, but Dylan Thomas had formerly performed at the event with his previous band, Jumbo Shrimp, in 2015. Nite Box was selected to perform by the committee for the music event through a website called Reverb Nation, where up-and-coming artists are featured and discovered.  
"The last time I played [at] SunFest was during the day, and I was the guitarist rather than the frontman so I think there [were] more nerves," Dylan Thomas said. "That might have also been because there was a lot more people this time, and we had such a good time slot. We were nervous but it all worked out in the end."
The creation of the band was spontaneous, with personal friendships leading the way. Originally, Dylan Thomas and Macmillan were in the band together, writing songs together at Thomas' house. Eavenson and Jacob Thomas soon joined after helping the two prepare for a show where they needed people to fill in for guitar and bass.
"They couldn't perform the song 'Narnia' without other people," Eavenson said. "They needed [Jacob and I] to fill in for the guitar and the bass, because Dylan was already playing keys and Walker was playing the drums. Dylan taught us the song that night and then we played with them and everything just kind of happened."
Once they were fully formed, the band grew into their positions and learned about both the responsibilities and teamwork required to play together.
"The most important thing about the band, to me, is just about having a good time," Jacob Thomas said. "Though there's times where you have to be more serious, after that, it's just about playing the music and trying to have fun."
In their time as a band, Nite Box has acquired loyal fans within the Dreyfoos community; both students and teachers in the audience sported Nite Box merchandise as they arrived to watch the performance.
"I have never seen any of them play that well together," digital media sophomore Jake Stewart said. "On top of seeing my friends play on that stage, I was proud at how well they were doing."
During the set, the selection of songs engaged more and more audience members, as the audience size grew during the duration of the performance. They began the set with a cover of MGMT's "Time to Pretend", continuing with a cover of Nickelodeon's "Drake and Josh Theme" song.  
"We chose to play those covers because they were songs that really stuck with us," Eavenson said. "We have played MGMT's song every show since our first. In a way, it's tradition."
In addition to the setlist drawing a crowd, the band's lively energy and stage presence captivated the audience. Even with the fact that MacMillan was feeling ill and threw up during the performance, the band still remained excited throughout and continuously radiated cheerfulness.
"After throwing up for the first time during one of our breaks between songs, I just kept telling myself 'the show must go on dude it must go on' and so I kept going […]," MacMillan said. "It just kept getting more intense and I didn't stop because I knew I came there with a mission and that was to play an amazing set."
Their dedication to the craft was evident, as the band members displayed all their technical skills, along with letting their personal relationships shine through.
"You have to find the balance between friendship and business when you're on stage," Dylan Thomas said. "At the end of the day, the band is business."
The guitar strums come to an end, and the beads of sweat roll down faces as arms raise in the audience, waving goodbye. The culmination of preparation has paid off, and they take steps off of the stage.
The band ended their set with a new song titled "Those Days", which was released on May 8 on both Apple Music and Spotify. Nite Box plans to continue writing new music to produce throughout the coming year.

About the Writer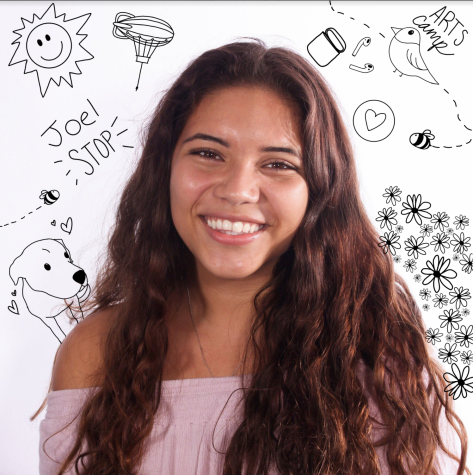 Anamaria Navarrete, Assistant Managing Editor
Communications junior Anamaria Navarrete is a second-year staffer for The Muse and editor of  this year's Features section. She enjoys all sorts of...