Dreyfoos Talent Takes the Red Carpet
Hang on for a minute...we're trying to find some more stories you might like.
For many, stepping out of a limo onto a red carpet with cameras flashing and dozens of people asking for a photograph may seem like a dream. For strings sophomore Nicole Lickstein, this was a real experience; she attended the Latin Music Billboard Awards in Miami, Fla on April 28.
"My publicist had arranged for my single, 'Ex-Crush,' to be put in all of the celebrity gift bags," Lickstein said. "A little later, she called my mom and told her I had the opportunity to actually go to the Billboards, walk the red carpet, get interviewed, and watch the show."
Lickstein's family was not allowed to walk the red carpet with her since it was only for artists, but she didn't have to endure walking the red carpet alone. Paulina Rubio, a famous musician and former "X-Factor" judge, walked beside her throughout the night to help her feel more comfortable.
"Since [Rubio and I] have the same publicists, we went and picked Paulina and her boyfriend up from her house in Miami and then went to the Billboards together," Lickstein said. "Just being able to talk to this amazing artist who has won several Grammys herself was awesome."  
While getting the final touches done with her hair and makeup, Lickstein felt her nerves building up as she anticipated attending a televised event. However, as soon as she stepped out of the limo, her butterflies disappeared, and she was left with pure joy.  
"I love performing, so I wasn't expecting to be as nervous as I was," Lickstein said. "But when I stepped out of the limo and started talking to people and they started asking for pictures of me, all of my nerves went away and I was so happy because this is what I want to do."
Lickstein was also interviewed by Hollywood TV and other companies to promote their products and her first album, "626," which will be released in August. Besides all the interviews and photos, she also had the opportunity to watch the entire show from the audience.
"After I got inside the actual event, I went behind the stage and saw a lot of the performers getting ready to perform," Lickstein said. "I had a floor seat and I was on the third row, so the announcers were right there. I got to watch all of the artists perform."  
Lickstein ended the night "the Hollywood way" by attending the Universal afterparty. At the afterparty, she was interviewed by more people who had attended the event and was able to meet many other artists, like Marc Anthony.
"Basically, how it works is you have to go to one afterparty for publicity, so my management chose Universal, but there had been a bunch of different ones going on around Miami that night," Lickstein said.
Lickstein is very grateful for this opportunity. With her album coming out in the near future, she hopes to return to the Billboards next year, promoting herself as an artist.  
"I feel so grateful to have had this opportunity," Lickstein said. "It was just such a blessing that I was even able to go. I really hope I will be able to attend more events in the future. I remember my feet were killing me by the end of the night, but I had no reason to complain considering not many people get to do things like this. I'm so happy I was able to."    
About the Writer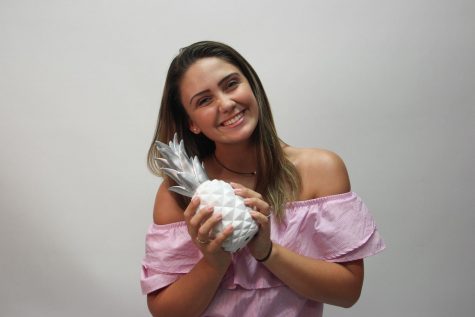 Morgan Scott, Cover Story Editor
Communications senior Morgan Scott is a third year staffer and one of the three cover story editors of The Muse. Outside of The Muse, Scott serves as Editor-in-Chief...