Bicker takes Bahrain
Hang on for a minute...we're trying to find some more stories you might like.
Most people consider moving to a foreign country miles away as a life changing experience. For social studies teacher Dr. Gary Bicker, this feeling is a reality. Dr. Bicker will be moving after the end of the school year to Bahrain, a small island nation off the east coast of Saudi Arabia. He will be working as an eighth grade social studies teacher for a K-12 international private school.
"It is an international school with an American curriculum. The parents who put these kids in the school want a better quality of education for their children," Dr. Bicker said.
Finding new friends and integrating into a country takes time, but with a large portion of the population being British, Dr. Bicker believes he'll fit in well when he moves.
"Bahrain has a huge British expat community and was a colony until the 1970s. I don't know any Brits here in Florida, and I have never felt like I truly fitted  here," Dr. Bicker said. I think I will feel more at home [in Bahrain]."
Although the school follows an American curriculum, there are still many differences between Bahraini and American schools.
"I will only have 10 students in each of my classes," Dr. Bicker said. "A few years ago at Dreyfoos, I had 46 kids in one of my classes so it will be a lot less work. Also, an interesting difference is weekends [in Bahrain] are on Friday and Saturday, so school runs Sunday through Thursday."
Dr. Bicker will be fairly well off once he moves. The cost of living in Bahrain is much less than in the United States making it possible for Dr. Bicker to work less yet still live comfortably.
"My new school in Bahrain is giving me a three-bedroom villa in a gated community, all expenses paid, and a very generous package," Dr. Bicker said. "My quality of life will be significantly better. Right now I work three jobs to pay my bills. I won't have to do that anymore."
Theatre sophomore Isaac Portnoy and other students of Dr. Bicker believe that he was a great teacher and will be missed.
"Dr. Bicker was an amazing teacher. He took many challenging concepts and turned those concepts into something easy and understandable. I will definitely miss him, but I'm glad he'll be doing what he likes," Portnoy said.  
Although Dr. Bicker is ready to embrace the new cultures and peoples, he will still miss the memories he made during his time in Florida.
"The thing I will miss the most is the friendships I have developed in Florida. I will miss the students I have taught here at Dreyfoos," Dr. Bicker said. "And of course, I will miss the beaches."
About the Writer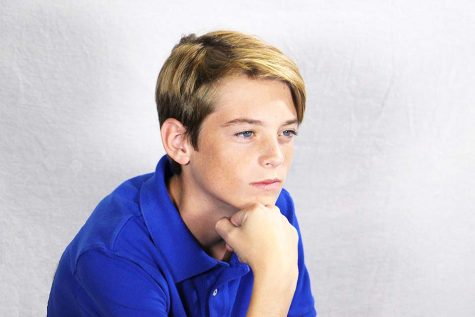 Ryan Freese, Sports Staffer
Communications sophomore Ryan Freese works for the Layout and the Sports sections of The Muse. Freese discovered his passion for writing in his 6th grade...