TIKTOK: THE EASY STREET TO FAME, FORTUNE, AND SUCCESS
*Record Scratch*
*Freeze Frame*
You're probably wondering how I got here. Well, when I was in my freshman year, I regularly walked in on my sister making lip-sync videos on the app "Musical.ly." The fact that she could bring herself to download such an embarrassing excuse for an app made me question two things: her sanity and whether or not we were actually related. 
According to the HuffPost, by 2017 (my sophomore year) "Musical.ly" had over 100 million users. Among the most famous were teenagers with handles like BabyAriel, Loren Gray, and, perhaps most infamous of all, Jacob Sartorius. 
Back in their day, these kids were sensations. If you had a Musical.ly account, you were watching videos of 14-year-olds in their rooms dancing or lip-syncing for fun. Now, I was 15, and too cool to be caught dead doing this. So, instead, people like me participated in the ridiculing of kids a year younger than us. I'm not quite sure why, but that culture seems to have remained a common thread throughout the generations. 
In November of 2017, the Chinese company ByteDance purchased "Musical.ly" and merged it with their own app, "TikTok." Users, like my sister, opened the childish and uncool app that they knew as "Musical.ly," only to discover that it was no longer lame. "TikTok" had new features that allowed for collaboration, such as "duetting" in which you  react to or recreate other popular videos. The app also generates something called a ForYou Page, which automatically generates a feed based on personalized content for the viewer. 
So it came to be that "TikTok" morphed from a platform for tweens to lip-sync into the entertainment revolution that is the land of e-boys and soft girls.
Since then, there have been two types of people in this world: people who enjoy TikTok and cowards. I don't say this to insult them; I truly pity them.
The main reason I've heard peers "refuse to download that app" is the same reason I used to tell my sister: It's embarrassing. But since my freshman year, my palette for entertainment has been refined, and I've determined that TikTokers are the elite humans. They don't have shame—they only have fun. I've come to realize that what we define as embarrassing is only ever really determined by ourselves. So once we expand our views and start blurring the lines between what is considered "cool" and "not cool" we will enjoy our lives that much more. 
That person at the table in math class who doesn't understand the reference to the newest dance craze or the latest POV is really only depriving themselves of top notch entertainment.
Fast forward to my senior year: I've spent more late nights watching TikToks than I should be willing to admit, but I am not nor will I ever be ashamed of it. And neither should you.
If you are or know a TikTok beginner who is searching for some high quality content, may I suggest: 
FOR POVS: 
@rileyhubatka
@austin_maguire
FOR HIGH-INTELLECT COMEDY:
@aaronhullll (my favorite TikToker ever)
@yungjackinnanen
JUST FOR GIGGLES:
@straight.cheese 
@stinkyrattictok
@thatsjustchris
@sugarramen
FOR COOL TRANSITIONS:
@zarbruh 
@kylelunski13
@vhackerr
@threedotcorey
FOR AWESOME DANCES:
@whitebathroomboy
@nicemichael
@luke_1417
FOR PEAK ENTERTAINMENT AND NEWS COVERAGE:
@themuseatdsoa
Your donation will support the student journalists of Dreyfoos School of the Arts. Your contribution will allow us to purchase equipment and cover our annual website hosting costs.
About the Writer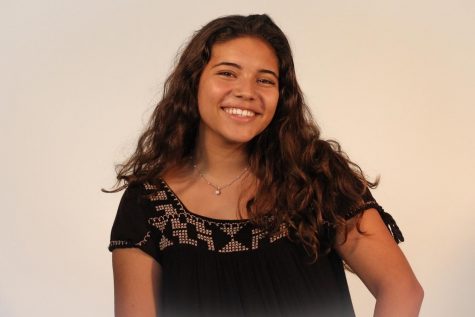 Anamaria Navarrete, Assistant Managing Editor
Communications senior Anamaria Navarrete is a third-year staffer for The Muse and an assistant managing editor. She enjoys all sorts of music and is very...