"Lifeline" creates immersive story in space
You are Cadet Taylor's only hope. His lifeline.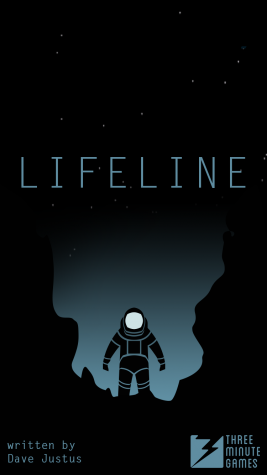 In Three Minute Game's mobile app "Lifeline," Taylor is a stranded astronaut whose ship, the Varia, has crashed on a faraway moon. Taylor survived the crash by getting into an escape pod, but he has no food or water and doesn't know if any other crew members survived. Somehow, he manages to establish a communication connection — with you.
"Lifeline" uses technology to create a modernized version of the "choose your own adventure" story form. After Taylor sends a series of short messages similar to texts, players choose from two response options. Some are as simple as "Are you all right?" versus "Where are you?" Others can change the course of the story, and Taylor's wellbeing, entirely. Taylor develops a quick trust in the player, and asks them what he should do next. He may ask what part of the moon he should explore, or where he should sleep. The player's responses can potentially kill Taylor. If this happens, the player must backtrack and select another answer choice.
"Lifeline" enhances the immersion of the simulation by working in real time. When Taylor leaves to do something, the app will display the message "[Taylor is busy.]" The length of time he is away depends on the task. He can be away for as little as a couple minutes to as much as a few hours. When Taylor returns, the app will send notifications on your device, just like real text messages. Still, it took me only three days to complete "Lifeline," which is about how long Taylor's adventure lasts in the story.
As the story moves forward and Taylor struggles for survival, he discovers that there is something strange happening on this moon, and he has more to worry about than just finding food and water to stay alive. As more odd occurrences take place, the plot intensifies, culminating with a suspenseful ending with an odd twist.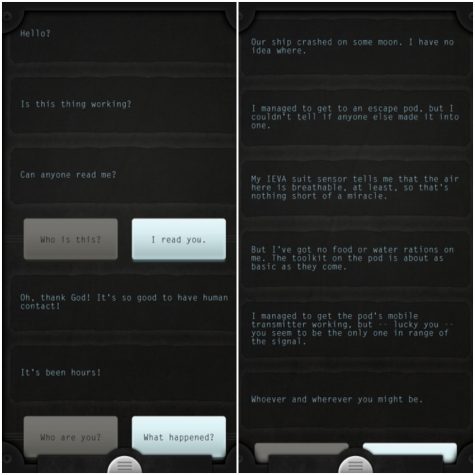 Dave Justus, the writer of "Lifeline," creates not only several different storylines, but a developed character. Taylor has a distinct voice. He is intelligent and resourceful, he has a fondness for presenting new information in a good news/bad news format, and he has a sense of humor. I couldn't help but develop an attachment to Taylor, genuinely concerned that my choices would lead to his death.
Somehow, I completed the entire story with Taylor alive, never having to retrace my answers and reroute the story (I'm both surprised and proud of my decision-making skills). Now, I look forward to going back and exploring the alternative directions the story takes when I advise Taylor differently. Thankfully, the app offers a fast mode after the first complete playthrough that allows players to skip the gaps of time when Taylor is away and quickly progress through the plot.
Although I enjoyed "Lifeline," it does have some plot holes. It never explains how Taylor is able to get a connection with the player. Taylor himself doesn't ask any questions about whom the player is, even though he blindly makes life or death decisions based on the player's answers. There also isn't much background on what the Varia's crew was doing. The most I learned about Taylor's job from my playthrough was that he studied rats in space. These are minor issues, however, and are part of the suspended disbelief that is required to play games such as this.
As of Jan. 22, "Lifeline" is free as Apple's App of the Week, but will soon return to its price of 99 cents. Since you can replay the story over and over again to explore the different storylines, I think it is worth the purchase, and I plan on buying its sequels. Once you finish Taylor's story, the game offers a sneak peek of his next adventure, "Lifeline: Silent Night." Three Minute Games has also produced "Lifeline 2" with a different character and storyline, but the same choose your own adventure concept. If you choose to give "Lifeline" a try, I wish you and Taylor luck.
About the Writer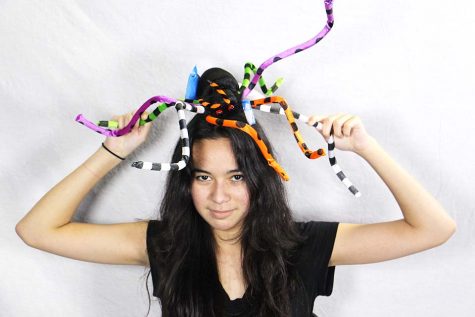 Samantha Rose, Editor-In-Chief
Communications senior Samantha Rose is a third-year staffer and Co-Editor-in-Chief of The Muse. She has had a passion for writing since middle school and...