Twirling Their Way to Higher HPAs
Dance students can increase their HPAs through the first college-level dance class offered on campus
A correction was made to this story on 09/27/2022
The headline of the story was grammatically incorrect. "A" has been removed from the previous headline "Twirling Their Way to a Higher HPAs." The headline was corrected to have proper grammar.
The story below has been corrected with the noted revisions. 
As developing artists and students, dancers leap over boundaries to improve their technique and HPAs. When given a new opportunity to expand their knowledge, 29 dancers signed up for the new dual enrollment dance class: Intermediate Ballet I.
Dance dean Heather Lescaille teaches the class on Mondays and Wednesdays during fifth period, a schedule based around Palm Beach State College's two-classes-per-week requirement instead of block scheduling. 
Intermediate Ballet I provides dancers with an opportunity to increase their HPA, since it is the first year the dance department provided a college-level course. Dance was previously the only department that didn't offer advanced courses operating on a 5.0 GPA scale. 
"I got interested in the class … because it offered college credit," dance senior Paulina Salas said. "I knew it was going to look really good if I put it on my transcript because colleges are going to see that I was really committed to dance."
Majors such as visual arts, offer as many as five college-credit classes, an inequality that limits the dancers' course options and places them at a disadvantage when it comes to class rank, which is based off of HPA.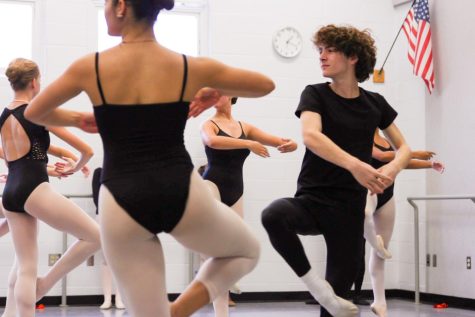 "One thing that I want to do is dance, specifically in college," dance senior Kale Jette said. "I would hopefully take on a professional career that way. I think (taking the class) will help me get into college for dance."
Although the purpose of the class was to provide more high level courses to dancers, students such as Jette are also taking the class to further their expertise.
"It's definitely going to help me significantly when applying to college, which I'm very grateful for, but also it's cool because, personally, I am more of a ballet dancer," Jette said. "Since it (the class) is more ballet based, I appreciate that because I get to do more ballet at school than I would normally be able to."
Creating the new course posed challenges since there are no AP or AICE dance classes available through College Board or Cambridge, so the dance department turned to Palm Beach State College for a dual enrollment course. In order to be approved to teach the course, Mrs. Lescaille had to go through trials of her own.
"It took around four months to get me cleared, just with documentation and video, and then eventually them coming and visiting," Mrs. Lescaille said. "But I thought it was worth it to help their HPA and GPA."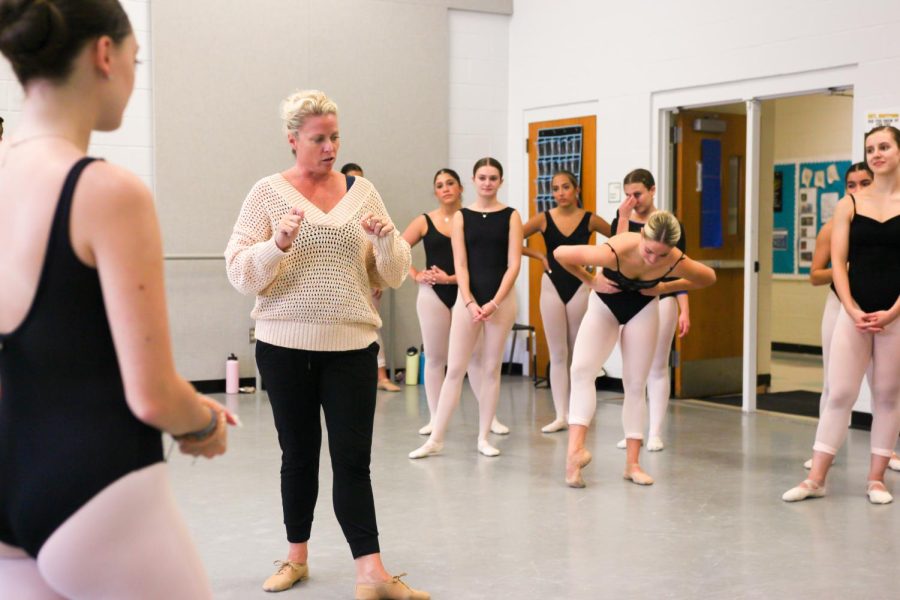 Students also faced complications during registration as they had to sign up through both the Palm Beach State website and Workday, a platform that manages student information. 
"I've never done dual enrollment before, so (the dance course) taught me how to enroll in that and how hectic and crazy it can be," Jette said. "I remember staying up late with my friend trying to dual enroll. It taught me how to be more tech savvy."
Now that the department has added a course through Palm Beach State College, Salas hopes that a college credit dance course will not be a singular opportunity for the department. 
"Hopefully in the future, they're able to make other dual enrollment classes. Maybe jazz or modern. I know that not all dancers like to do ballet," Salas said. "It would be good for them to also get college credit, but in a style that they're more comfortable with."
Mrs. Lescaille agrees with her students, saying that she hopes there will be more opportunities for dance majors in the future.
"I chose to teach the class because it was for the betterment of our students, and for the kids in the dance department," Mrs. Lescaille said. "And that's really why I show up and teach everyday anyways."