The lights of the Brandt Black Box Theater gleam on the faces of dance seniors for the first time since their sophomore year. A live audience witnessed the elegant arabesques and jetés of 19 dancers; the pandemic-induced period of video recordings and glitchy cameras at last concluded.
"I've been anticipating it for two years, and being on stage is the part that dancers love the most," dance senior Marina Copin said prior to the performance. "So to have that deprived has been miserable, and [now] so I'm so excited. I can't wait, but the nerves are bigger than ever."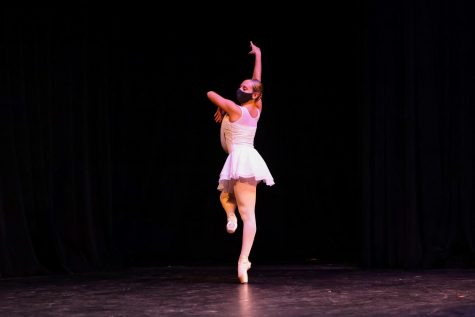 The showcase opened Sept. 23 and will have a second showing on the 24th. It is a celebration of the senior class's growth and is an opportunity to showcase each student's unique talent and style. 
"​[My solo is] supposed to be my personality. So it's cute and dainty, but it takes a lot of strength and perseverance" Copin said. 
This is the first live performance since November 2019 due to the coronavirus. The dean of the dance department, Mrs. Lescaille, spoke of how the class of 2022, or as she calls them the "tutus", were always positive and resilient despite the many obstacles thrown in their way. 
"They really have a great energy, work ethic, and just get along so well with everyone in the faculty," Ms. Lescaille said. "There's a lot of passion in the group. They really, really cheer each other on. And they've done that through all of COVID. Even from the beginning, when I saw them on Google Meet, they had smiles on their faces and they're just ready to go."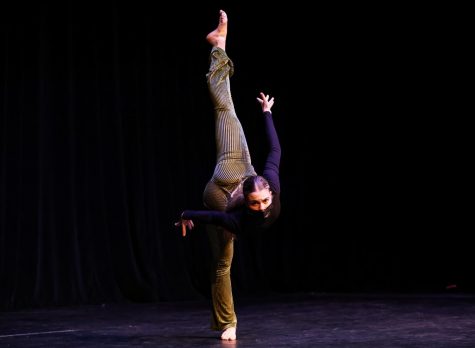 The showcase was organized by senior dance students where each of them were given the opportunity to partake in a solo. Some choreographed their own piece, while others had help from friends, teachers, and instructors. 
"I don't even know how to describe it," dance senior and showcase usher Sydney Forrest said. "I was just sitting there watching them, so proud. I know they're going to be successful, and I literally can't wait to see what they're gonna do."
Dance senior Emma Jaffe's solo was done in honor of her younger brother, Matthew Jaffe, who passed away a month ago. Her solo is called "Shades of Green" to honor his favorite color. The dance department handed out green ribbons to the audience and performers as a tribute to him. They also planned the commemoration and added a brief eulogy dedicated to her brother in the program, both of which were a surprise to Jaffe and her family.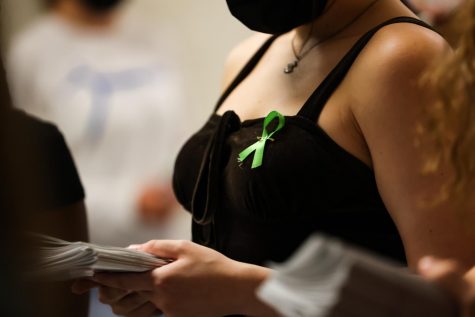 "I got kind of emotional beforehand," Jaffe said. "So going on stage I had to hold in my tears a little bit. But I just knew he was there watching, so it kind of made me feel a little bit better."
Jaffe felt "an outpouring of love" and was amazed at the support from all her fellow students. 
"I just wanted to thank everyone for coming out to support and for wearing ribbons in his honor and for everything, really everything; it's just been unbelievable," Jaffe said. I don't really have words, it's just been so amazing."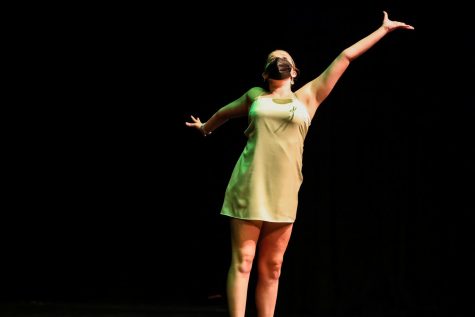 There were hollers and cheers throughout the performance and a standing ovation greeted the dancers during their final bow. Besides the audience wearing masks and sitting socially distanced, it seemed like everything was at last normal. Principal Blake Bennett said she "had goosebumps".
"I can't believe what I just saw, I don't even know that I could find the words to describe how amazing that was," Ms. Bennett said. "I was completely speechless. They were just beautiful and breathtaking, and the talent is just overwhelming."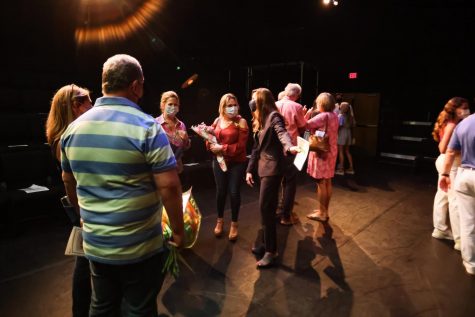 The dancers were mere feet away from the seats, as the front row of the Brandt directly borders the stage. It was a much more personal setting than Meyer Hall, but they didn't let the close quarters overwhelm them. 
"When I was on stage and the lights were in my eyes, I saw everybody in the audience. I start[ed] to get nervous and then I get wobbly, so sometimes I [got] off my leg. But it's the emotion that matters and how I felt—and I felt really good about it."
This is only the beginning of the dance department's return to live shows. All grades will perform during the Fall Concert Nov. 4, Nov. 5, and Nov. 6.
Ms. Lescaille said, "come see our performances, see the magic."