Bongos disrupt the quiet auditorium as members of the Boy's Chorus sway and clap to a song celebrating Swahili culture. Fluctuating their volumes and harmonizing to the conduction of vocal teacher Kent Taylor, members of the Girl's Chorus fill the auditorium with song for the first time in over a year.
The vocal department had their first in-person concert of the year on Friday, May 29. To accommodate COVID-19 restrictions and reduced capacity in Meyer Hall, the program was sectioned by the four chorus groups. Premier, composed of freshmen students, went first; Singing Gents, also referred to as Boy's Chorus, went second; Belle's Chanson, also referred to as Girl's Chorus, went third; and 5th Hour, composed of junior and senior students, went last.
"I feel a sense of relief," vocal junior Daniel Mills said. "Having a concert shows me that I had something to work for in [the] past year of being in the vocal department."
Participation in the concert was optional for both in-person and virtual students. Many of the department's students are virtual, which has posed challenges when readapting to a group setting. To bridge the divide, Mr. Taylor utilized Google Classroom to post videos of other choirs singing the concert's songs.
"Working on pieces where we split or where there's different parts or difficult notes, it's hard getting used to that," vocal junior Autumn Bible said. "We're used to having a big group, but we've pulled through and we've worked towards getting our music to where it normally is."
The choir groups have been rehearsing songs throughout the year in case an in-person concert would arise. To regain a sense of an in-person experience, students stood in their "stage positions" during class time. On stage, students were socially distanced and staggered on platforms.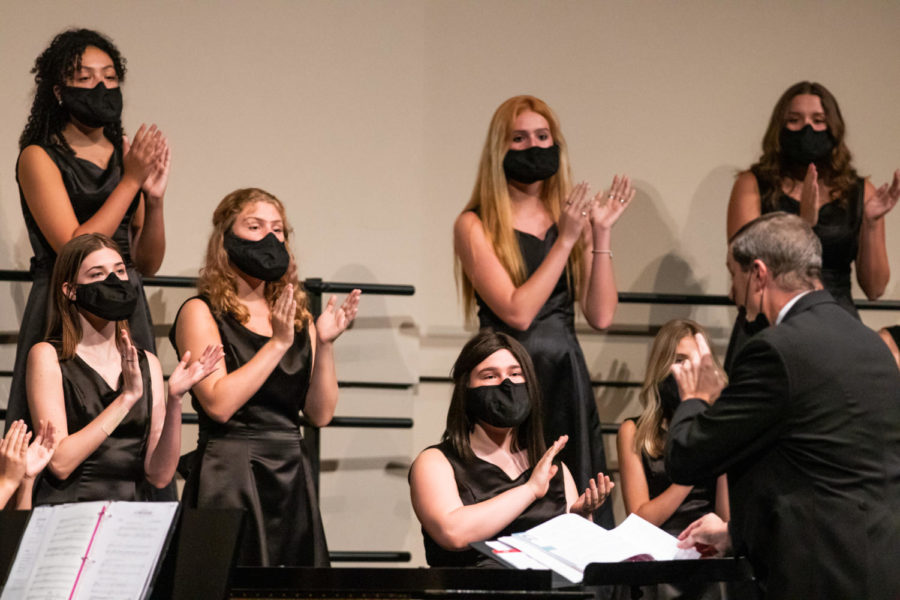 "We've been going through our music every class, and Mr. Taylor has pushed us to put forth all of our effort," vocal sophomore Mitchell Thai said. "I enjoy having people I care about see what we've been working on."
For vocal freshman Rebecca Lesser, this was both her first vocal concert on campus and her first time singing with a choir since eighth grade. Though she is fully virtual, Lesser has adopted methods to practice from home including practicing pronunciations for her non-English songs and writing in solfege, an education method to help with pitch and sight-reading.
"I'm looking forward to singing with my choir again," Lesser said. "It's uplifting and you feel like you're part of a bigger thing. It's nice to get into music and see everyone around you also into music."
As one choir was on stage, parents for the next choir group waited outside of Meyer Hall. In between the Boy's Chorus' and Girl's Chorus' performances, members of the 5th Hour Chorus sang two songs for the families waiting outside.
"[I'm most looking forward to] seeing everybody and our families together one last time because it's so important for me … to hear the songs come together," vocal senior Mackensey Moore said. "There's nothing better than a choir of sound."
As 5th Hour's voices lowered into silence, Mr. Taylor gave a final commemoration to the singers. That was until vocal senior Lacie Michaelis walked on stage to give Mr. Taylor balloons and a gift. Michaelis spoke for the department to thank him for what he has done for them, which led to a standing ovation from both the performers and the audience.
"My major is a big part of why I'm at Dreyfoos," Bible said. "Reconnecting with my love for music again, being on stage—it's been over a year since I was last on the stage in Meyer Hall—so being able to reconnect with music is important to me and I'm glad I get the opportunity to do that again."