Art filled the first floors of Building 9 and Building 2 with works from visual and digital media seniors as part of the Vigital Senior Showcase. The installations were exhibited from April 22 through June 2. The showcase allowed for students and faculty members to be immersed in the seniors' work one last time before they graduate on June 16.
As part of their projects, students had to sign contracts, which listed requirements for the showcase. Students also received instructions on how to display their works in the gallery. With these new changes in place, students experienced both challenges and a sense of independence.
"I was inspired by another short film I made last year … that explored and portrayed two months of my life affected by world events," digital media senior Brody DeMoya said. "I never challenged myself when it came to showcases, but having the installation aspect in mind got me thinking. I'm happy that I went out of my comfort zone."
To be included in the showcase, every senior was required to submit artwork and create a web page. This public web page displayed each artists' name, a digital copy of their piece, an artist statement, and two letters. Students wrote these letters to their class and the class of 2022, providing them with support and advice. 
"Either I'm numb to the feeling or it hasn't kicked in all the way that this is the last Dreyfoos show I'll ever participate in," digital media senior Sonya Shokhina said. "I'm still seeing it as another fun thing the department is doing and can't wait till next year, except, there won't be a next year. It'll hit me eventually and I'll be sad, but moreso, I'll be proud of myself and my classmates for putting in the work."
For Shokhina's final piece, they submitted an animated mini music video, something they have wanted to do since seventh grade. 
"When you're listening to a song and you get so into it that you're imagining fight scenes and choreography, I've been doing that for the longest time and this show was the final push to take these hopes and do something with them," Shokhina said. "The song itself was a part of the process too. I found it by accident and the first time I heard it, I knew it was the one."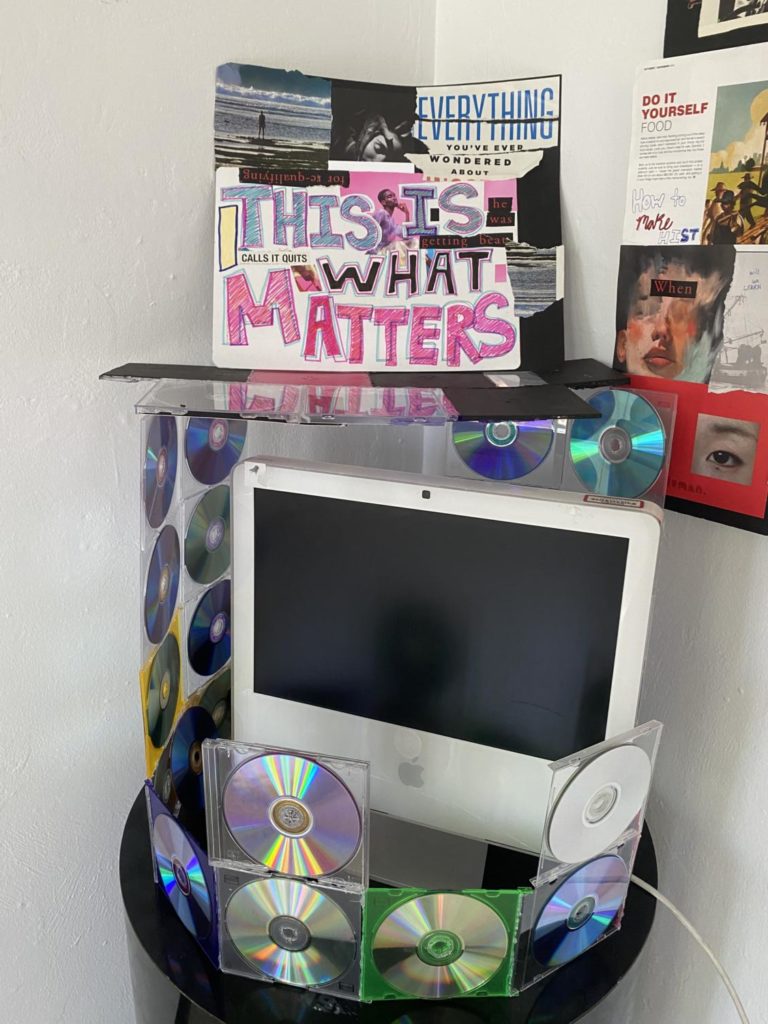 Visual senior Jade Mackey created a mixed media installation that consisted of a projected animated film and two life-size portraits.
"It was bittersweet to see everyones' work out," Mackey said. "If you walked through it too fast, some of the areas were completely empty and quiet and the only gaze you found were the surrounding works. It was surreal and eerie, but beautiful."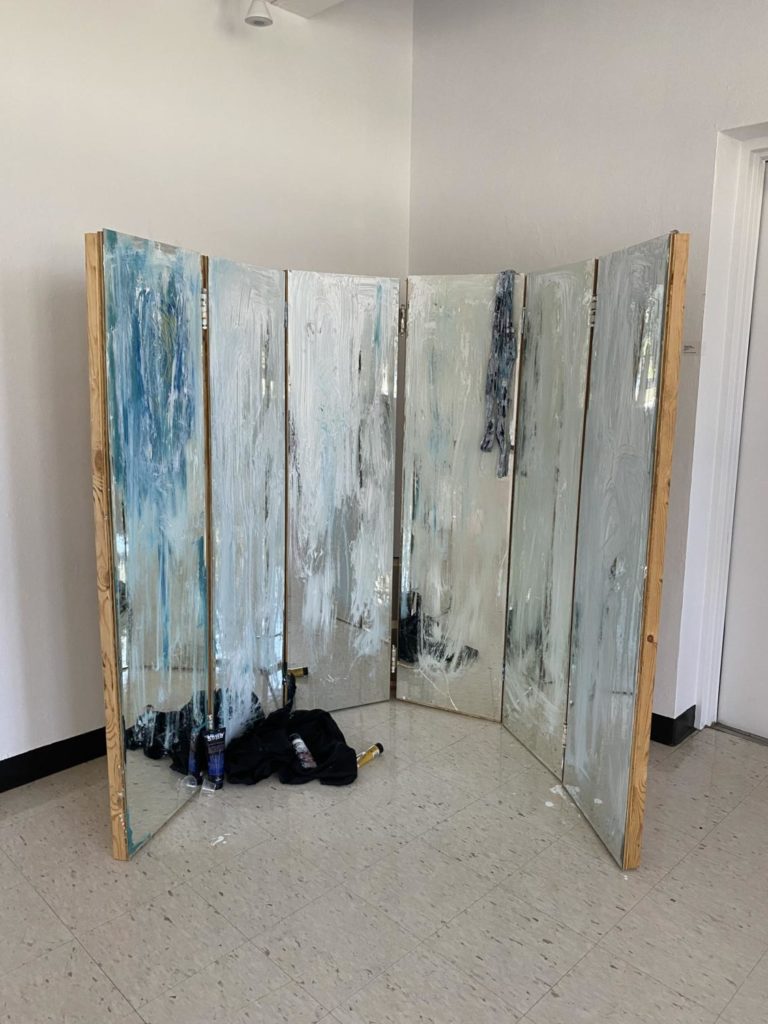 The showcase provided some seniors, like visual senior Acel Suriaga, with the opportunity to reflect on their work and time in the department.
"The inspiration behind my piece 'Camaraderie' were the friendships I formed in high school and honoring the memories I had with people by using scrapbooking and painting," Suriaga said. "It felt awesome to have a final showcase, especially because I got to see everyone who had been virtual the whole year, as well as the art they created."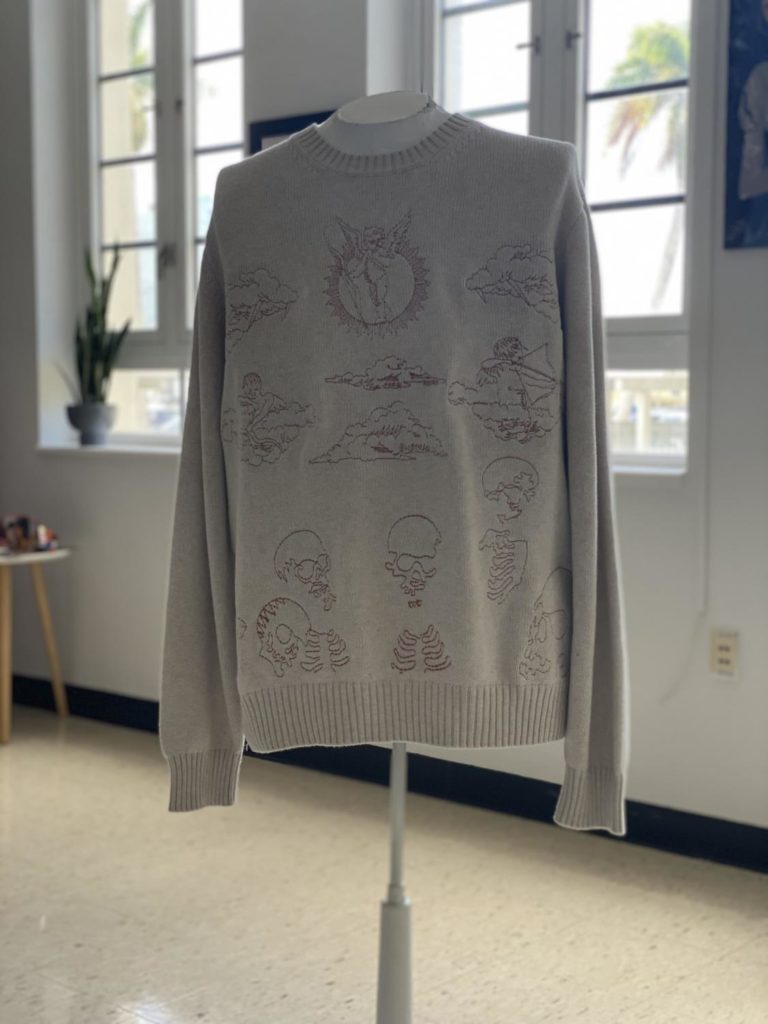 Because of school closures during COVID-19, visual and digital media seniors were unable to have a final showcase last year. But this year, the senior class could come together in a place filled with friends and art for a final time.
"It was both fulfilling and bittersweet to get a final showcase," digital media senior Tea Maxwell said. "Being able to see how much I've grown, as well as my peers, is a wonderful realization and it makes me love my major even more. I'm grateful that my class was given the opportunity to have one."