A New Reality For Arts At Dreyfoos
As performing arts classes have shifted to a virtual platform, students have adapted their arts to digital spaces. Dance choreography is being taught through Google Meets, theatre majors practice lines in front of cameras, and visual students are confined to the supplies and space they have at home.
Among these students is communications junior Ryden Trimble, who has learned how to collaborate on broadcasting the morning announcements from home.
"It's hard because it's a team project. Normally, we're all together in the studio collaborating," Trimble said. "The only way for us to collaborate now is through the Google Drive and Google Classroom, which sort of makes sharing our work with each other a lot harder, and it makes us take a lot more time just to get everyone involved."
Some students' difficulties in these new circumstances come from a lack of materials that brick and mortar school would otherwise provide. Digital media senior Clara Sullivan misses having access to certain "physical processes" that depend on being "done in school, such as working in the darkroom."
"From home, very few people have access to the chemicals [we use] or even access to film," Sullivan said. "So, a lot of the work became digital, and we couldn't do a lot of the normal prints that we would have normally done in school."
On Sep. 2nd, the School District of Palm Beach County invited students to return to brick-and-mortar school, at the discretion of each family. While the majority of students remain online, over 400 have gone back to campus, with some learning more effectively in their art areas upon returning to school.
"Sometimes your parents are at home, and they have work and you can't really play properly," band junior Nicholas Martin said. "It becomes difficult, and there's also a lot of distractions at home that stop you from playing. Now that I'm in school, I definitely think I get more immediate feedback from not only the band director but also my friends, and it's just easier to play my instrument freely."
Despite the setbacks of distance learning, some students share different stories of progress and adjustment in their art area at home.
"Covid hasn't affected me as much as others because I've been able to do the same things in school that I'm doing at home," visual sophomore Siya Viroja said. "Drawing and painting have both been accessible to me at my house, so all I have to do is submit pictures of them which is why it hasn't been as hard for me."
Despite this relative ease of adjustment for her, Viroja said she "[understands] how Covid has hurt others, because they need school to have access to resources." Ultimately, students choosing to stay at home will have to continue adapting to the digital platform.
"It's been tough trying to play a viola through a screen and get little to no feedback immediately," band junior Juan Guerrero said. "At the same time, I think that it's really important that we as students get used to the environment we're in right now, because we don't know how long we're going to have to stay home for."

Theater students have to adapt to rehearsing for their upcoming performances online, from auditions to final performances. Sammy Peitz, theater sophomore and assistant stage manager for "21 Chump Street", explains that "it's a lot weirder because the energy levels are a lot different than before." Photo courtesy of Riley Flynn.


Six feet apart, band students practice their pieces in Meyer Hall as virtual students practice through Google Meet, their mics muted. Band junior Emily Breidenbaugh explains, "[Being back], I am glad to be able to begin to make music again even if not the whole band is back, and I look forward to the day where we are all together again." Photo courtesy of Emily Breidenbaugh.


Visual students are beginning to work on new pieces. Some work from the classroom, others work from makeshift home studios. Photo courtesy of Ms. Garcia.


Communications senior Nirmit Chandan competes in Congressional Debate at the Yale University Invitational online speech and debate tournament. Though virtual tournaments are new this year, Chandan placed first. Photo courtesy of Nirmit Chandan.


Mics muted, online vocal majors practice their new pieces as vocal teacher Mr. Kent Taylor plays along on the piano. Photo courtesy of Shea O'Donoghue.


Mr. Lewis leads dancers in their stretches with some participating from their own makeshift studios at home. Dance sophomore Gabrielle Kiminyo explains, "The lack of space and proper flooring [at home] made jumping and going across the floor very difficult, but I modified and did as much as I could safely." Photo courtesy of Ms. Garcia.

Your donation will support the student journalists of Dreyfoos School of the Arts. Your contribution will allow us to purchase equipment and cover our annual website hosting costs.
About the Writer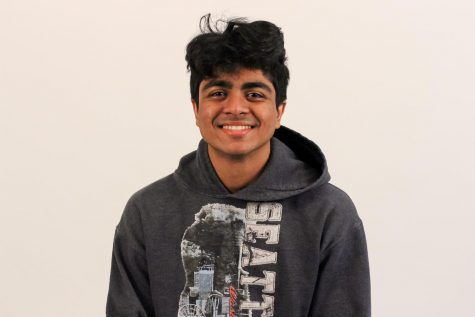 Sheevam Patel, Writer
Sheevam Patel is a third-year staffer on The Muse. Writing for The Muse has been an amazing experience for him, and he is excited for his third year on...