As 100,000 people crowd into downtown Lake Worth, artists prepare to display their art, chalk in hand. Small murals fill the streets. Many of these intricate designs were created by students, blending in with a sea of murals made by adults. 
The Lake Worth Street Painting Festival was held from Feb. 22 to 24. About 40 Dreyfoos students participated, taking up half of J St. and Lake Ave.
"Even when it was down to sharing supplies, if you needed something right away, [someone] would give it to you," visual sophomore Moriah Charles-Pierre said. "Everyone else is really supportive, and it's nice to have three of my friends working with me." 
Many artists blended their strengths to make their miniature murals. Visual seniors Francesca Cocilovo, Alanna Orozco, Samantha Mensching, and Julia Ursine worked together to create their piece "Tropicana."
"Samantha and I like to do portraiture, so we decided to collaborate with Alanna and Julia to do something we all enjoyed working on," Cocilovo said. "Sometimes we disagreed, but it was cool to see our styles come together."
Each group had different concepts, together creating sections drenched in colorful chalk. However, visual sophomore Will Dhana decided to stick to his artistic interests and create a monochrome Mickey Mouse. 
"The first time Mickey Mouse appeared on T.V., it was in black and white," Dhana said. "Everyone at this festival is going toward a lot of color. Personally, I really don't like color, so making this was the best option." 
Unlike Dhana, groups like visual sophomores Sylvie Crawford, Elba Martin, and Emily Meneses wanted to have colorful pieces and focused on creating tropical settings.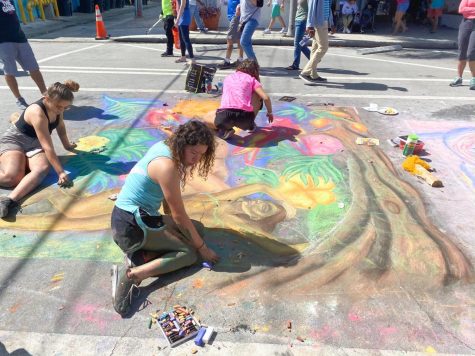 Aside from drawing the figures in the sun for over five hours, participants also took extra care in preparations for the festival. Visual senior Amanda Cohen worked with communications senior Nikolas Zimmerman, their jobs differing completely. 
"Nik spent a couple of hours just photoshopping a bunch of characters into one side of the layout tarp, so he created it," Cohen said. "We did a big sketch of it in brown paper and finished it with chalk once it was taped down."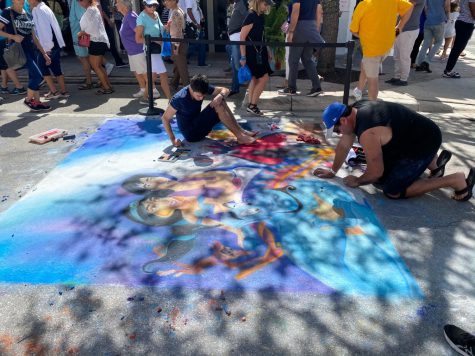 "When people take a picture, it's really fun and encouraging," Cocilovo said. "Art is usually individual, but I really pride on being able to share it in such a public space."
Students put in extensive time into their art. In between Saturday and Sunday, there was rain, making it hard to work on their pieces. 
Some artists, like Dhana, took the weather as an opportunity to start over. Others, such as Cocilovo's group, worked with the water and tried to keep their art in shape.
"There are many layers of it, but [the chalk] was caked in there so much," Cocilovo said. "Sometimes, it will flow over and we have to keep going and refreshing it, but we used a tarp when it started raining."
Even though rain posed a challenge when drawing, artists still managed to get their murals on the pavement. Students even got down to the smallest details despite the rain. When visual sophomores Amalia Garcia andCharles-Pierre created their piece "Reasoning with the Sun," they depicted celestial objects and nature. In the mural, there is a small moon that's flushed with color and crying because "the sun is overpowering the moon," Charles-Pierre said. 
When the festival came to a close on Sunday, participants reflected on their weekend.
"This wasn't my first time going to this festival, but it was my first time on this side of it," Cocilovo said. "I liked this side of things a lot better."