NATALIE MACADAR: THE FACE BEHIND THE FILM
Digital media sophomore Natalie Macadar looks like she belongs in one of her street fashion photo shoots. She wears neon green polos and white-stitched black pants. She plays the guitar and belts along to the radio. You can run into her taking photos at the Post Modern skate shop. However, if you looked at her film photo archive on Instagram, you wouldn't be able to see any of this. It is her photos that convey her energy. 
"I enjoy doing street culture photography and mainly film," Macadar said. "Street culture is street fashion, skateboarding, anything you can think of—very candid. I don't really like shooting in the studio."
            Macadar's passion for photography began when she switched her major from communications to digital media this school year. She believes it has helped "expand on [her] artwork more," especially on school grounds, where she photographs her friends.
"My favorite part of taking pictures at school is having my friends as models and being able to give the pictures back to my friends," Macadar said. "I love seeing their faces, and they always say, 'Oh, Natalie, I love the pictures!'" 
To share her developed film, Macadar runs an Instagram account dedicated to her photography. Over time, it has become popular not only among her friends, but other students who share similar interests, as well as those who wish to be featured in one of her photoshoots.
"When I started it, I just wanted to be able to post pictures, and not on my main account," Macadar said. "I was like, 'Oh, maybe some people will follow.' It ended up being something that all my friends wanted to be on. [They] want me to take pictures of them, and I really enjoy it because it's for my art instead of just for me."
Features on her Instagram have drawn attention from the school community, as well as her friends. Many are willing to strike a pose at a moment's notice just to be featured, often in everyday outfits against school walls.
"I remember she brought in the camera during October and I've always been into that type of stuff," digital media sophomore Felipe Obando said. "I asked her [to do] a shoot, and it came out really cool. Just being on that page—it's a specific style, like the street type of photography."
Although her Instagram did not start seriously, it has helped Macadar improve her art significantly. It offers her the chance to share the work she is most proud of, and it has impacted her take on art in class as well. She appears to be in her element with a camera in hand, something that occurred to her with growth in photography. Digital media teacher Brian Delgado knew Macadar before and after she started her account.  
"At the beginning, for her, it was much more of a playful thing," Mr. Delgado said. "She was just trying things out. But now she's finding her own voice, and she's looking at, 'Hey, I have my own way of taking photos and film.' It's helping her in the fact that it adds up to her own view, her own interpretation of whatever she's looking at. Film is definitely that little cherry on top of whatever her vision is."
Macadar waits to get her photos developed, which can be from a film camera or a disposable camera, when all of her film is used. It is a process that can take time. 
"It gives that very nostalgic feeling when you see it a few days or a few weeks after you take the pictures," Macadar said. "And I feel like I have more of a connection to it when I see it later. I adore film photography. I like it one million percent more than I liked digital photography."
Despite the extra effort that goes into developing film photos, Mr. Delgado uses the process of film photography to his advantage for students. They are then able to take these skills outside of the classroom. 
"I am always pushing them to do film," Mr. Delgado said. "Why? Because of the slow process of it and the amount of thinking that has to go behind creating an art piece."
Ironically, film photography was popular in the '90s, when digital photography was not as accessible, but Macadar still employs it in a more digital world. Making its way back to center stage in 2020, film photography has captured the interest of yet another generation..
"For people who aren't necessarily into photography and just want to capture moments, it's a trend that came back." Macadar said. "But for real photographers, it's definitely been here to stay forever."
When asked for advice to teenagers interested in film photography, and posting one's art on the Internet, Macadar smiled, quick to answer.
"I would say just go for it," Macadar said. "Don't care what other people think. Take pictures of what you think looks good, what makes you happy, and just put your emotion into your work."
View this post on Instagram
Your donation will support the student journalists of Dreyfoos School of the Arts. Your contribution will allow us to purchase equipment and cover our annual website hosting costs.
About the Writer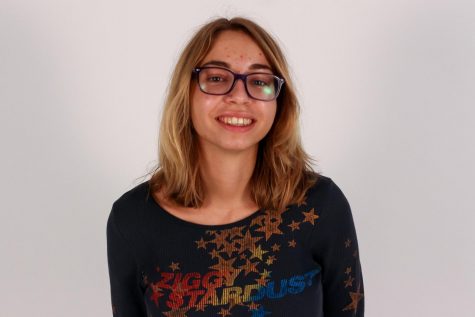 Kaja Andric, Content Team Editor
Kaja Andric is a third-year staffer and Content Team Editor on The Muse. If Andric isn't writing about Florida, planning her great escape from Florida,...