STUDENTS PERFORM WITH THE ALL-COUNTY JAZZ BAND
The audience danced in their seats as the conductor danced on stage. Musicians took turns soloing at the microphone, receiving numerous standing ovations. For some, it was an average Thursday night filled with errands and homework; for the middle and high school students who auditioned for the All-County Jazz Band, it was a chance to perfect their musical crafts. 
Hosted by the Palm Beach County Band Directors Association, the All-County Jazz Band performance took place  at The King's Academy on Nov. 14 at 7 p.m. Both middle and high school bands were given a chance to perform..
"For me, my favorite part of the show was seeing the diversity and musicianship [of] all the other players across the county," band sophomore Jordan Strominger said. 
The show was a concerted effort by both Dreyfoos students and musicians from various other schools. It offered them a chance to hone their collaborative skills in a musical setting.
"Just seeing all our kids going up and soloing and doing such a great job" was Director of Bands music teacher Evan Rogovin's favorite part of the night. "Watching them interact with students from other schools in such a positive manner and being so supportive is very nice to see."
With only a day's worth of practice, students had to learn their parts in a limited time frame. For Strominger, this year's experiences stood out from the previous year's.
"The rehearsals were more tiresome due to the harder repertoire than I was used to for an All-County band," Strominger said. "[Switching to a higher ensemble] was a big jump. That being said, it was a relief when we were given the same audition music for the concert music. In most cases, the concert music and the audition music are completely different."
Class time in students' art areas has helped them in auditioning for such a prestigious jazz band.
"This is just a byproduct of what we do every day and what these students do on their own," Mr. Rogovin said. "Jazz style, jazz soloing, improvisation, jazz language—all these things that we teach makes them more prepared, hopefully, for their audition so that they can be more successful."
Band sophomore Nathan Delgado's favorite piece to play was "Easy as it Goes." "It was something I've never played before, and it's new to me," Delgado said. "It was written for a true big band that first started in the '30s, and it's music I never really play since it's not really wanted."
All-County Jazz Band, mirroring musical jobs in the real world, helped students come together and create an end product. 
"It's so cool to see so much diversity together to make one whole," Strominger said, "and it's ensembles such as these that give me motivation as a musician."
Your donation will support the student journalists of Dreyfoos School of the Arts. Your contribution will allow us to purchase equipment and cover our annual website hosting costs.
About the Writer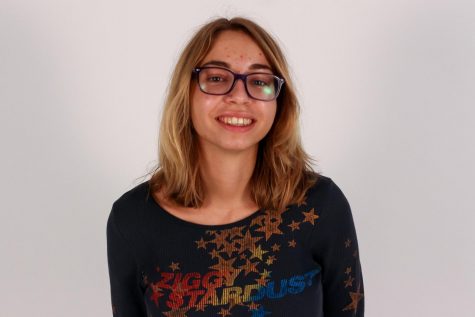 Kaja Andric, Content Team Editor
Kaja Andric is a third-year staffer and Content Team Editor on The Muse. If Andric isn't writing about Florida, planning her great escape from Florida,...