"SALON STYLE" VISUAL/DIGITAL SUMMER SHOW OPENS FOR SCHOOL COMMUNITY
Though Building 9 is a work of art on its own with its painted walls and ceilings, this afternoon, under the wash of warm, yellow lamps, it became a gallery once again. The halls filled with freshmen still toting heavy backpacks, student volunteers running plates of cookies from wall to wall, and parents excitedly following their children through the crowd.
On Sept. 11 at 4 p.m., the Visual/Digital Summer Show opened its doors to the public, hosting over 400 works. Students of every grade level presented pieces they had worked on for their summer projects—paintings, collages, digital art, sculptures, fashion, film, photography, and more.
"For the freshmen, [the Summer Show lets them] have that first exposure," digital media teacher Brian Delgado said. "For other students, [they can] showcase their progress, their growth. It's about growing and developing their own skills and getting feedback. That's what art is about."
The gallery was arranged "salon style," according to Mr. Delgado, so that complementary pieces bordered each other. In the first-floor hallway, vivid green mountains hung beside a portrait of a man dappled in rainbow light.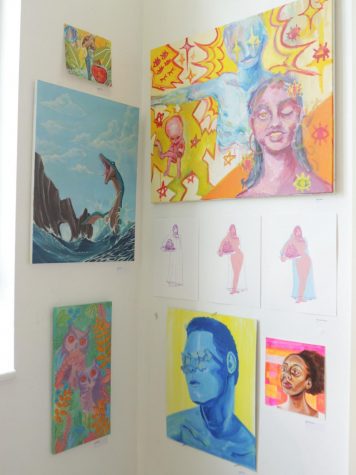 "It's like when you make a mix for somebody—the order of the songs matters," visual teacher Scott Armetta said.
Visual freshman Katrina Prine, whose acrylic and watercolor painting hung in the stairwell between golden sunflowers and a black-and-white portrait, said being in the show was an "honor."
"Just seeing other people's art and other creative people around me [has led me] into this new environment," Prine said. "It's very different, but it also inspires me a lot."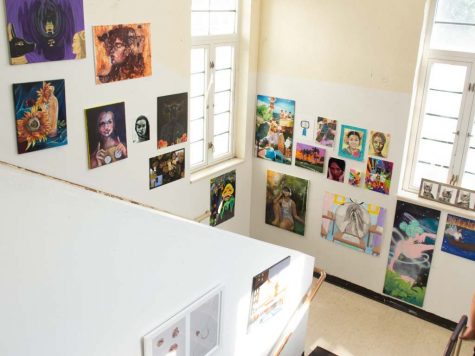 Digital media junior Danielle Kiminyo showcased a photograph of an empty playground in Central Park, taken while studying photography at the Cooper Union Pre-College Summer Program. With the feedback she received, she decided to continue photographing "blank spaces or lonely places," hoping to create a connection with the viewer.
"[I want to show] places that provoke emotion … something that takes you there and brings back a certain event or memory," Kiminyo said.
Her parents, who walked through the gallery by her side, said they were "just proud parents."
"We feel very proud not only of our daughter but of all the other fellow students," Dr. Kitonga Kiminyo (father) said. "We think the work here is amazing, and because art is open to the public, it should be appreciated by everyone."
For some students, the show was an opportunity to make art that expressed itself wordlessly. For others, it was a chance to explore.
"When I first started as a freshman, I didn't really have a style," visual junior Carolina Robinson said. "I just did whatever I thought I could do with my skill level, but now I feel way more comfortable jumping the gate and trying brand new things."
Both teachers and students hoped to convey that among the wide range of mediums and students represented, "there [are] many different ways to communicate—many different ways to make art—and they can all be equally rewarding," as Mr. Armetta said.
"I think it's nice that people come out here, see everyone's art, and enjoy it," Robinson said. "I hope that [visitors] take away that there's a whole diverse group here, who all have different styles and techniques and [who] all are able to create something new and beautiful that they want to show to everyone."
The Visual/Digital Summer Show will remain open in Building 9 for the next few weeks.
Your donation will support the student journalists of Dreyfoos School of the Arts. Your contribution will allow us to purchase equipment and cover our annual website hosting costs.
About the Writer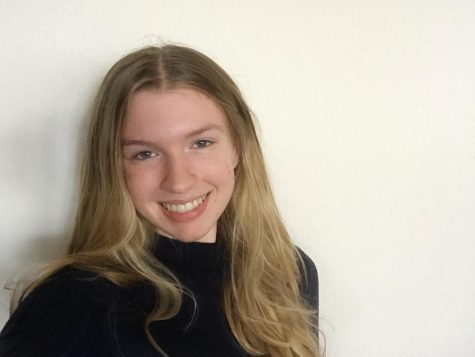 Emma Garrett
Emma Garrett is a third-year staffer and the co-editor-in-chief on The Muse. When she's not writing, she's reading whatever she can get her hands on,...