CHORUS CONCERT RECAP
Audience members scanned concert directories as vocal students prepared to walk on stage, wearing black gowns and tuxedos. Among the sea of proud parents and supportive friends were bouquets of flowers and illuminated iPhones set to record.
The performance opened on May 10 at 7 p.m. in Meyer Hall. Although the seniors' check-out day had been this past Thursday, vocal majors came back to put on one last show before saying their final goodbyes.
"I've been singing with some of [the seniors] for as long as six years, and they've become my extended family," vocal junior Isabella Caggiani said. "I would definitely consider the last concert to be bittersweet, as it was tough to think of their absence in the coming year yet comforting to know that they're moving onto a new and exciting chapter in their lives."
The vocal department's choir director, Ken Taylor, conducted the concert as pianist Betsy McHugh accompanied the singers. In the concert's opening speech, Mr. Taylor addressed the graduating seniors and declared the performance a celebration for them.
"I'm going to miss how friendly the seniors were," vocal sophomore Amanda Ferber said. "[T]hey were always open to giving advice or help, whether it was a personal issue or something musical."
Did you attend the chorus concert?
Sorry, there was an error loading this poll.
Preparing for the Spring Concert took months, and many students had been practicing since the Major Works concert in March, others as early as January.  
"We would just basically practice our songs every class, and Mr. Taylor would try to fix as many errors in the songs as possible," Ferber said. "Once we had the songs memorized, we would try to make the songs as musical and expressive as possible."
Throughout the concert, students performed songs ranging from "Les Chant des Oyseaux" by Clement Janequin to "Superstition" by Stevie Wonder. Toward the end, professional organist Arnfield Cudal was invited on stage to play a piece titled "Behold, How Good and How Lovely" on the grand piano as the choir sang along with vocal senior Laura Santamaria, the soloist.
"I asked [Mr. Cudal] if he would graciously come and accompany us. This piece is designed to be played on an organ," Mr. Taylor said. "We obviously couldn't get an organ in here, so I asked him if he would succumb to play our grand piano and translate it into a piano piece with the choir."
The choir went on to sing "Janger" by Budi Susanto Yohanes. The vocal boys sat in a semicircle at the front of the stage with their hands on their knees as they swayed side to side. The girls stood in the back waving bright red hand fans to the music's melody.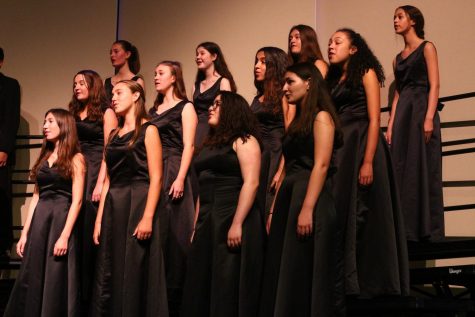 "This folk song is traditionally sung by the youth while dancing during the evening parties," Mr. Taylor said. "The singers tonight frequently [imitated] the sounds and instruments with their voices while demonstrating some of the traditional dance moves."
The concert concluded with "The Lord Bless You and Keep You" by Peter Lutkin. Students held hands and lined the walls of Meyer Hall with the seniors grouped together in the center of the stage.
"I felt so sad when we were singing our concluding pieces because I knew it was the last time I'd ever be able to sing as a choir with all of the seniors I had grown to know and love over the course of this year," Ferber said. "Although I am happy to see the seniors going to college to pursue their passions, I will really miss singing and talking with them every day in chorus."
Many of the seniors were heavily impacted by their participation in the vocal department and seek to leave a legacy behind. Many of them had been singing with their vocal family for years before high school.
"
"I have made some of my best friends for life in this vocal department and … I will miss making grade-A music with such talented people!" "
— vocal senior Lilly Heran
"I am hoping to be remembered as a good leader within the choir and someone who brought the members of the choir together as a family," vocal department Vice President and vocal senior Lilly Heran said. "It's so surreal. Some of these people I have been singing with for almost 8 years, so although it is very sad, I know that we will always be family."
With the seniors leaving, vocal juniors are left to take their place as next year's newest seniors and leaders of the vocal family. The seniors had established traditions and a community among the vocal students.
"This senior class has definitely left some large shoes to fill for my class through the way they uplift one another and move through challenges as a group," said Caggiani, who is the upcoming president of the vocal department. "They served as the leaders of this department in more ways than just performing—they were the core members of the 'vocal family,' and the traditions they created left the department with a greater sense of connection to each other as well as to the music itself."
At the end of the performance, the seniors were called one by one on stage to collect a bouquet of flowers. Seniors then embraced one another and shed a few tears as they said their final goodbyes.
"I'm really going to miss the senior class. [Y]ou always feel like this is gonna be the group that you're gonna miss the most and every year it seems to get worse," Mr. Taylor said in his closing speech. "These guys mean a lot to me and they've done a lot; they've grown a lot in the three years I've been here and I feel very blessed to have taught each of them, and I'm excited for what the future holds for so many of them."
Watch out for a The Muse exclusive video, "Deconstructing a Harmony," with Dreyfoos vocal majors!
Your donation will support the student journalists of Dreyfoos School of the Arts. Your contribution will allow us to purchase equipment and cover our annual website hosting costs.
About the Writer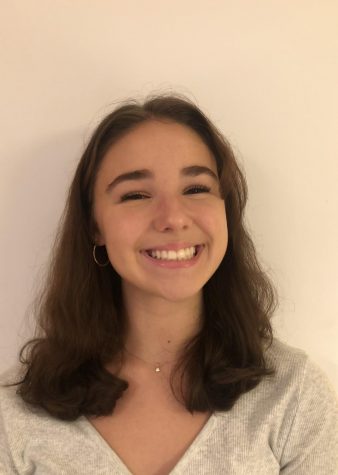 Sasha Smith, Coverage Editor
Sasha Smith is a third-year staffer and coverage editor on The Muse. Aside from randomly laughing at nothing every few minutes, she spends her free time...