DANCE 'BLOOMS' AT FINAL PERFORMANCE
The dance department's annual spring show "Bloom" seemed to erupt from the Meyer Hall stage as dancers turned, completely blind, into the foam-filled orchestra pit as a part of their unprecedented routine. On the May 25 premiere in Meyer Hall, a packed audience held its breath, encapsulated by the lively movements.
"Bloom" included 13 pieces separated into two acts. Dance teachers collaborated with guest choreographers including Peter Stark and Ricardo Pena to prepare the dances while working to include the entire department.
"The show included dances from each level, so everyone was in the show," dance freshman Courtney Pirozzi said. "Everyone prepared us for what it is like in the real world if we become professionals."
This show was unlike past versions because of its collaboration with other majors to create the performance. Working alongside students and teachers in the theatre department's tech track, the choreographers developed an attention-grabbing opening. In the first piece "28," dancers came to the front of the stage where they then fell into a hole that brought them to the orchestra pit.
"We had an inflatable foam pit with some gym mats and pillows in it," theatre sophomore Jordan Haft said. "It was there for Ms. [dance teacher Branndi] Lewis' piece because she had dancers falling into it through the dance, so it was there for their safety."
One of the most prominent pieces from the night was the tribute to Queen, titled "Freddie." The dance included 64 dancers and ran for around 22 to 23 minutes. It told the story of Freddie Mercury's life, the highs and the lows. Dance sophomore Brenan Gonzalez was chosen by the choreographer, Ricardo Pena, to dance as Freddie. The decision had Gonzalez "in shock, to say the least."
"The roles were chosen exclusively by the choreographer and weren't revealed until the day we started choreographing for the piece," Gonzalez said. "I never actually realized I had gotten the main role as Freddie Mercury until about 20 minutes into rehearsal when the choreographer began working with me explicitly on things no one else had learned; at the time, I couldn't quite fathom how I managed to land a role this big, and it never truly occurred to me how much it would have impacted me."
Gonzalez was on stage, dancing from start to finish, conveying Freddie's emotions through a series of shouts to the crowd. Because of the dance's extensive duration and very few breaks for Gonzalez throughout, he had to put the extra effort in to maintain his energy and push through. He kept a full water bottle off stage and glucose tablets to fuel himself. However, the biggest challenge was not the physical part.
"It was definitely a mind over matter situation. My only option was to pace myself," Gonzalez said. "I had to constantly tell myself things like 'push through,' 'you can do this,' or 'you only have blank minutes left.'"
Rehearsals, which began in January, required a high level of commitment. As the premiere neared, performers started staying after school until 7:30 p.m. or later to practice in Meyer Hall.
"I think the biggest challenge was having to keep up the level of energy throughout the weekend," Williams said. "We spend an extended amount of time preparing for the shows, which takes a lot of energy out of us, but having support from friends and knowing we are able to showcase all the hard work we put in allowed us to push through the exhaustion."
The show was fast-paced, with some dancers being involved in back-to-back pieces. Such complications required speedy costume changes and dancers having to hurry from one side of the stage to the other. This is where parent volunteers came in, helping the students with anything that they needed backstage.
"I've learned that it's a team effort to make the show great and that it is a lot of work behind the scenes. Without the parents helping out backstage, it would not be possible," Pirozzi said. "[They helped me learn] how to move fast with all my quick changes and hairstyle changes, too."
The shows were nearly sold out, filling the auditorium with friends, family, and admiring students. The size and energy of the audience helped to fuel the dancers.
"It is important when there is a big audience that is engaged because it makes me perform even better," Pirozzi said. "When they are clapping and you see some people you know, it pushes you to do even better."
Whether it was their first spring show like Pirozzi, or their last like Williams, each dancer had something to learn from the process that helped them grow as an artist. Many had lessons to take away that they will hold on to forever.
"I have learned a lot over my four years with Dreyfoos dance," Williams said. "It was all worth it to be able to share the stage with such amazing people. I am going to miss it."
Your donation will support the student journalists of Dreyfoos School of the Arts. Your contribution will allow us to purchase equipment and cover our annual website hosting costs.
About the Writer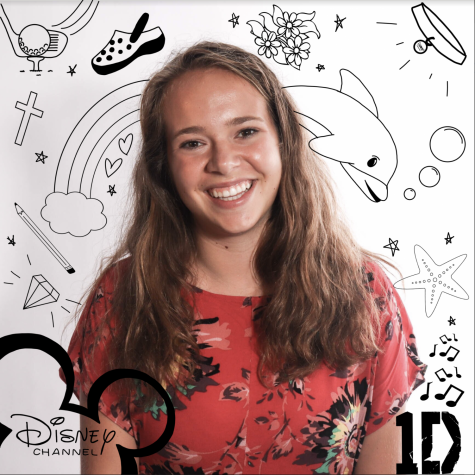 Lilly Randolph, Assistant Managing Editor
Communications senior Lillian Randolph is a third-year staffer on The Muse. Before becoming Assistant Managing Editor, Randolph was a Sports staffer for...