SOAFI HOLDS LUNCHEON TO RAISE FUNDS FOR THE ARTS
Improv dances and classical voices merged for audiences yet again, this time to continue funding for the arts.
The Dreyfoos School of the Arts Foundation (SOAFI) held its second annual Belle Arti Luncheon to raise money for the arts at Dreyfoos and introduce potential donors to a wide variety of talent within its walls.
Guests enjoyed a silent auction and gourmet luncheon at the Cohen Pavilion at the Kravis Center for the Performing Arts. Acts from the music, dance, and theatre departments performed for over 200 guests in the charity fundraiser event.
"I think [this is] a really good opportunity, especially for kids that are trying to pursue their passion in the arts," SOAFI Director of Development Kimberly Ramia said. "It gives them a different platform to perform on, that's not necessarily in the theater, [or] on a stage that some students seemed to have come accustomed to. We're putting them in a different environment and they're having to perfect their performance for the space that they're given. It shows a different versatility to the artists as well."
Guests began to arrive at 11:30 a.m. for a reception in the lobby. Theatre students dressed as Hollywood stars greeted guests as they enjoyed champagne and browsed a silent auction. Among the 107 items being auctioned off were gift baskets, discounts, and special experiences donated by over 50 businesses, 20 individual donors, and around 20 alumni.
"A decade and a half ago, I had the fortune to be invited to a Dreyfoos luncheon," SOAFI Executive Board of Directors Lisa Marie Browne said. "The experience charged my mission to support the beauty and talent that I witnessed that day so long ago. I believe showcasing the amazing Dreyfoos students in the Kravis Center venue gives new patrons a reason to give back to a population that deserves the best education."
At 12:30 p.m., guests were seated in the ballroom as they were welcomed by the co-chairs of the event,Darlene Dzuba and Marti LaTour. Musical theatre senior Jade Master and the jazz band ensemble opened the show by performing "The Best Is Yet to Come." Around 40 students proceeded on stage, presenting pieces such as dance senior Makenzie Rivera's performance of "The Beauty Is" from Light in the Piazza and dance senior Tatiana Nunez's performance of "Septembre."
"The audience doesn't necessarily have [a] higher knowledge of the arts, so it wasn't like performing in a competition," Nunez said. "It had a more relaxed atmosphere where I could be myself."
Months of planning were essential for creating an event with so many elements. The luncheon's scope presented many challenges for the Foundation.
"We're always trying to include alumni, students, staff, and teachers to schedule all the moving pieces, but then when it all comes together, it's worth it," Ms. Ramia said.
Among the performers was theatre senior Alex Shaw. He performed as a part of the theatre department's ensemble performance of Cantiamo D'amore, an Italian piece from the musical Kiss Me, Kate.
"It's a great opportunity to be able to perform in front of the Foundation and thank them for what they have done to help out students at Dreyfoos," Shaw said. "I play guitar professionally, so this is a way for me to contribute to my department in a way that I know. I am happy to be a part of it."
Dreyfoos students also practiced their art behind the scenes. Three technical theatre students were responsible for managing other student performers and the organization of the event.
"The opportunity was a wonderful one with Kravis, and this was my second time stage managing with them," theatre senior Olivia Troast said. "It is very educational because I'm working with real-world professional lighting designers and sound engineers for an event as important as the Foundation Luncheon. Stage management was something I stumbled upon in my high school career, but I'm so lucky I found it."
Since 1993, SOAFI has raised over 18 million dollars to continue funding the arts and academic curriculum. Events like Belle Arti allow students the opportunity to continue to pursue their passions and develop in their art areas.
"This is the kind of event that merges your traditional luncheon with a full performance aspect," Ms. Ramia said. "It's a very niche type of luncheon, but really for all, I think having the student performance aspect makes it unique in itself; no one can replicate that. This was very successful, and we hope that it continues to grow."
About the Writer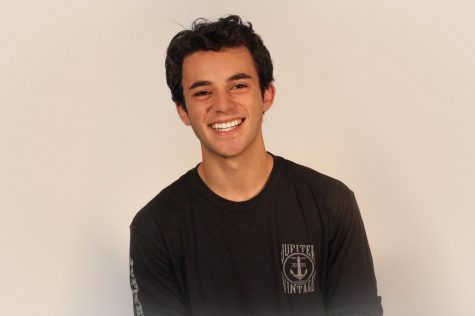 Adam Goldstick, Photo Editor
Communications junior Adam Goldstick is a second-year member of The Muse. For as long as he can remember, Adam has enjoyed telling stories, originally...