JAZZ COMBOS CONCERT
Hang on for a minute...we're trying to find some more stories you might like.
Tapping feet joined in on the lively melodies of tenor saxes mixed with drums, guitars, bass, and piano to open the third Jazz Combos performance of the year.
Dreyfoos students of past and present were accompanied by a special guest band as they filled the Brandt Black Box Theater with vibrant music on March 5. Seventeen band students of all different levels united to benefit the department and showcase the creativity of the jazz bands.
"One of the cool things about the music department is that we can have concerts that focus in on just one area of the department," strings sophomore Aidan Taylor said. "Everyone does classical, and we don't really dive into different styles of music. This gives us that opportunity."
Midway through the performance, jazz band director Pedro Hernandez introduced the five-person guest band, Claudensax. He welcomed back one of their members as a Dreyfoos alum from the Class of 2016. Joining them was another Dreyfoos alum, Michael Mackey, who approached Mr. Hernandez hours before the show. Despite the short notice, they were able to organize a band to take the spotlight and add a new perspective to the concert.
"[This show] gives [us] more freedom to create our own arrangements of songs and form our own groups," band junior Anthony Oro said. "This is important because everyone has to be thinking in the same way while we play."
The evening began to the rhythmic beat of "Eagles" by Joe Magnarelli and John Swana. The night featured other well-known jazz such as "Cry Me a River" by Arthur Hamilton and "All The Things You Are" by Jerome Kern. Additionally, for the students, improvisation plays a large role in jazz music. Adapting rhythms to their own style becomes a part of their art and is essential to forming their own distinct pieces.
"It's like a build-your-own pizza," vocal junior Sophy Demoya said. "You do whatever you want with it. For [the] chorus, we have a melodic line. However, we portray it however we feel. We make the song our own."
"
Everyone has to focus so hard to play their part. We have to work together."
— Strings sophomore Aidan Taylor
Earlier in the day, students participated in a master class hosted by Claudensax, engaging in conversation about what makes jazz different from other music genres.
"This is my first year doing jazz, and I think it's really cool to see how much I have grown vocally," Demoya said. "For me, I know that spreading [myself] into different genres to see how [I] sound and fit there is really cool because I never knew I had a voice for jazz."
Furthermore, the one-time performance served as an educational experience for both
Mr. Hernandez and the students. Mr. Hernandez acknowledges that he learns every time he hears them play.
"[I have] learned that it's okay to make a mistake since jazz is like jumbled mistakes making good music," vocal senior Emese Nemeth said. "As a group, you can either grow or make mistakes, but either way, you bond over your experiences. It's just amazing to be surrounded by such talented musicians who acknowledge their talent, but they don't thrive through it. They still understand that they are talented but work just as hard as if they weren't."
About the Writer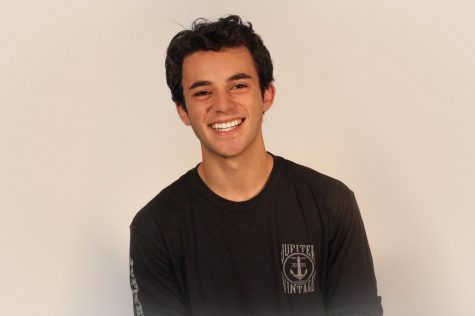 Adam Goldstick, Photo Editor
Communications junior Adam Goldstick is a second-year member of The Muse. For as long as he can remember, Adam has enjoyed telling stories, originally...