"One stage. One masterpiece. One message." Those were the words that Center Stage Master of Ceremonies and communications senior Michael Bole started the night with. These words manifested in the incredible harmonies, images, dances, acts, and talent that emanated from the stage. Center Stage was a night that brought every art major together in perfect unison.
Center Stage began with a pre-show reception in the cafeteria from 6:30 to 7:30 p.m. Guests were treated to snacks and drinks and were given a chance to speak with other attendees and organizers. At 7:45, the lights dimmed and the curtains rose in Meyer Hall. Finally, a post-reception allowed the audience to meet the artists involved in the show over coffee and dessert.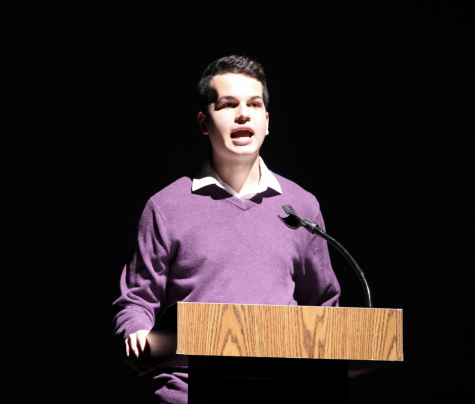 "I thought the performance today was really strong and extremely fun," theatre sophomore Seth Greenberg said. "I enjoyed every second of it, and I felt like it was a magical experience, especially having a house full of people."
Center Stage, organized by dozens of teachers and students, began in 2018 with a vision to bring all of Dreyfoos' arts together into one show. The stage was shared by the collective expression of everything from original student films to a vocal jazz quartet.
"[Collaboration] just shows such a broad spectrum of what we do here," vocal senior Ethan Mills said. "I think that's important because if you're a parent here, you only usually see what your kid does and you don't get to see everything else. I think it's very special that the parents and donors get to see what we're all capable of."
For many students, Center Stage was an opportunity to be exposed to the diversity of artistic expression that they rarely get the chance to see.
"Seeing these other arts, I see how much these people put into their own art and their passion," vocal senior Carolyn Lord said. "They persevere through physical pain, mental pain, and watching how insistent they are on doing what they love—it makes me want to do the same."
At the end of the show, an animated sketch created by the Visual Arts and Digital Media departments was projected on the screen, portraying the entire range of arts that take place at Dreyfoos. To many, this encapsulated the whole essence of Center Stage.
"[The sketch] made sense of what Center Stage is about—collaboration and [bringing] everyone together," piano senior Giancarlo Llerena said. "It's the reason why we're here."
From behind the curtain and running rehearsals to performing side-by-side onstage, Center Stage gave students of all majors the chance to inspire each other and the audience.
"Passion breeds more creativity," theatre junior Abigail Garcia said. "People who are passionate about the work they're doing … inspires what you do. The stuff we do leaves people speechless for a reason—it's just so easy to connect with something and it leaves you so vulnerable and so open, and that emotion you can't get anywhere else. To see how every single piece creates that emotional attachment is so beautiful."
"
The stuff we do leaves people speechless for a reason—it's just so easy to connect with something and it leaves you so vulnerable and so open, and that emotion you can't get anywhere else.
— Abigail Garcia
Center Stage offered an opportunity for sponsors to connect with the students whose dreams are made possible every day by their generous donations to the School of the Arts Foundation (SOAFI).
"[My wife Beverley Greenberg and I] are so impressed at the talent, skill set, and the commitment evidenced here, and we're very eager to help more students develop skills and go onto rewarding careers," contributor and attendee Arnold Greenberg said. "I think it's very important and more people should come and see [Center Stage] and they'd want to get committed to [donating]."
Many supporters who attended the first Center Stage in 2018 returned and continued their donations to the Foundation. Some expressed the reasons behind their continued support.
"I came to Center Stage last year too, and I think it's wonderful to see all the different departments collaborate on an evening that is just sensational," bronze sponsor and SOAFI board member Tyrone Po said. "I love how creative the students are about presenting their art area collaboratively … It makes me want to do more."
The success of Center Stage reflected the ever increasing need to attract supporters. Enclosed in each audience member's program was an envelope and information to donate to SOAFI through text messaging.
"I think that arts are really always the first thing that get pushed by the wayside, especially in public schools," Center Stage event manager and Director of Development for SOAFI Kimberley Ramia said. "I feel like it falls on the responsibility of the community to step up and fill that gap that funding from the state is unable to provide. Events like this and opportunities to put students out there and in front of people that say, 'This is how your funding has helped me,' really makes it real for people."
At the end of the night, after Michael Bole delivered his closing statement, it was obvious that Center Stage was about more than just fundraising and performing. Center Stage was about uniting Dreyfoos across all of its arts at a fundamental level.
"There's truly no animosity between any of the majors," theatre junior Jakob Littell said. "We all, at Dreyfoos, are a big family. We really do enjoy each other's company and there is a love and connection there … Even though we might do separate things, none of us are truly different. We're all artists and we all have something to share with audiences and each other."