ARTS INDEX
THEATRE
Following the performance and production of "Cry-Baby: The Musical," theatre students brought  "Waiting for Lefty" to the stage of the Brandt Black Box Theater. This play, published in 1935, spotlights a taxi driver labor strike. Students put in time both during and after school to create costumes, analyze characters, and run lines in preparation for the show. Additionally, before the end of the semester, theatre students work with a script of their choosing and craft an in-depth character analysis prior to performing the selection in front of their peers.
MUSIC
The band department celebrated Veterans Day with a musical performance on Nov. 12 in Meyer Hall. The concert commemorated all military heroes, including Dreyfoos veterans English teacher Carmen Gallardo and school resource officer Luis Valdez. Following the band concert was the Jazz Concert on Nov. 15, where students played rhythmic tunes in Meyer Hall.
The music department will continue to fill Dreyfoos stages with harmonies in December. Starting Dec. 5, all areas of the music department will head to the Kravis Center to perform in the annual Prism concert, which features musical holiday classics. On Dec. 12, students will participate in the Chamber Winds Concert, starting at 6 p.m. in the Brandt Black Box Theater. The Philharmonic Concert will take place on Dec. 13 at 6 p.m., highlighting Dreyfoos' Orchestra. On Dec. 15, the vocal department will take to Meyer Hall for a chorus concert, featuring vocal majors from all grade levels.
COMMUNICATIONS
From meeting deadlines to attending film shoots, communications students have been displaying their creative talent throughout the year. Recent debate tournaments, including the annual Florida Blue Key tournament at the University of Florida and the Tradition Tournament at Cypress Bay High School, gave students the opportunity to refine their speaking skills and network in the debate community. "Blue Key, this year, was an absolutely fulfilling experience," communications junior Kyle Ahern said. "Beyond anything I accomplished, seeing my team succeed in so many ways was something I will treasure forever."
Students also worked on submissions for the YoungArts competition in categories such as cinematic arts, writing, and photography. YoungArts scholars can receive national recognition, cash rewards, and the opportunity to take master classes with established artists.
VISUAL/DIGITAL MEDIA
Visual and digital media students are preparing to craft a portfolio of their work in order to display all that they have produced since the beginning of the school year. The culmination of their work, consisting of a number of different mediums, earns them their jury grade at the end of each semester. Students are beginning to find and explain the meaning behind their artwork, as to provide insight into their artistic minds while presenting their portfolios to their fellow classmates. Students in the visual and digital media departments also prepared for YoungArts submissions, entering in photography, cinematic arts, design arts, and visual arts.
DANCE
Dance students worked to promote and prepare for their showcase, "A Sum of Parts," which had showings in Meyer Hall Nov. 9–11 at 7 p.m. This fall dance concert showcased the work of dance students from each grade level, including a tap number that featured sophomores, juniors, and seniors. Students were in charge of promoting the concert leading up to the opening weekend. Dance junior Nicholas Ouporov designed the shirts and posters for the promotion of the event.
About the Writer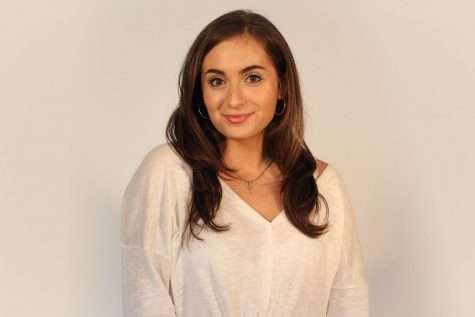 Sasha Monaco, Assistant Managing Editor
Communications senior Sasha Monaco is a third-year member of The Muse. She is excited to represent Dreyfoos' diversity as an assistant managing editor....