VISUAL & DIGITAL SPRING SHOW
Hang on for a minute...we're trying to find some more stories you might like.
Illuminated under a spotlight, black lines and delicate shadows adorned a small, white canvas that depicted two figures lying on a striped surface. While flat on the gallery wall, the canvas' use of linework utilized texture to portray depth and dimension. Visual freshman Veronika Hanzenko created the piece, dedicating over four hours to it. Many visual and digital media students underwent a similar process in the creation of the Visual Arts/Digital Media Spring Show on April 11 in Building 9.
"It's hard for the audience to see how much work that went into a piece just by observing it," Hanzenko said. "Before I even started physically working on the piece, I created four thumbnails that would give me an overall idea of what I wanted to show through the piece. Then, I had to narrow down the four thumbnails into the one that I planned on creating."
The preparation for the creation of these pieces was a rigorous process, as students worked diligently during class to refine their artwork before the showcase. The displayed art, while all created in one building, spanned from paintings, sculptures, and fashion pieces to sketches and watercolors.
"I had to do hours of research before drafting an idea of what my piece would look like," visual junior Schnerby Jacquet said. "To create the actual piece, I started off with watercolors as the base. Then, I had to tape down the borders of the paper to keep a flat, clean slate that I could easily work with. I painted the interior of the piece with acrylic paint, which dominated most of the artwork. When I removed the tape from the borders, I drew the flowers to unify the entire piece."
Not only was there diversity in the art medium, subjects ranging from dancers to floral patterns were portrayed throughout the showcase. Each of the pieces was symbolic, and to many artists, the showcase was an opportunity for self-expression.
"The piece that I created depicted a woman with yellow, sickly skin surrounded by many black dahlias," Jacquet said. "The black dahlias are tainted purple, which contrasts with her sickly skin tone. This was especially important because my piece was inspired by the murder of the Black Dahlia and how she was brutally mutilated. I created the piece to show respect to the dead because the corpse of the Black Dahlia was immorally treated. I wanted to rectify that through my art by painting an image of her before she was found dead. The addition of the black dahlias made her look serene but still kept the same powerful message."
Others approached their spring pieces with their own artistic style. This was largely due to the creative freedom fostered by the department, as the students in their respective art classes were encouraged to create pieces that would hold personal interest, rather than being based on an assigned project and rubric.
"I really enjoy drawing people because I'm able to experiment with emotions and facial expressions," Hanzenko said. "Other artists have their own artistic style. It's cool to see just how powerful art is: we are able to express our own styles through the work that we do."
While the artwork that decorated the walls and stairways captivated spectators, the gallery was also curated to fund the Visual Arts and Digital Media Departments through a student-run organization. Digital media junior Marc Ludwigsen organized Save the Arts in 2018 after first hand experiencing the detriments caused by the lack of arts funding.
"Save the Arts is a campaign that strives to fund our artists-in-residence, as well as our Digital [Media] and Visual Departments," Ludwigsen said. "Right now, we have experienced a major lack of funding from the state and district. Our funding has been cut by over 90 percent since 2014. We used to get $150,000, but now we get less than $10,000. It's up to us, as students, to fund our programs and teachers because without them, we wouldn't be able to do what we are passionate about."
After seeing the discussion of the lack of funding for the arts in Issue 3's cover story, "Save the Arts," the campaign sought to resolve this pertinent issue by selling postcards to spectators printed with student artwork. According to Ludwigsen, the opportunity allowed students and faculty to buy the postcards and mail them out to their friends and family, or even keep as souvenirs. The initiative hopes to expand their presence by selling postcards not only in art galleries, but also during lunch. As seen in the showcase, art has allowed the students of Building 9 to express their voice through their passion, and movements like Save the Arts cultivate this passion into a reality.
"Through my art, I'm able to express my voice and opinion visually and not just in words," Jacquet said. "Sometimes, people can't fully express what they want to say with words. Art is a medium where people are able to freely showcase their voice."

About the Writer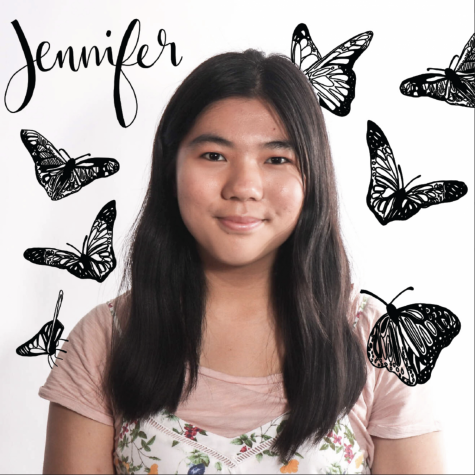 Jennifer Jia, Editor-in-Chief
Communications senior Jennifer Jia is a third-year staffer and the Editor-in-Chief of The Muse. She is also a member of the Speech and Debate Team, the social media manager of her local nature center, and a member of her school's honor societies. When she is not obsessively researching about college or attempting to study 12 hours straight for her AP classes, she enjoys writing, drawing, and taking nature hikes—yes, even in Florida's melting heat. Her goal as the Editor-in-Chief is to provide quality journalism that the newsmagazine's audience can enjoy, whether that would be articles, videos, social media posts, or layout designs. Undoubtedly, her time in the publication has given her a voice, a passion for journalism that she hopes to continue, and most importantly, The Muse family who she considers to have created lifelong friendships. While the publication can be stressful at times, she embraces a positive attitude and can thoroughly say that The Muse has been the highlight of her high school experience.
If you would like to contact this staffer, you may reach them at