GUIDE TO THE LAKE WORTH STREET PAINTING FESTIVAL
Held annually, the Lake Worth Street Painting Festival is the largest free arts festival across the world. Featuring work by over 200 artists, more than 100,000 people spectate the two day festival every year. The festival, unlike most, encourages students and children to work alongside renowned artists. Although it can be a daunting and intimidating experience at first, the following guide provides comprehensive advice for beginner and advanced artists from blending techniques to the artist application requirements.
Event Details
Date, Time, and Location
The festival will be held on Feb. 24-25, starting at 10 a.m each day. The 2018 location will be in downtown Lake Worth, along Lucerne and Lake Avenue.

The festival is free to all spectators and artists. There will be live music and street vendors selling food and merchandise.

This is a noncompetitive festival, as there will be no awards, scholarships, or medals given to artists participating, in an effort to promote a positive environment, where artists can offer constructive advice to one another.
Canvas
Students are given the option to choose a canvas size of either 4×6, 6×8, 8×10, or 10×10 feet. Designated canvases are either horizontal or vertical.

All artwork will be completed on the asphalt concrete streets of downtown Lake Worth, along Lake and Lucerne Avenue. Dreyfoos students' artwork will be located on J Street.
Essential Materials and Techniques
Materials
The Lake Worth Street Painting Festival provides only black and white tempera paint, so prepare to bring your own tempera paint if you want a specific color.

Jerry's Chalk Powder, combined with water, can provide a vibrant paint finish.

As a base color, Crayola sidewalk chalk is an inexpensive option to sketch out the basic design. Additionally, the coarse texture of the chalk allows the tempera paint to settle on the asphalt concrete better.

Hairspray from the brands Rave and Aquanet are inexpensive and can cover a 10×10 foot surface. Hairspray is vital to ensure that the paint mediums will stay in place, but must stay within the festival guidelines by not being waterproof.

Bring your own paint roller, preferably a roller used for creating texture to seamlessly blend the paint.

Bring a clear, plastic tarp cloth to cover your work in progress, in case it rains.

Invest in a face mask or protective covering to avoid inhaling the chalk powder.

Sit on a small piece of cardboard while at the festival to avoid smearing your artwork.

Use a frisbee to contain fragmented chalk pieces and tempera paint.
Texture
Hatching and cross hatching are artistic techniques of vertical and horizontal closely-spaced, parallel lines used to add visual texture to the artwork.

Line work can be completed with a chalk liner tool to create a precise and straight line. An alternative option can be duct tape.

Use tape to create geometric designs, often seen in paintings with psychedelic themes.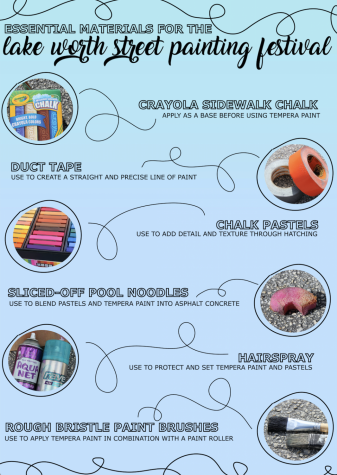 Infographic by Jennifer Jia
Overall Tips and Tricks
If you are planning to have a solid background for your artwork, bring plenty of tempera paint in the specific color in order to avoid running out. If you run out of tempera paint, don't hesitate to ask other artists if they have paint to spare. The festival environment is supportive.

Time management is key. All artwork is expected to be completed on the second day of the festival. If you are a beginner artist, start with a smaller canvas size, like 4×6 feet.

The festival weather will be warm, so it is vital to bring sunscreen, plenty of water, and a hat. Take frequent breaks if needed.

Laminate the sketch that you want to replicate, so that it is weather-proof and easily accessible.
Timeline of Events
If you would like to apply as an artist, all applications must be submitted between October and November. Results will be released no later than Feb. 1. The program features renowned artists traveling internationally, students of all grade levels, and an area designated for young children. The following are the application requirements provided by the Lake Worth Street Painting Festival website:
Two different examples that are representative of the artwork you create must be provided with the application. ie: laser prints, photos or JPEG images (identified with your name). Please Note: photos/slides etc. cannot be returned.

No artist will be accepted without a picture or sketch and brief description of the proposed street painting image. If you are doing a reproduction (your own work or work of another artist) you must submit a copy of the image along with a copy of your original sketch.

Artwork for the Festival must be appropriate for public viewing. No logos, commercial, political or personal advertisements or statements, written, visual or implied are permitted.Absolutely no words or symbols intended or interpreted as political statements or advertising may appear within the street painting image.
About the Writer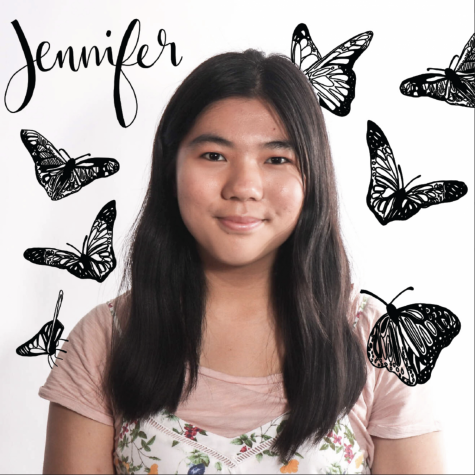 Jennifer Jia, Editor-in-Chief
Communications senior Jennifer Jia is a third-year staffer and the Editor-in-Chief of The Muse. She is also a member of the Speech and Debate Team, the...