'Romeo and Juliet' Set Wins Award
Hang on for a minute...we're trying to find some more stories you might like.
For some theatre majors, parting with their set after working long hours on it can be such a sweet sorrow. However, for theatre junior Cami Wright, this will not be the case. The "Romeo and Juliet" set, designed both by Wright and theatre teacher Ed Blanchette, was one of the 50 sets of its kind that may be selected to be brung to the Florida International Thespian Society (ITS) state festival.
"[To become eligible for the competition] you submit [your set] and they send a panel of two judges to all of the to all of the high schools in the state of Florida," Mr. Blanchette said. "They watch and adjudicate, and then they all get together and make the decision. There are 50 other high schools are trying to compete in this, and they will [only] select five."
True commitment was required to start and finish the set. From beginning the plans over the summer and completing the set itself on opening night, tech crew heads theatre senior Nicole Abis, theatre sophomore Chloe Gonzalez, and theatre junior Issy Block stayed after school six to seven days a week until 7:30 p.m. or sometimes later, to perfect it. A total of 335 arts hours were awarded to each of the crew heads after the set was finished on Oct. 30.
"The research, set design, model, and floor plans [and] elevations took two months this summer," Wright said. "The building began the first day of school and students worked six to seven days during and after school [to finish it]. [We actually] finished [only] 30 minutes before the house opened on opening night."
Theatre teacher and "Romeo and Juliet" director Brad Barfield gave Wright her original inspiration of making the set model the Globe Theatre, where William Shakespeare had his shows performed in London during the late 16th and early 17th centuries. Considering the fact that the Globe is such a large building, Wright used "forced perspective" to make it appear larger than it actually is by making each level progressively shorter as someone reaches its higher levels.
"I didn't want to copy the Globe exactly, so I made it similar enough that an audience member who has a mental image of the Globe would recognize it," Wright said. "Part of my process was looking at reference pictures of the current [theater] in London, and then without looking at them, doing quick sketches to see which elements of it were most memorable. These parts were kept the same and the rest was changed to tailor it to 'Romeo and Juliet.'"
As the set is moved from the classroom, to the stage, and hopefully to the festival in March, Mr. Blanchette and the many theatre students who contributed to it can only hope their hard work will help them secure a spot at states.
"Watching [the set] all come together was the most exciting part [of making it]," Mr. Blanchette said. " [Because] the rest of it is just work, it's building all the individual elements, watching them get painted and watching them get done. But the [overall best] part was when you put [the set] all together and it all fits, [becoming] what the designer and the director wanted."
About the Writer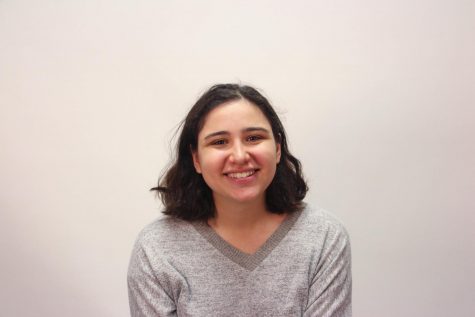 Ruby Rosenthal, Editor-In-Chief
Ruby Rosenthal is a third-year staffer and co-Editor-in-Chief of The Muse. She's obsessed with learning new things, whether it be through reading articles...