Jumbo Shrimp makes their mark on SunFest
Our school's very own psychedelic rock band, Jumbo Shrimp, played the biggest show of its career this past weekend at SunFest. Playing at the FPL stage at 1:00 p.m. on Saturday afternoon, Jumbo Shrimp was officially the youngest music group to have ever performed at the five day music festival. Having played at SunFest, which attracts several hundreds of thousands people a year; their credentials and experience have forever been changed.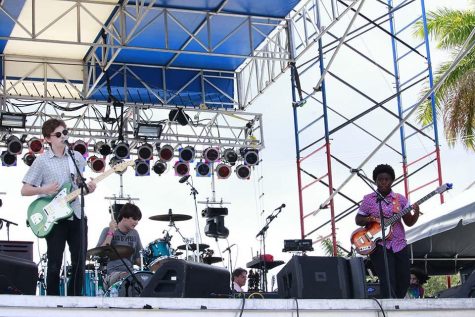 "After playing this show I feel very good, this was a life changing experience and it's amazing being up there and it was just a really fun thing to do," theatre junior Angel Leiser said.
The main game changer for Jumbo Shrimp's show on May 2 was the audience they attracted. Theatre sophomore Ben Rothschild, band sophomore Austin Klewan, theatre junior Angel Leiser, Palm Beach Gardens High School junior John Cardillo III and Bak Middle School of the Arts eighth grader Dylan Thomas normally expect a crowd of 30-40 people but their show at SunFest attracted nearly triple the amount.
"The audience was incredible so it was easy to feed off of them and it made the show even better," Rothschild said.
Longer practices and more rehearsals were held in preparation for the big show along with overall changes. But aside from the technical details, the five bandmates treated it as if it was any other show, although they always want to better their performances.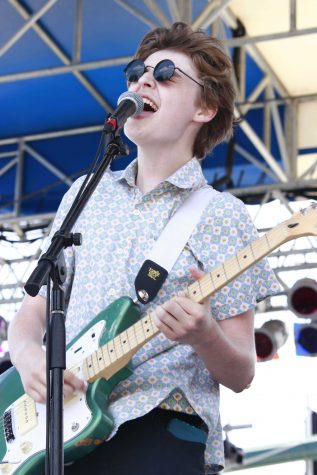 "I think in ways we thought more strategically for this show because we wanted [Rothchild's] voice to last out for the full hour since he sings the most," Leiser said. "So we did songs or changed songs, if we wanted to do a higher harmony or a lower harmony for him to make it easier."
The final moments before the band stepped on stage were filled with a mix of anxiety, anticipation and excitement. Members of the Dreyfoos family piled into the crowd to support their fellow peers at one of their biggest and most memorable moments of their lives.
"30 minutes before we got on stage we had a pep talk, but the minute before and they were saying it's time to go I was like 'whoa we're really doing this, we're about to go on stage.' It was really nerve wracking but exciting too," Leiser said.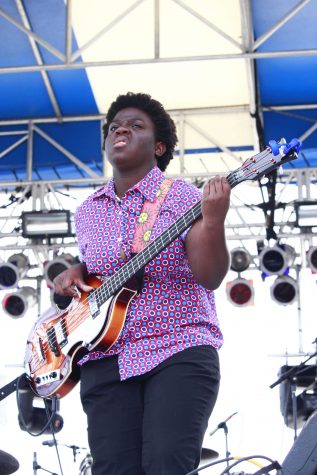 Jumbo Shrimp played old songs along with new ones from their album, which was recently released on May 1, the day before their show at SunFest. Though they were enthusiastic throughout their entire set, their performance of 'Midnight Hour' was much more heartfelt, packed with stage jumping and unconventional technique.
"'Midnight Hour' was the best to perform probably because we did extra little things and we all had a solo. It was really awesome and we could easily tell that the audience was enjoying it, it was a lot of fun," Cardillo III said.
About the Writer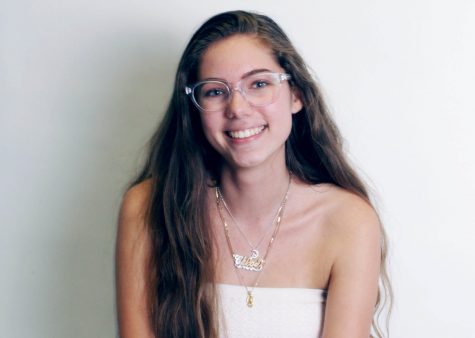 Chloe Krammel, Layout Editor
Communications senior Chloe Krammel is the Layout Editor and a third-year staffer on The Muse. She is excited to make a change to the visual aspect of...