Students attend JEA/NSPA journalism convention, receive awards
Journalism students attended the Journalism Education Association (JEA)/National Scholastic Press Association (NSPA) Fall National High School Journalism Convention in Orlando at the Walt Disney World Dolphin Hotel from Nov. 12-15. Students from The Muse, Marquee, "Seeds," and "DSOA Today" joined thousands of other high school journalists from across the country for seminars and contests in writing, broadcasting, and design.
Although most seminars aimed to improve students' journalism skills through presentations on writing, editing, broadcasting, and design strategies, some were more unique. Communications senior Rachel Glismann attended one called "No guts, no glory" which focused on poetry.
"It was about poetry and poetry publication and how it's kind of an underrated form of writing, especially when it comes to publication journalism. Many people think that [journalism, poetry, and prose] can't coexist but there's poetry in everything," Glismann said. "[The speaker] was talking about…how poetry can apply to journalism."
Students were recognized for their journalistic achievements in a variety of categories. NSPA announced national individual award finalists in September, and winners were announced at the convention. Communications senior Starr Courakos won fourth place for Picture of the Year in the environmental portrait category for her photo of communications alumna Diana Calderon ('15) sitting on an empty school bus. The photo was featured in a story about Calderon's long bus ride to and from school. Communications junior Julia Horneck received an Honorable Mention for Design of the Year in the newsmagazine cover category for her photo of vocal sophomore Hailey Kennedy wearing her face mask on the cover of last year's third issue of The Muse.
The Muse's website won eighth in Best of Show for publication websites at small schools. "Seeds" won fourth in Best of Show for literary magazines.
Students also participated in Write-off competitions, which challenged students attending the convention in a variety of categories. Winners were recognized with Honorable Mention, Excellent, or Superior, the highest honor.
Communications senior William Fritz was one of two students to receive a Superior award in the Videography category.
"We had to go out to the Disney Boardwalk. The assignment was to shoot a video between a minute [and] 30 seconds and 3 minutes and we had to make a story out of visuals without using audio, shooting [with a] camera with no editing," Fritz said. "There was a lot of competition and I am very honored to receive this award."
In addition to seminars, competitions, and awards ceremonies, those who went on the trip visited Disney World's Disney Springs (formerly Downtown Disney) and Magic Kingdom.
Dreyfoos' winners for the Write-offs are as follows:
Communications senior William Fritz: Superior in Videography
Communications junior Tom Kapitulnik: Superior in News Editing/Headline Writing
Communications junior Brittany McKenzie: Superior in Feature Writing
Communications senior Jack Reagan: Excellent in Video Package Editing
Communications junior Uma Raja: Excellent in Review Writing
Communications sophomore Hannah Butcher: Honorable Mention in Literary Magazine Poetry
Communications senior Naomi Kelly: Honorable Mention in Yearbook Layout: Theme
Communications senior Samantha Rose: Honorable Mention in Commentary Writing
About the Writer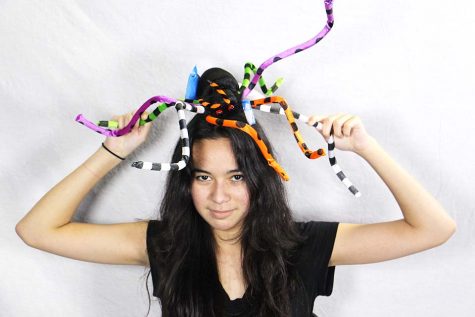 Samantha Rose, Editor-In-Chief
Communications senior Samantha Rose is a third-year staffer and Co-Editor-in-Chief of The Muse. She has had a passion for writing since middle school and...