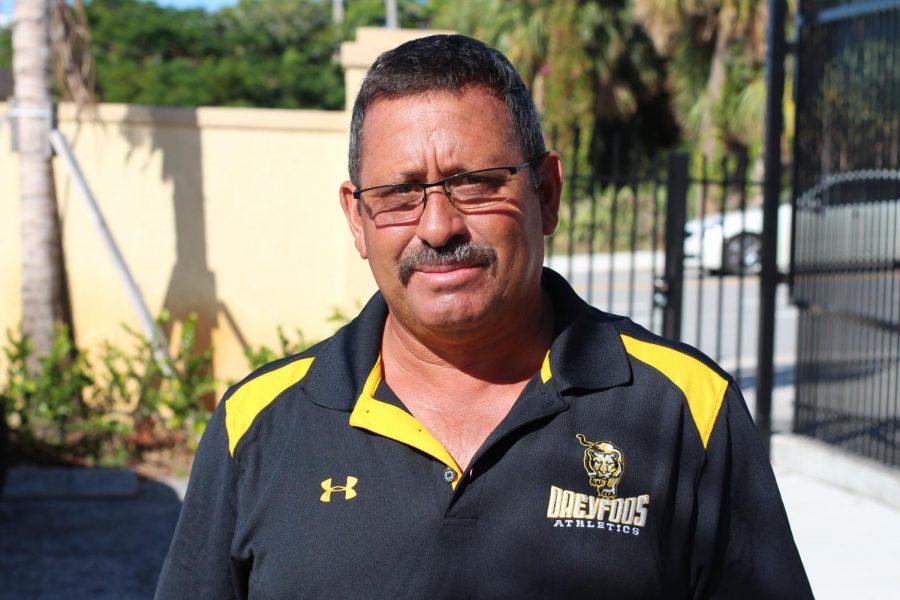 SCHOOL RESOURCE OFFICER LUIS VALDEZ, U.S. ARMY
Why did you join the Army?
There were, I guess, too many of us in my house. So, I figured as the oldest I had to go to college. But there's no way my dad could have done that for me. And so I left, figuring the military would be a good place to start, you know, learning about myself. Then later on, using my GI Bill to go to college like I wanted. I didn't expect to stay in the service 22 years, though.
What did you do during the two decades in the Army?
When I went into the Army, I served in the infantry. Then I went to Ranger School, and I was selected for Ranger battalion in Savannah. Then from Savannah, I went to selection for the Special Forces. As the years went on and different things happened in the world, I got to experience them.
First came the invasion of Grenada, and I got to participate. There we were able to rescue a lot of medical students that were held there by the Cubans. After that, I went to Operation Desert Storm. I was in Kuwait trying to clear the area of any insurgents. Of course, the last stage of my career, which was the most meaningful one, the one that really told me, "it's time to start thinking about your options here," was in Somalia. I was part of Operation Rangers Somalia in Mogadishu in 1993. Coming out of that, I got hurt and they gave me an option of where I wanted to retire, and I picked 25th Infantry Division in Hawaii. And I was in charge of the ranger indoctrination to select people for ranger battalion.

How do you reflect on your service this Veterans Day?
It wasn't until I retired that I actually saw what it meant at the end of the whole thing. It was like one day I woke up and said, "OK, I guess I'm part of that group they talk about called the veterans." You wake up one day and you say to yourself, "I was able to put my life on the line so that everyone else has the ability to have the freedoms that come with being an American." I'm proud of that, and I'm proud of the fact that I have no regrets.
What do you want students to remember on this day?
My wife says I'm a hero, but I tell her I'm a normal guy. I wanted to fit into society, and sometimes veterans need people like students who are going to say they care. We lose 21 veterans a day by suicide. Twenty-one. Most of these veterans are committing suicide, they're self-destructing, they're self-medicating with alcohol, et cetera. A lot of these veterans just need to know that people actually are interested in what they are feeling. Because sometimes I forget what it means, and then once in awhile there's something to remind me. When I was 17, I was jumping out of airplanes, and these kids are actually going to Harvard or Yale. They're able to have that freedom of choice because of all these veterans like me.
How does your work at Dreyfoos remind you of your service?
I actually say that I'm fortunate because I work in a school where the kids have all these special energies. It's a gift when they approach me and I see that strength in their eyes, I say, "Man, this kid is a part of an orchestra, or part of a play, or interested in photography." All these energies come together, and none of them are negative. It flips a switch inside of me. So, as a veteran, I could actually say that all the things I've done since I retired, believe it or not, sitting at this gate in the the rain or sun never bothers me because I know that at any moment, a kid is going to come out here and say, "Hey, Mr. Lou, what's going on?" That switch keeps flipping into a more positive way of seeing life, you know? To be able to look at all these kids' eyes and say, "Man, you know what, I'm glad I did what I did," because, eventually, I was able to see the results of freedom.
What lesson did you learn that you would share with students?
Never give up. Set a goal, and no matter what anybody tells you, accomplish it. Do your best to accomplish it. Don't fail your goal because someone else said you can't do it. If you fail, it's because you chose to quit. When I went to Ranger School, I weighed 125 pounds, but I was carrying 65 to 70 pounds, and there were guys that were football players who didn't make it because they quit mentally. It's the same with school. These kids here are auditioning and doing this and that and rehearsing until 8 p.m. They're pushing through it. That's what you do. You have the choice, just like in the military, if you're going to overcome challenges.