"One!"  Co-captain of the girls' JV volleyball team and digital media sophomore Sophia Milcheva yells out.
Her teammates respond in unison, "Two!", with their feet spread out and their arms reaching to their left foot. Twenty-five minutes before the first ball is served against the Boynton Beach Tigers, Milcheva gathers her team in a circle on the court, dressed in a white jersey and black shorts, and leads them in their pre-game stretching.
On the last day of the girls varsity volleyball tryouts, a new JV team was announced, allowing for an entirely new team of girls to play volleyball this season. 
"JV is a great opportunity for kids who are interested in varsity to be able to get onto varsity," JV player and vocal sophomore Neila Bhagwandeen said. "Not only that, but they're able to watch the varsity girls and see the level that they have to be at."
Due to a "bunch of interest," Athletic Director Matthew Vaughan explains, the coaches and himself collectively decided to announce a JV girls volleyball team. Neither Coach Vaughan nor The Muse know of a prior JV team in the school's history. 
According to Bhagwandeen, it is more common for a school to have a JV team than not to. This season, the JV team will play against 15 other schools, each with a respective JV and varsity team. 
The Beginning
About 50 girls tried out for the varsity team this year, and when rosters consisted of only 15 girls, there were many students who were not going to be able to play school volleyball that season.
"Coach (Esopakis) told me there's a lot of talent out here this year," Coach Vaughan said. "And if you have 10 girls that are worthy of just almost making the varsity team, they should be able to hopefully make it next year."
With the JV team now using the gym Monday-Thursday and sometimes Friday, the varsity practice and game schedule has been pushed back an hour.
"I personally really liked the moved back practice because a lot of times before we'll start practice, since we have time after school, the whole team will go hang out," captain of the girls varsity team and vocal senior Madeleine Thron said. "And it's good for team bonding."
The JV team has started with success, winning five out of the six games they have played.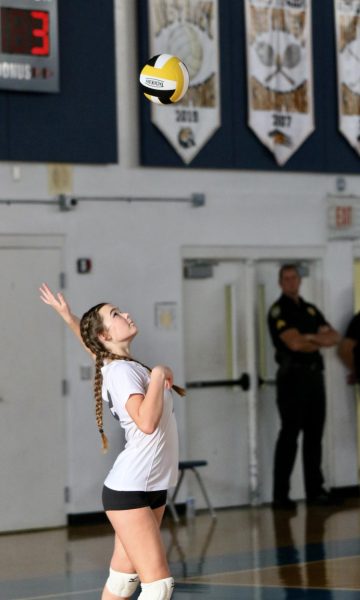 "I was really surprised because Dreyfoos is an art school, but we beat sport-oriented schools," Milcheva said after their second game. "We also didn't really know each other as a team; so, it was a surprising, but awesome win."
Despite being finalized late into tryouts, the JV team came together quickly. 
"We already had extra uniforms, and a schedule pretty much made," Vaughan said. "So the one thing we needed was to find a coach and it worked out. We did it all in two days."
Within these two days, Varsity Coach Michael Esopakis knocked on several of his colleagues' doors, seeing if anyone was able to coach. He found a willing candidate in the room across the hall from his: the new social studies teacher Blake Ecker. 
"It is nice (being the JV coach)," Ms. Ecker said. "I feel like I'm a new student too, so I need to be involved to feel the community of the school a little bit better."
This new team prompts an overarching question for the future of athletics on campus: Could students expect to see more JV teams for other sports? With limits on coaches, stipends, and facilities there are no promises at this time, per Coach Vaughan.
"It's a possibility," Vaughan said. "If we see a lot of talent out there where we could actually thrive then possibly."
The Key to a 5-1 Score 
At games, the varsity team sits in the bleachers, chanting, cheering, and supporting the JV team.
"Cheering them on gives them a sense of motivation and keeps them going," Thron said. "I think it also lightens up the mood because since this is the first year of JV, there's also a lot of uncertainty about who you're playing, and how good the other JV teams are at other schools."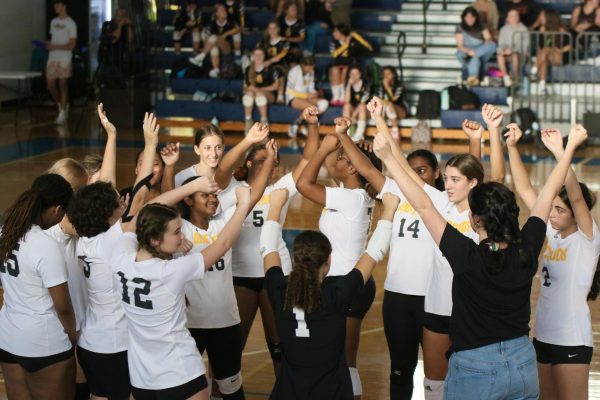 Beyond the support from the varsity team, Coach Ecker adds that the team is successful thus far due to their mindset. 
"Everyone has a pretty good attitude, which is the nice thing," Coach Ecker said. "I just really want to encourage them to have fun."