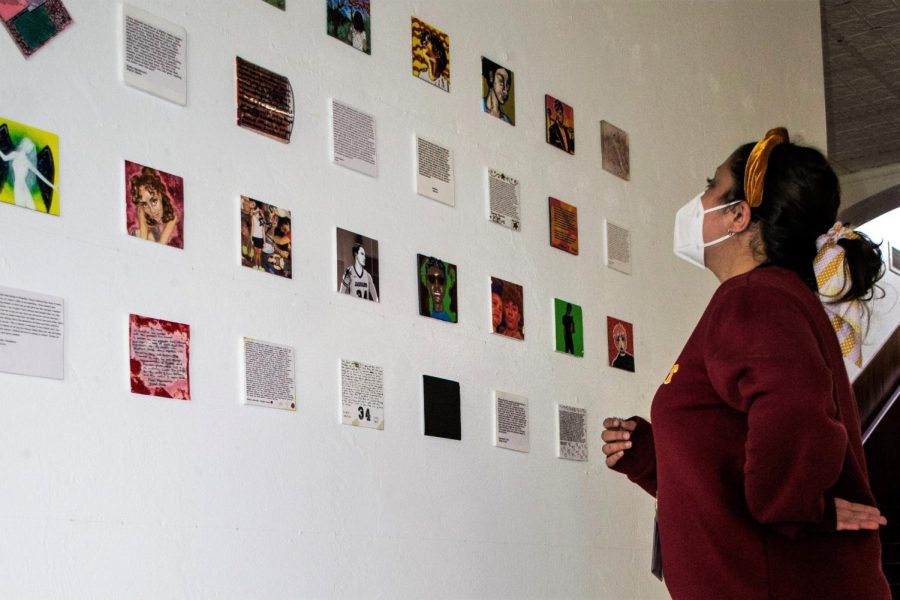 Natalie Ryder
Digital and visual seniors participated in the 4×4 show as their artwork was showcased at the entrance of the Building 2. 
Seniors created a 4×4 gallery to summarize their progression as artists over their four years on campus. Although typical galleries have artwork of all shapes, sizes, and mediums, this show only featured portraits on a 4×4 canvas.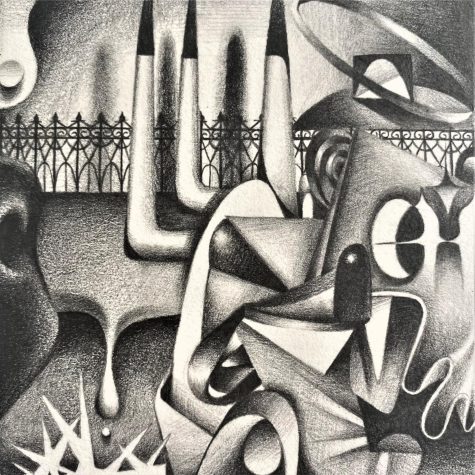 "They are super fine, like hair," Garcia said, referring to her pencils. "I have to make the tip super small and work very lightly, or else it will break in seconds. Imagine you take a very long and hard stick. 
Most of Garcia's past work consists of freehand drawing with paint. She described the process of working with this method as "time consuming." 
"I put my hand like this so I'm not shaking," she said, and placed her hand over an imaginary stick. "I was able to craft every very single line, every single detail. I was just there shading for an hour like this."
Throughout her piece, Garcia pulled reference to George Condo, her favorite Cuban artist.
"It represents what makes me, me," Garcia said. "So is my culture, like the bull horns on one side, and it has a very typical Cuban fence in the background. (…) There are many references to my mom's old artwork that she made in her senior year back in Cuba."
Garcia's peers provided her with outside feedback, serving as a guide for her artwork. She "learned to take criticism anywhere I can get it" to help improve her art." 
"I learned to not go off of what I see around me like my other influences. I learned that my other influences can help me but I'm only myself and I'm the person that needs to guide what I think is best for me."
Visual senior Giovanna Romano's favorite art style is self-portraits. Yet ironically, the 4×4 project took Romano out of her comfort zone. 
"I have been working for the past year and a half," Romano said. "My smallest piece was 24×36 (inches), and this was 4×4. When it comes to the 4×4, the challenge was really the size for me and being able to make it look detailed without it being large."
Romano used cross-hatching, since she was unfamiliar with creating a small-scale piece. She said she began practicing cross-hatching in her junior year, so applying this skill as a senior in her 4×4 represents the artist growth she experienced. 
"(Cross-hatching) is when you take a pen to draw in order to make value," Romano said. "You use multiple slashed lines. It looks 3D without it really being a 3D space."
Romano used a posca pen, paint, and a sharpie. Romano commonly works with pen and paint together, so she used the mix of mediums in her portrait. According to Romano, the posca pen helps with really fine details. She also used acrylic paint for the portrait's base colors, which includes the brown skin tone and the shirt color. The cross-hatching was all done in Sharpie.
Romana says that she has been able to refine her skills through learning about "advanced techniques of printmaking, sculptures, drawing, figure drawing, and even digital art." 
Visual senior Kate Cleary interpreted the guidelines of the 4×4 project in her own way. While abiding by the criteria, Cleary decided to craft her work from an out-of-body standpoint.
"I wanted to make something that looked like me, even though it wasn't me," Cleary said.
To create her piece, Cleary took a photo of a sunset, allowing her to experiment with a wide color palette. Then, Cleary painted on top of the sunset with acrylic, which is something she had never done before. 
"The message is an accurate depiction of my personality, and just the presence I give off to other people, which is somewhat calm," Cleary said.
Through her four years on campus, Clearly learned to work smarter, not harder. She says that this has helped her grow not only an artist but in her personal life as well.
"One thing people get trapped up in creating their art is repeating the same stuff over and over again," Cleary said. "It's the only thing that you can draw, right? So you'll only draw what you're good at drawing. I definitely got caught up in that, and it's been a constant struggle. I have to remind myself not to do that, (so) I take days to draw stuff that I don't know how to draw."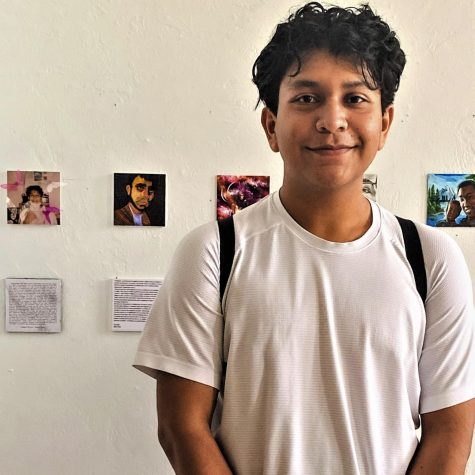 Digital senior Kadmiel Rivera describes his growth in high school through the metamorphosis cycle.
"I've always found butterflies to be the insects that I tend to use a lot. It's more of a motif," Rivera said. "I had been using butterflies to represent the final stage, so freshman year would be the larval state, and then senior year is the butterfly stage, where you finally have developed as a person and as an artist. The butterflies on the 4×4 represent that final stage before graduation. As a senior, you have finally developed your own art style."
In his project, Rivera used a scanned polaroid to "capture a memory." He believes polaroids are timekeepers: freezing a moment and remembering it for eternity. You can always see the "flaws in a polaroid, as they're never perfect. They are always blurry." The butterflies are transparent to symbolize that "sometimes you feel like people just see right through you."
Rivera struggled most with artist block during quarantine. He had a lack of inspiration while he wasn't physically at school and around students and their artwork. 
"You tend to start losing inspiration in art since you really don't have creativity around you," Rivera said. "You walk into Building 9, you have people creating their artwork and get inspiration from that, but at home, there's nothing going on. You really just can't come up with anything."
Rivera describes his experience as an artist in high school as a "never-ending, changing loop." In freshman year, Rivera strictly practiced photography, but in his sophomore and junior year, he studied fashion. Now Rivera is experimenting with graphic design.
"There's a lot of change that has happened through my art, and I feel that correlates with who I am as an artist," Rivera said.