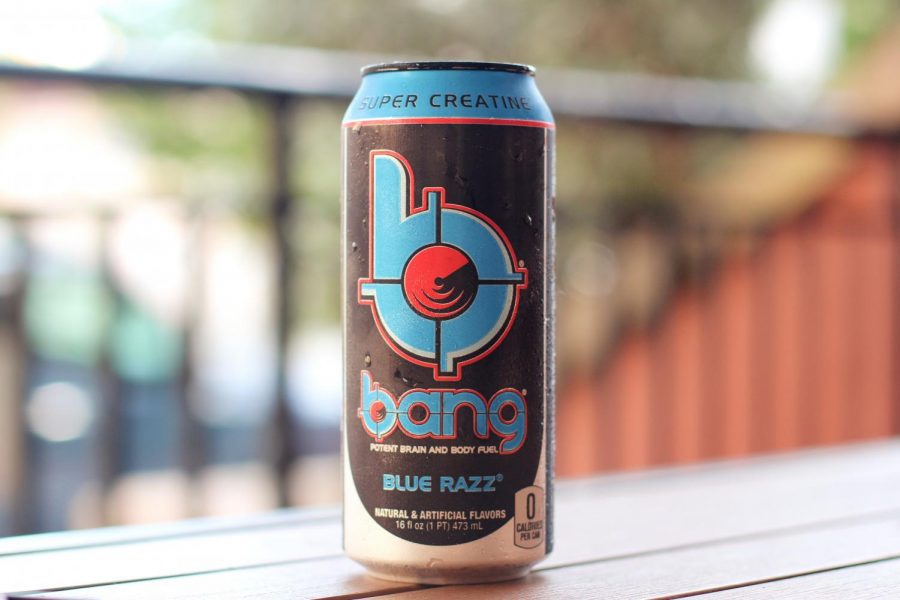 Hannah Baldwin
Within the competitive world of caffeinated drinks, companies such as Starbucks, Monster, and Redbull have dominated the shelves for years. Now, another competitor is on the rise. Feeding off teens' growing obsession with energy drinks, Bang Energy Drinks are the new rage and have now made their way into classrooms.
"I started seeing all my friends with [Bang] and wanted to give it a try," theatre sophomore Daniel Reiter said. "Now, I have one every few weeks. I love the taste, and it gets me through the long school days."
With a wide variety of 20 flavors ranging from iced tea to birthday cake, the diversity of the brand is enticing to teenage customers. Fluorescent cans and business marketing strategies are designed to attract teens, but are a "complete misconception," according to Top Class Action.
Bang Energy's Instagram page has over 1 million followers. They post an average of two to three times a day, with videos and images featuring young adults to advertise the drink. The brand specifically hires fitness models and lifestyle bloggers, encouraging them to be brand ambassadors and join the "Bang Revolution." With influencers spread across several social media platforms, Bang attracts students who use these apps daily.
While engrossed with the teen-centric market strategies, students are unaware of the many health risks associated with the drink.
While it's sugar free and zero calorie, one 16-ounce can of Bang has 300 milligrams of caffeine, about three times the amount of caffeine in a cup of coffee. According to Mayo Clinic, 400 milligrams is the maximum amount adults should consume per day. As for teens, the American Academy of Pediatrics recommends no more than 100 milligrams.
Because teens have a lower tolerance to caffeine, it can be unsafe for students to consume so much of the stimulant. According to Medical News Today, an abundance of caffeine can lead to several health problems, including anxiety, insomnia, and a possible caffeine addiction.
"I notice that some of my friends literally cannot go without a Bang a day," band freshman Ava Degaetano said. "[They] use products with the most caffeine to get the strongest effect, either by staying up late doing homework, or staying up in school."
Compared to other energy drinks, Bang has the highest caffeine content. A regular cup of coffee and can of Redbull each contain only about a third of the caffeine content of Bang, with 95 milligrams and 111 milligrams, respectively. When it was originally introduced in 2012, it contained 357 milligrams of caffeine, but has since been lowered to 300.
In a 2016 study of 166 adolescents conducted by the "Journal of Nutrition Education and Behavior," while teens were aware of the negative health effects associated with caffeinated beverages, they were unaware of the recommended consumption levels. Degaetano explains her first-hand experience with such abnormal behavior.
"Sometimes my hands will start shaking … I won't even be able to hold my pencil without my hands quivering," Degaetano said.
At the bottom of the can, the caffeine warning specifies that the drink is not recommended for individuals under the age of 18. It also warns against side effects such as nervousness, irritability, sleeplessness, and rapid heartbeat. Because of this, some students have stopped drinking Bang for health reasons. Recently, the company has begun to sell caffeine-free drinks that have the same flavors as the caffeinated energy drinks.
"I wasn't aware of how much caffeine I was putting in my body," said theatre junior Lucy Oxer, who drank three Bang Energy drinks while setting up for the annual pep rally. "When I got home, I was super jittery and shaky, my heart was racing all night, and my mom had to constantly check my heart rate."
After the incident, Oxer made the decision to do what was best for her body and quit drinking Bang. Other students such as Reiter recognize the health consequences and have begun to follow suit.
"[Students] have to be more mindful of the situations Bang can put us in," Reiter said. "Although they taste great, Bang drinks can be potentially dangerous, and we need to consider this more closely when picking up the next can."