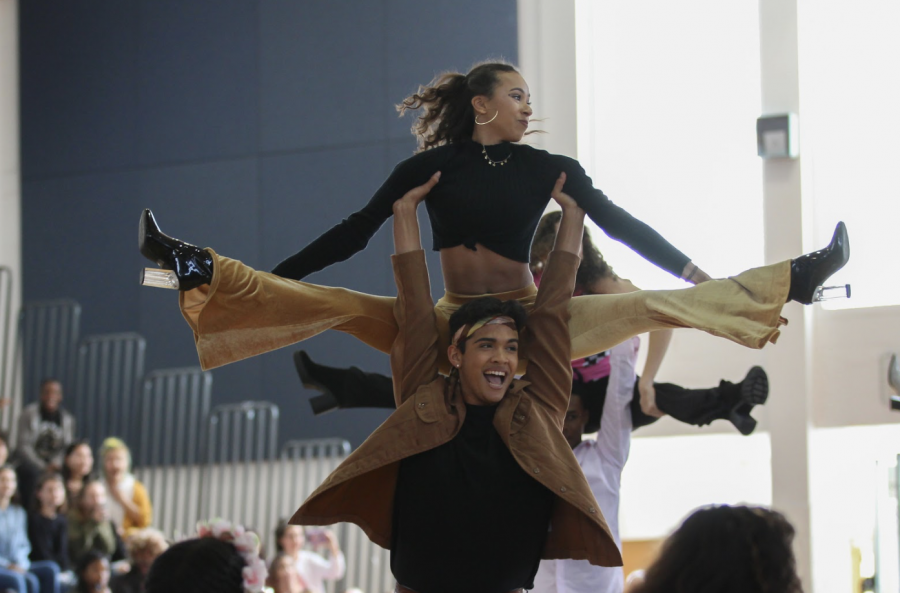 Photo by Natalie Bergeron
Hundreds of students crowd the gym to observe groups from each class as they show off their dance moves from past generations. The freshmen hand jive and boogie woogie across the floor followed by the sophomores who shimmy their way into the hearts of the audience. The juniors dance to the ever-popular "YMCA" by the Village People while the seniors 'get physical'. It feels as if Dreyfoos has gone through one giant time machine to revisit some of the most iconic decades. Unfortunately, this is not the case. However, Generation Day seems to be almost the same thing.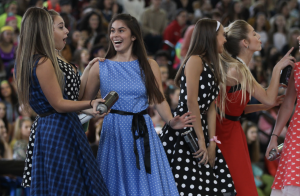 Held on Wednesdays of Spirit Week, Generation Day is usually a crowd pleaser. Many weeks in advance, dancers from each class prepare for one of the day's activities: performing a choreographed number to the students and judges that encompasses the class' respective decade. This year, the seniors remained victorious, taking home first place followed by the juniors in second, the freshmen in third, and the sophomores in fourth. Each class put hours of practice in, bonding with each practice session.
"We started after Winter break but each practice was more entertaining than it was stressful for me," dance junior and junior generation dance choreographer Gabriella Angel said. "We got so much done during each practice and whenever we would get something done, we would all cheer and get hyped. Each practice allowed me to be more and more relieved."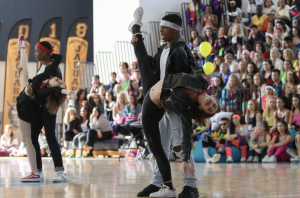 To perfect an entire dance number, it is crucial that each group puts in time and practice. But with the level of commitment that most classes put in, there are many stressful challenges that come with it. Having never experienced Dreyfoos Spirit Week, the freshmen know this struggle all too well.
"At first, we were a little overwhelmed with everything that needed to be done for this week because Dreyfoos goes all out," communications freshman and co-class president Nirmit Chandan said. "But we slowly adapted and got some ideas on how to handle this all. We communicated well and had lots of meetings during lunch to stay on top of everything."
After the sophomores' dance, students of all classes were amazed by the number choreographed by dance sophomore Melanie Moon. Moon and fellow dancers drew inspiration from the 60s themed film and musical- "Hairspray", carrying physical bottles of hairspray and dancing in unison to hit songs from the show. However, this didn't exactly mesh well with the judges, who ended up placing the sophomores in last place.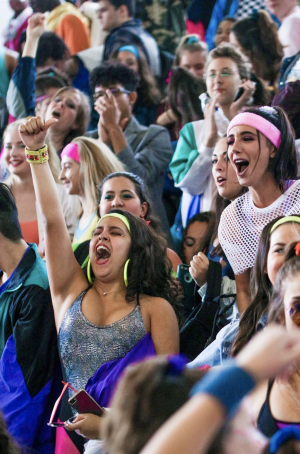 "We put a lot of time and effort into [our dance]," Moon said. "Lots of rehearsals and a lot of teamwork went in to making it right. I was not disappointed in the execution of the dance, but more in the way in which we were being judged. As a group, we felt it was the best we had done."
The four dance judges included math teachers Ellen Reilly and Craig Adams, English teacher Nathan Hesse, and social studies teacher Kathleen O'hara. Throughout the lunch period, the judges moved from table to table in front of each class and scored each dance individually based on certain criteria.
"I looked for good choreography, expressions of the dancers, clean lines, costumes and crowd appeal," Ms. Reilly said. "[For the sophomores], it wasn't a decision. The rubric had several categories and there were four of us judging. That must have just been how the math worked out."
In addition to the dances, a sidewalk chalk competition occurred. Each class created an art piece on a square of sidewalk in front of Freshman Hill, mostly compliant with their theme for pep rally. After, judges including social studies teacher Javier Mora and visual dean Lacey Van Reeth decided rankings for each class.The seniors took first place leaving the juniors in second place and the sophomores in third.
"For our chalk piece, we were tasked with combining the 70s with our pep-rally theme of Lifeguards," visual junior Adam Herold said. "To do so, we featured the star of the movie Lifeguard, which was released in the 70s."
The highly anticipated day where the seniors get to throw it back to the 80s was a special time for those who were involved in the day's festivities, from dressing up, to the sidewalk chalk competition, to the generation dances.
"80s day is probably the most awaited day during senior year, right under graduation. We see the seniors kill the thong leotard look every year and it was surreal looking in the mirror this morning once that look was finally together for me," dance senior Emily Sweetz said. "Today I was just having fun. We put so much hard work into the dance, it was unforgettable. Getting first place was a victory well earned."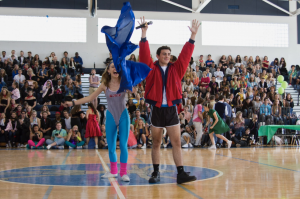 Spirit Week point totals:
Freshmen- 22
Sophomores- 18
Juniors- 30
Seniors- 42
Spirit Week ticket count totals:
Freshmen- 368
Sophomores- 421
Juniors- 586
Seniors- 627