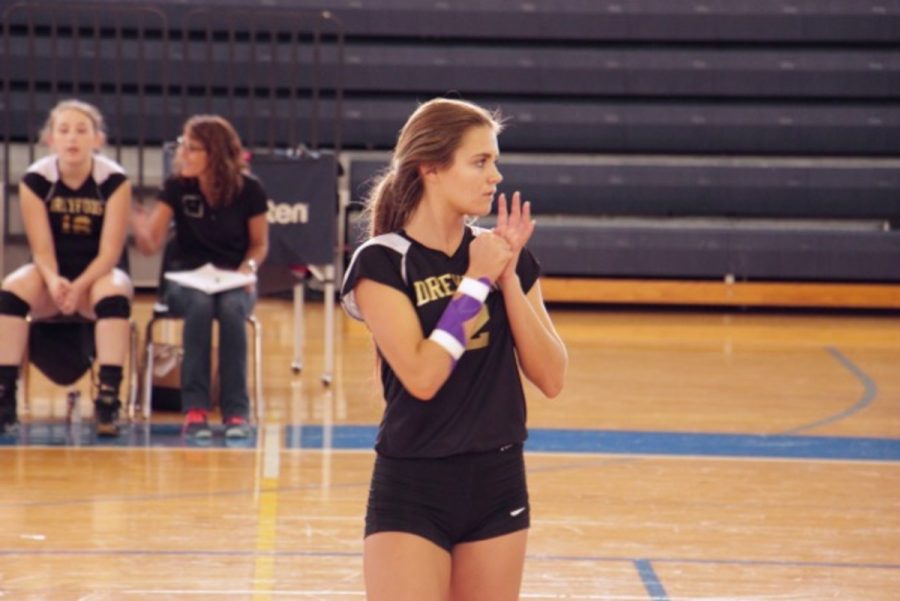 Photo by Haley Johnston
Since the age of nine, communications junior Chantel McMillan has devoted hours of her free time to volleyball both inside and outside of school. After seven years as a competitor, McMillan faces a torn ligament in her hand that pushes her to rise above her limits.
"I used to play a lot of sports when I was younger, and I was pretty athletic," McMillan said. "Then I found volleyball. I fell in love with it and stuck with it and I am hoping to play in college. I want to continue to play in the future [and] my dream would be to play for the University of Hawaii for beach volleyball."
Just after the start of her third season of volleyball at Dreyfoos, McMillan fell on her arm during a practice and now deals with the issue of a torn ligament in her hand. The injury could prove to be a possible setback to her performance level on the team. Despite the severity of the injury, McMillan decided to persevere through the pain and allowed her competitive nature to will her to participate in the season.
"I am going to play through the season with [the injury] because I hate not playing and not being a part of [each game,]" McMillan said.
The injury occurred after a long summer of playing beach volleyball. In beach volleyball, aspects and techniques vary greatly from indoor volleyball. For example, the players dive differently to hit the ball and are more reckless in their aggressiveness. In the transition back to indoor volleyball, McMillan dove like she would have on the beach, and the end result was a tear to her ligament.
"In indoor [volleyball], you have to dive a certain way and then roll over," McMillan said. "I didn't do that and that's when I tore a ligament in my hand."
As she works towards her dream, McMillan will not let her injury become a major setback. Despite the pain she may face, McMillan's competitive nature will help her overcome any difficulties that stand in her way. As a setter on the team, it will provide as an obstacle because she has to use her hands, but McMillan plans on making it through the season without letting it bother her.
"[My injury] will definitely hurt when I play because with ligaments, although they heal, you still always feel it," McMillan said. "I wouldn't see it as an obstacle though because I am always telling myself to keep going.I try to make things go by faster by working through my injury, and I will hopefully be better soon."