Racing to Regionals
Throughout the track and field season, participating team members have been practicing Monday through Thursday after school and attending numerous meets and competitions. The combined effort from both players and coaches has paid off. On April 17, qualifying athletes competed in districts at South Fork High School and many will be moving on to regionals.
"Everyone did their best," track captain and communications senior Steffan Gawlikowski said. "It was a long day; some people were out there from 11 in the morning to eight at night [but] everyone participated really well."
Many of the Dreyfoos track and field relay teams qualified for regionals. These teams are both the boys and girls 4 x 100 meter relay teams with athletes Gawlikowski, theatre junior Shahin Barzroudipour, communications sophomore Makoa Beck and strings sophomore Andrew Barrett competing on the boys team. The girls competing are vocal freshman Tori Giol, theatre freshman Madison Burmeister, visual seniors Maria Saavedra and Nadira Davis. The boys 4 x 800 meter relay team with runners communications senior Adam Kelly, vocal freshman James Jean, vocal junior Jacob Crossey and theatre senior Andrew Borell also qualified for regionals. In the girls category, both the 4 x 400 meter relay and 4 x 800 meter relay teams qualified to move on to regional completion. Competing in the girls 4 x 400 meter relay was visual sophomore Sophia Beaubien, Saavedra, Burmeister and communications junior Naomi Kelly. Female athletes on the 4 x 800 meter relay team included Beaubien, Burmeister, visual junior Heather Hart and Kelly.
Gawlikowski  placed second in districts in the shotput event, with a throw of 39 feet.  He will be competing at regionals for this event with the 4 x 100 meter relay race.
"I qualified for two out of four of my events," Gawlikowski said. "I could have qualified for the 300 meter hurdles. The top four go, I was in third place and over the last hurdle I did two flips [over the hurdle] and I fell. That was my favorite event and I came in seventh."
Those on the track team who qualified at districts this past week will continue practicing for the upcoming regionals competition that will take place on Thursday April 23 in Miami.
About the Writer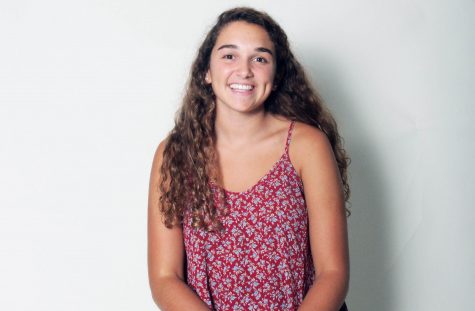 Alana Gomez, Assistant Managing Editor
Communications senior Alana Gomez is a third-year staffer and Assistant Managing Editor on The Muse. Apart from her love for journalism, Gomez also writes...