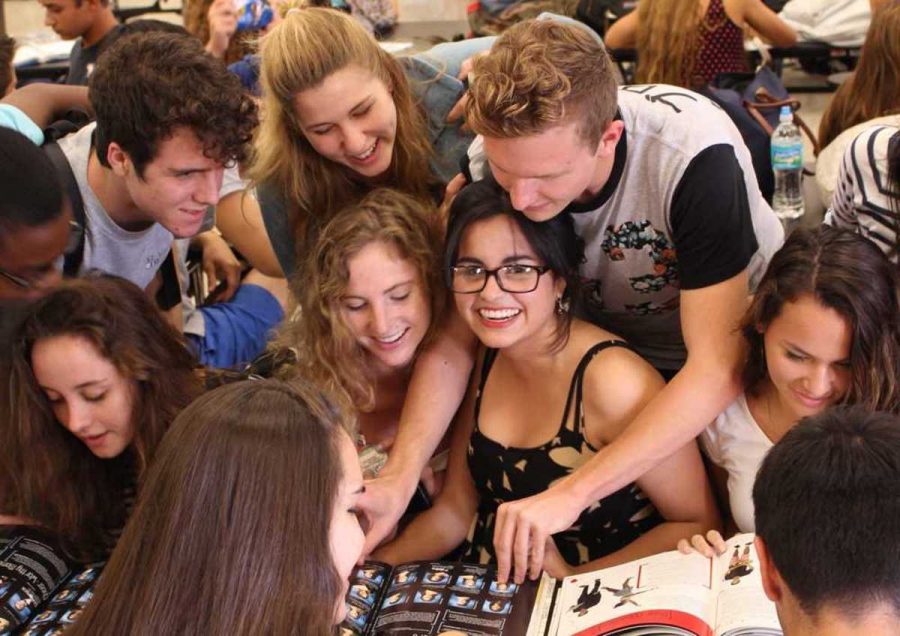 by Elizabeth Lane
Meeting visual senior Helen Morales is like knowing her your whole life. She gives off a sense of innocence, as if she is in her own world. She is uninhibited, approachable and confident. Her dresses whirl around with her laugh when she walks. She is vintage, '80s vintage. Her photographs discern beauty from the ordinary and her strong human instincts reveal compassion and truth. She loves to paint. During lunches you might find her in the back of the video-editing suite or in a corner room in the media center. She has long dark hair and bangs that match her whimsical personality. She is witty, verging on satirical at times. Fads and materialism do not concern her. She has a stable friend group. Her smile is her redeeming quality. She is just another Dreyfoos student.
Except Helen is homeless.
How it started
"My mom kicked me out in December on my birthday," Helen said.
An argument with her mother escalated until all of their sentiments and outrage from the past year, a difficult year, finally came spilling out.
"She was calling me names and saying really mean things about me which were false," Helen said. "I said 'I hope I don't grow up to be like you.'"
The night ended in Helen retreating to her father's house after her mother kicked her out in the midst of the argument.
"I called and I said 'what time should I come back?'" Helen said. "And she said I wasn't allowed to go back."
And then seemingly simple things became a concern. Helen's father had roommates and financial problems, so staying with her father was not an option, leaving Helen alone with nothing.
"I think I was in shock mode for a couple days, it was like a blur. I was just in bed and couldn't function," Helen said.
Helen was forced to make a plan with limited resources and alternatives. She did not have a job and had left most of her things back at her aunt's house.
"It was just basically really hard because you don't have a parent by your side and you feel abandoned," Helen said.
Getting Help
Asking for help was difficult. Independent and stubborn, it was hard for Helen to admit to others that she needed assistance: a pair of shoes, a meal, school binders, homework extensions, a place to stay.
"I've been learning that when I need to, I should ask for help," Helen said.
From the outside, there are no signs that Helen's home-life is rough. She always seems happy and put-together. According to The Palm Beach School District, there were over 3,100 homeless youth in the 2012-2013 school year. Dreyfoos is viewed as an enclave from violence, vulgarity or poverty, which is why any abnormality causes alarm. We do not realize that among us, in our community here and at large, students suffer from difficulties most cannot imagine, or even notice.
"A good majority of my friends don't know what I'm going through, but I like that because it's like nothing changed," Helen said.
A condition does not define a person, it does not override all the traits and tiny details that add up to who they are. But somehow this label holds a hefty presence. Homeless.
"I don't like labels in general because there is always more to a person than a label," Helen said. "So I guess maybe I'm just not comfortable with the fact that I'm technically homeless yet."
Social studies teacher Thomas West was one of the first teachers that she told.
"She was looking down. I asked what was wrong and she told me the whole story. She was homeless, had nowhere to stay, no funds," Mr. West said.
Mr. West along with Ron Gambilati collected funds to buy Publix gift cards for Helen. They also eased her academic stress as Helen adapted to all of her new changes by extending a few deadlines and accepting late work.
"It was a stressful, emotional roller coaster ride, and on top of that I had to do all this work," Helen said. "It was hard for me to even concentrate when so much was going on."
Helen is enrolled in the McKinney-Vento Homeless Education Program set up to help students remain in the school system. The School of the Arts Foundation, Inc. (SOAFI) was another resource for her, supplying baskets of food, school supplies and even her prom dress.
"If I need something usually I can just call them, which is the same with my teachers. But I tend not to ask for things and try to get by with what I have," Helen said.
Helen had been confiding in her close friends visual senior Emma Ely and digital media senior Meredith Padgett.
"Helen told me about her mom in late December and nobody else really knew. I was just bringing her clothes and helping her with school stuff while she lived on her dad's couch," Emma said. "But that really wasn't a good situation and so Meredith and I went to Cris.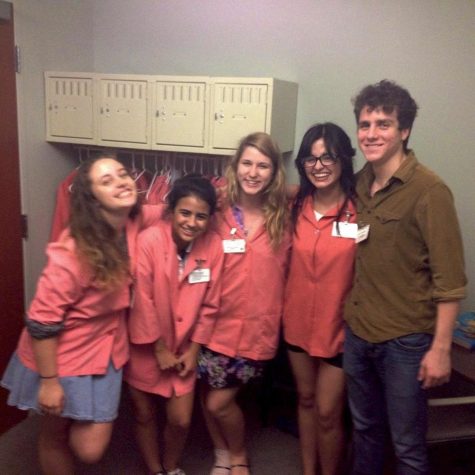 Cris
Theatre senior Cristofer (Cris) Carianna is best friends with the two, and because neither Emma nor Meredith were able to take Helen in, they turned to him.
"So many people helped me with everything, Cris especially. He gave me his home and his family when I needed it," Helen said.
Cris moved his clothes to a cabinet in the living room and would sleep on the couch from then on.
"My best friends knew her, but more than that it seemed like the most immediate thing to do. I knew she was really nice, but regardless, it's the fact that she needed help. It made sense," Cris said. "I think anyone would do it. I was getting bored of my room, anyway, and the couch was more comfortable."
In allowing Helen to move into their home, Ms. Ember Carianna wanted to make sure it was a good situation for everyone, especially because of her 14-year-old daughter Sofia. Over time, Helen and Sofia have grown to be like sisters; their nicknames for eachother are 'Lil S' and 'Big H.' The change became another significant shift for Helen, who suddenly found herself part of a stable atmosphere again accompanied by family dinners and responsibilities.
"I really liked that Cris and his two friends cared enough about her to try to figure out a way to make her needs met," Ms. Carianna said. "[At first] I asked a little less of her because I knew she was a little traumatized by a lot of her experiences, I did not make her do many chores, but once she stayed longer she integrated and became a part of the family."
During all that was happening, Helen still had to worry about typical senior responsibilities: applying to college, finding scholarships, making deposits to schools. Cris and Ms. Carianna eased her transition by helping her throughout these processes.
"I think my moms treat her like a daughter now. They're supportive and worried about how she's doing," Cris said.
After a period of silence, Helen's mother finally reached out to her.
"Once I moved in to Cris's house she realized I found a family," Helen said. "I felt comfortable and that's when she called me and said she wanted me back."
But Helen would not readily forgive her mom for the troubles she put her through this year. She was comfortable with her progress, she had the Cariannas and she knew that her mother was still in an unstable position without a home of her own.
"It's still something that I'm getting over. I love her but my mother is hurting a lot and she is hurting me," Helen said. "At the same time, I don't feel homeless as much because I have Cris's family, which I consider my extended family."
Helen's Mother
Helen used to tell her mom everything, about her days and her friends at school. It was like any typical mother-daughter relationship, except her mom was somewhat domineering and present in her decisions. She set strict rules like not allowing Helen to spend time with friends she did not know. Paranoia promoted a controlling force in Helen's life.
"In the Hispanic culture a strict mother is very common, it's a norm," Helen said. "My brother went through a rough patch in his high school years and so I guess she thought I would too and she feared that."
Helen moved nine times in the past year. Her mother's relationship with her fiancé was strenuous—they were constantly moving in and out of his house and Helen felt her mom was changing because of him. Still, Helen and her mother's separation was a surprise to all.
"Her mom is my aunt and I knew she was very overprotective and didn't let Helen do a lot of things, but I would never have expected her to kick her out," Helen's cousin band sophomore Geronimo Morales said. "I feel she was selfish, not a bad mother, but an adamant person. She didn't give a lot of freedom."
The strict, influential character of Helen's mom may have taken form because of her past. She was forced to be an adult and mother when neglected by her own parents at a young age, and was affected by many other hardships that followed, including the rough patch with her son.
"My mom was abandoned and she had to take care of her younger siblings in Peru, a third world country," Helen said. "She became a mom at a very young age and she has grown up to be a mom."
Her mother had a difficult life, and adversity turned into anger. Helen was a second chance, a chance that she took control over in its entirety.
"Although I no longer have a place I can call home, my identity rests firmly and happily on one fact, I am myself, my own creation, even though I will always be my mother's daughter," Helen said.
Even though they share their differences, the close relationship they always had is not erased because of what ensued this past year.
"I love her, but my mother is hurting a lot and she is hurting me. Only she can change herself and only I can move forward in making my own choices," Helen said. "I respected my mother so much that I feared her."
Margie
The Cariannas live in a small neighborhood— everyone knows each other. It is a community where both Emma and Meredith live as well. One of their neighbors, Margie Yansura, does public relations for SOAFI and opened her home to Helen.
"She would call me saying if I need a place, she's always there," Helen said. "But since I was with Cris, I didn't need one yet."
Although the Cariannas were willing to let Helen stay for the whole year, sharing a room was difficult. Helen would have her own space at the Yansura's and would still be surrounded by friends. She decided to make the twenty-third move of her life.
"I heard many good things about Margie, so I gave it a go," Helen said.
Helen is thankful for the room Margie gave her, along with offering help with scholarships and essays.
"Even though I live with this couple, there is not a lot of interaction," Helen said.
All of Helen's problems were not solved now that she had a place to stay. She has to worry about other things, like paying for groceries. The Yansuras help out in this area. According to Margie Yansura, the family offers to buy food for Helen, invited her to church and included her in family dinners. They also helped Helen purchase a dress, shoes and flowers for prom.
"I applied for things to help me through the future and I don't really spend any money on clothes," Helen said. "I now know [that] unless you have strength of character and integrity, [material] things do not matter."
The house is large with old Florida charm. Helen lives by herself on the third floor.
"We aren't her parents," Margie said. "We're just trying to help her have a place to stay and help her with things any student may need."
Although Helen has all the luxuries of the Yansura's home, she has to worry about necessities. Helen sometimes stops by Emma's or Cris' house for dinner or groceries. Her friends also help in other ways, such as with clothing, homework help or car rides.
"We were more nurturing in the short term because we were concerned," Cris said. "But it's good, [Helen is] practicing how to be an adult."
The future
Helen's mother relocated to New York, and Helen is ready for her future. In the fall, she will leave Margie's and move to Seattle where she will attend Cornish School of the Arts, where she was given partial financial aid. Helen intends to major in psychology to become a children's therapist.
"Where most people would sit down and cry she's really taken the initiative to make sure she can move past this: to make sure she has a future," Helen's best friend Anna Dominguez said. "She was basically shoved into adulthood but I think she really rolled with the punches and landed on her feet."
CLARIFICATION
This is a clarification of information used in a print version of this story in The Muse and in an earlier version of this story on themuseatdreyfoos.com
The original story reported that the Yansura family provides Helen Morales with "shelter only." According to Margie Yansura, the family "offers to buy Helen any food she wants, has thrown parties and after-school get-togethers, invited her to church and other outings and included her in family dinners." The family also "helped her buy her prom dress and bought her shoes, flowers for prom and paid to have her hair done."
Helen Morales is enrolled in the McKinney-Vento Homeless Education Program set up to help students remain in the school system. According the Palm Beach County School District, "The McKinney-Vento Homeless Assistance Act ensures educational rights and protections for children and youth experiencing homelessness." The Yansura family is not involved with the McKinney-Vento Homeless Education Program.

Information about the scholarship fund will be updated as it becomes available.