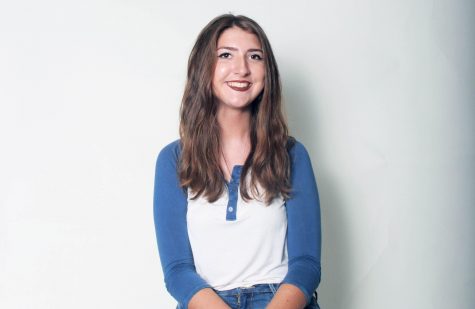 Communications senior Lexi Marcellino is a third-year staffer and the Head Copy Editor on
The Muse.
She has a passion for news writing and grammar, and has dedicated most of her free time and late nights to journalism. In addition to being involved in
The Muse
, Marcellino also has a passion for creative writing and working with Teens Against Domestic Abuse, a club she co-founded with other students. Outside of school, one can find her taking advantage of Panera's free wifi and cradling a cup of coffee. Marcellino has spent the last two summers learning more about publishing and journalism. In 2015, she interned in the graphics department of the Palm Beach County Sheriff's office, and the following year she became an alumna of the Washington Journalism and Media Conference, where she worked with student journalists from around the world, as well as esteemed figures such as National Geographic Editor-In-Chief Susan Goldberg and Photojournalist Carol Guzy. She is also the recipient of a Scholastic Art and Writing award, as well as two
Palm Beach Post
awards. In the future, Marcellino hopes to pursue investigative and political journalism, and move to Washington D.C. to work on a large publication.
Lexi Marcellino, Head Copy Editor
Jan 29, 2017

DREYFOOS MULTICULTURAL SHOW

(Story)

Jan 21, 2017

Seniors Showcase at the 4×4 Show

(Story)

Dec 19, 2016

Is Buzzfeed Ruining Journalism?

(Story)

Dec 13, 2016

Fantastic Beasts and Where to Find Them Review

(Story)

Aug 13, 2016

"Harry Potter and the Cursed Child" review

(Story)

Jun 12, 2016

Cole Sprouse's master works

(Story)

May 30, 2016

The benefits of pets

(Story)

May 28, 2016

The "Cliché" Anthology

(Story/Media)

Apr 26, 2016

Piano students end year on high note

(Story)

Apr 25, 2016

"Miitomo" Madness

(Story)

Apr 19, 2016

"Unbreakable Kimmy Schmidt" Season Two Review

(Story)

Apr 09, 2016

Artist Spotlight: Alex Turner

(Story)

Apr 01, 2016

Taking a look into the 4×4 Art Show

(Story)

Feb 29, 2016

Pam Houston comes to inspire young writers

(Story)

Feb 24, 2016

Journalist Spotlight: Upton Sinclair

(Story)

Feb 23, 2016

People of Dreyfoos: Alumni

(Story)

Feb 19, 2016

New Artist in Residence comes to Dreyfoos

(Story)

Feb 14, 2016

'Deadpool' Review

(Story)

Feb 08, 2016

How to be single on Valentine's Day

(Story)

Jan 31, 2016

Unreleased tracks by The Front Bottoms surface on media forums

(Story)

Jan 17, 2016

A Review of "Death of a Bachelor" by Panic! At the Disco

(Story)

Dec 21, 2015

Jazz ensemble swings into Savannah Music Festival

(Story)

Nov 01, 2015

Creative Writing Craziness

(Story)

Sep 22, 2015

Major Conflicts: Students Switch Art Areas

(Story)

Sep 13, 2015

Welcoming Back Ms. Tieche

(Story)

Aug 28, 2015

Dreyfoos Says Goodbye to Ms. Gifford

(Story)

Jun 06, 2015

Visual Student Accomplishes Her Own "Sweet Dreams"

(Story)

May 29, 2015
Apr 24, 2015

Dreyfoos Debate Team Breaks to Nationals

(Story)

Apr 17, 2015
Feb 24, 2015

#SJW2015 Journalist Spotlight: Jane Mayer

(Story)

Feb 14, 2015

And you're watching, the Disney Showcase

(Story)

Jan 20, 2015

In love with the cocoa

(Story)