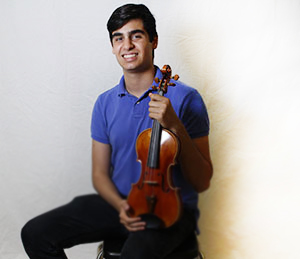 Felipe Bomeny is a Strings major and  the Op/Ed editor of
The Muse
. Bomeny has been on the Muse staff for two years, and has written for the Op/Ed and Entertainment sections.
A musician as well as a writer, Bomeny is a violinist in the Dreyfoos Philharmonic Orchestra. He has qualified for All-State four times, won Scholastics Art and Writing Awards and is currently the captain of Dreyfoos' Commissioner's Academic Challenge Team. In 2014, Bomeny helped the team clinch its first district championship in over a decade.
Bomeny is a native of Sao Paulo, Brazil, and is fluent in Portuguese. He cites his writing influences as Borges, Kundera and Kis, and intends to pursue a career in either history or English. Bomeny enjoys writing about international geopolitics, music criticism, immigration and consumerist culture.
Felipe Bomeny, Op/Ed Editor
Mar 11, 2015

A Thoroughly Modern Follow-Up

(Story)

Mar 03, 2015

Is "Thoroughly Modern Millie" Racist?

(Story)

Feb 26, 2015

#SJW15 Scholastic Court Case: Dean v. Utica

(Story)

Feb 24, 2015

#SJW2015 Scholastic Court Case: Morse v Frederick

(Story)

Feb 23, 2015

In Search of Lost Scents

(Story)

Jul 23, 2014

The Israel-Palestine Conflict

(Story)

Jul 16, 2014

Necessary Theatre

(Story)

Jun 12, 2014

An unlikely religion

(Story)

May 09, 2014

A Point on Privilege

(Story)

Apr 16, 2014

Bitcoin Demystified

(Story)

Apr 01, 2014

The truth about Quinoa

(Story)

Feb 24, 2014

On Topic of The Ukrainian Revolution

(Story)

Feb 20, 2014

Why We Should Care About Syria

(Story)

Dec 20, 2013

Hip Hop and Homophobia

(Story)

Dec 03, 2013

Get live for "GTA V"

(Story)

Nov 26, 2013

Twitter goes public

(Story)

Oct 08, 2013

Movie Review: "Rush"

(Story)