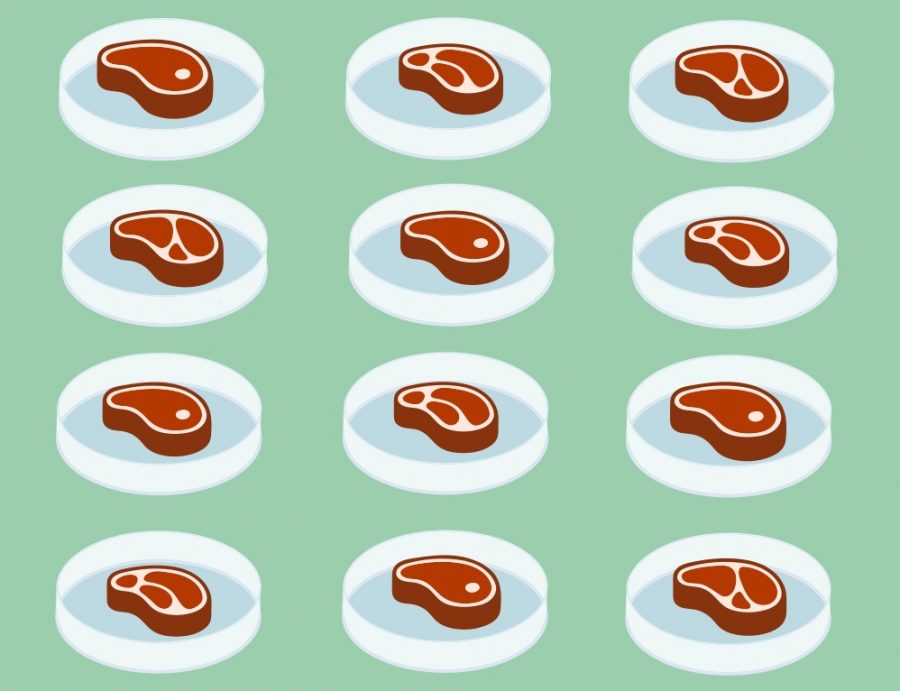 Graphic by Chloe Girod
Why bother with the whole cow when you can just grow its meat in a petri dish? That's the idea behind the new lab-grown meat industry. By the end of the year, JUST Inc. will release lab-grown chicken meat in restaurants outside of the U.S., Vox reports. They will be the first company ever to release lab-grown meat.
As someone who wants to become vegan, but loves meat too much, that's big news for me. And whether you think this meat is revolting or revolutionary—it is the future—and will benefit the environment, animals, and our health.
To make this meat, animal stem cells are brewed in a bioreactor and fortified with nutrients such as amino acids and glucose. According to MIT Technology Review, these nutrients trick the cells into believing they are still in an animal and multiplying, allowing scientists to make pounds of meat using only a few cells.
Not only is lab-grown meat ground-breaking science, but it can also help solve an age-old dilemma: the moral justification behind eating meat. Foie gras is a dish made by force-feeding ducks or geese until their livers bloat to 10 times their original size.
"It's very brutal, the way they're slaughtering [animals], and I just think that's very wrong," visual senior Lily Moore said.
JUST Inc.could fix this problem with lab-grown foie gras, for example, produced from a petri dish instead of a duck's liver, providing cruelty-free alternatives for vegetarians and vegans.
"I think [lab grown meat] would be something that I'd have to try out and know more about,"  Ana Oliva, vegetarian digital media senior said, "That'd be really cool actually."
Beyond our morals, lab-grown meat is an innovation that has the potential to save our environment. A 2011 study found that growing meat in labs would reduce the amount of land needed to produce meat by 99 percent and reduce the associated need for water by 90 percent, according to The Washington Post.
This would have a lasting impact because of the immense amount of resources it takes to produce traditional meat. Just one pound of beef takes 1,799 gallons of water to produce, and about 80 percent of agricultural land worldwide is used for feeding livestock, according to the Worldwatch Institute.
The potential health benefits of lab-grown meat are also extraordinary. Through gene manipulation, you can add healthy nutrients to the meat while taking out unhealthy ones.
"Stem cells are, in principle, capable of taking omega-3 fatty acids instead of saturated fats," Mark Post, the Dutch scientist who grew the first lab burger, said. "If we can tap into that machinery of the cell, then we could make healthier hamburgers."
Unfortunately, the issue with adding omega-3 fatty acids to meat is that your hamburger will start to taste like salmon, which isn't the most appetizing thought. Even so, scientists are confident that the right balance can be found and lab-grown meat can be made healthier and without any difference in taste.
If lab-grown meat is comprehensively used, it will practically eradicate meat-borne disease, like the 2015 E. coli outbreak from the Chipotle meat. This is because it's produced in a sanitary environment.
Growing meat in a lab also means there's no need to use antibiotics. This is crucial because according to the FDA, these antibiotics are causing "multidrug-resistant pathogens" to form in meat. Essentially, when these pathogens are eaten by humans, they cause disease that we may not be able to treat.  
"The amount of toxins that are in the body of standard meat is just insane," Oliva explained, "and then you're consuming [meat] and it's affecting your body."
Despite these benefits, the political battle over lab-grown meat continues. While this meat will be eaten outside the US this year it could take years before the FDA approves this meat. In the meantime, Missouri, one of the biggest meat producers, has banned companies from calling lab-grown meat, meat. Essentially the meat industry's holding back this innovation. Additionally, people's reservation against eating anything made in a lab will always be present.
"I feel like I'd be skeptical about it just because of the amount they don't tell you, so who knows what they're putting in your meat," digital media senior Laura Cuz said.
But, despite our qualms, lab-grown meat will continue to become more accessible and delicious, and I can't wait to try it.