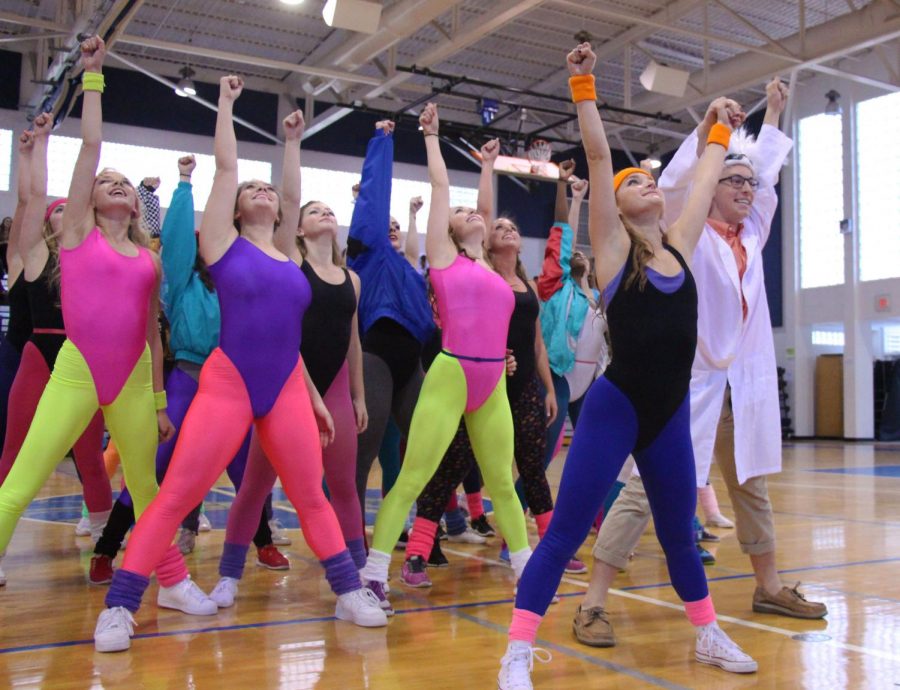 Photo by Jade Lenkersdorf
It's a well-known fact that everyone in the '80s wore thong leotards and brightly colored tights.
At 11:59:59 on New Year's Eve 1979, Haight-Ashbury hippies quickly shed their bell bottom jeans and peasant tops and threw on fluorescent, skin-tight pants and a leotard to match. It was the start of a new decade and they wanted to show it, nay, flaunt it, in the most extreme way possible.
We must let the history speak for itself, and because of this, it is perfectly normal that Dreyfoos seniors take Generation Day all too seriously. However, I do understand that without knowing the story, it would seem preposterous for a school to allow students to dress this way, or why senior parents let themselves be blinded by lemon, lime, and fuchsia colors one Wednesday a year.
At our school, the propaganda begins freshman year. As rosy-cheeked 14-year-olds personifying "Grease", we spot those three years above us sporting looks as bright as an Andy Warhol pop art piece. They jump on the gym floor, "jazzercise-ing" it up to Flashdance's "She's a Maniac"; each one dressed in a similar, if not the same, getup.
It seems it was only yesterday our "jazzercise" was running on the high from the points we scored at the Fall Festival, but as soon as late January hits, we seniors are trapped in a zone of societal and peer pressure. What will happen if we don't wear the traditional '80s clothing? It can happen quickly and insidiously, similar to a zombie apocalypse, if the zombies wore bright leggings and thong leotards, that is.
Then, before Spirit Week, questions begin to particulate: Where do people get these outfits? Does this happen every year? (And, maybe most importantly): Whose mother would let them to leave the house like that? Soon enough, senior class after senior class has allowed the combination of thong leotards and neon tights become enigmas in themselves.
Instead of adhering to what past classes have done, why don't we start our own tradition? Let's draw lightning bolts on our faces like David Bowie, wear huge glasses and bright suits like Elton John, or wear one earring like George Michael of Wham!.
Awareness is the first sign of obsession, but maybe "obsession" is too slight of a word. Seniors' clothing choices on '80s day is recognizable now as a historical emblem of commercialism without compunction or bounds. It's the transformation of an illusion from the 20th Century, one we've followed for maybe too long. Why don't we leave our "jazzercise" gear in the past, too?