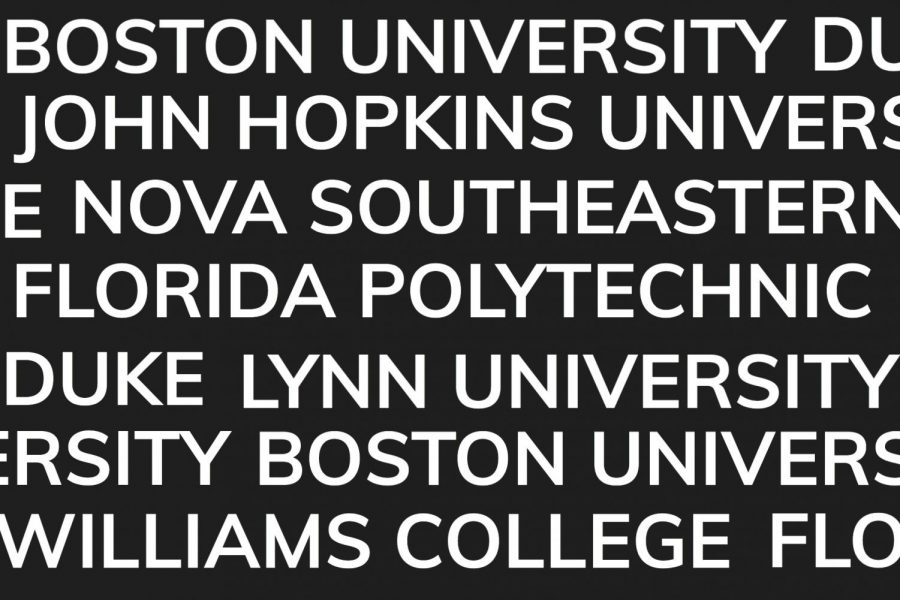 Amanda Cohen
 As college applications go live and admission deadlines inch closer, there are many resources available for those involved in the application process, including college fairs, university visits, "coffee talks," and application bootcamps. Look below for our guide to upcoming opportunities and resource centers. 
PTSO College Fair 2019
   This is a major event that showcases different university options. This event is scheduled for Oct. 18 from 5–8 p.m. in the gym and will showcase schools like the University of Florida, Tulane University, Pennsylvania State University, and more than 100 other colleges. For a complete list of attending schools, click here. 
"Coffee Talks"
   Another program is the guidance department's coffee talks, aimed at informing parents about the general admissions process. They have discussed both the college selection and application process as well as financial aid resources available. To view their PowerPoint presentations and get more information, click here for the college selection and application process lecture and here for more financial aid information.  
ACT/ SAT Prep
   Even if it isn't a student's senior year, it is never too early to start preparing for college. An integral part of this process is how students prepare for the ACT and SAT standardized tests. The PTSO has posted about Revolution Prep, an online resource that helps students get ready for these tests. For students deciding to decide which test is right for them, here are the key differences between the two: 
The ACT has a science section, while the SAT does not.
On the SAT there are two math sections, one with a calculator and one without. On the ACT there is only one math section, which a calculator can be used on. 
The SAT allows for more time per question.
College Visit Schedule 
   Students who have already taken advantage of these college visit programs describe positive and helpful experiences. 
   "Being able to be in [a] small environment with a Johns Hopkins representative who is super familiar with how our school works is super beneficial," communications senior Ali Hussain said. "It's a great opportunity for students who don't have the opportunity to go out [to the schools]." Not only do these visits aid in providing an alternative to on-campus visits, but they also help with the general decision-making process.
   "I went to a bunch of college visits last year [at Dreyfoos]," visual senior Ana-Gabriella Thomidis said. "They really helped me rule out [schools]. To be honest, visiting colleges is really expensive. So when they [can] come to us and give us their spiel, it really helps narrow down our list."  
To attend one of these visits, register on Naviance.   
Date
University
Time
Place
Grade levels allowed to attend
Registration deadline
9/24/19
Binghamton University
9:00 AM
Media Center
11th, 12th
9/23/19 by 9:00 AM
9/25/19
Florida International University
9:00 AM
Media Center
All
9/24/19 by 11:00 AM
9/26/19
Florida A&M University
11:00 AM
Media Center
11th, 12th
9/25/19 by 11:00 AM
9/27/19
Florida Gulf Coast University
11:00 AM
Media Center
11th, 12th
9/26/19 by 11:00 AM
9/27/19
University of Central Florida
11:20 AM
Media Center
All
Don't need to register 
9/27/19
Washington and Lee University 
2:00 PM 
Media Center
All
9/27/19 by 4:00 AM
10/1/19
Florida State University
9:00 AM
Media Center
11th, 12th
9/30/19 by 9:00 AM
10/2/19
Brown University
9:00 AM
Media Center
11th, 12th
10/1/19 by 11:00 AM
10/2/19
Belmont University 
10:00 AM
Media Center
All
10/2/19 by 12:00 PM
10/2/19
Hofstra University 
11:20 AM
Media Center
All
Don't need to register 
10/2/19
Elon University 
2:00 PM
Media Center
All
10/2/19 by 4:00 AM
10/4/19
The University of Alabama
11:20 AM
Media Center
All
Don't need to register 
Additional helpful resources:
Mr. Mark Carson – School Counselor
561-802-6014
10th – 12th Visual Art, Digital Media 
Mrs. Olga K. Middleton – Director
561-802-6010
10th -12th Keys, Strings, Vocal, Band
Mrs. Georgia Mounce – School Counselor
561-802-6008
10th – 12th Dance
 Mrs. Rachelle Nicholas – School Counselor 
561-802-6022
10th -12th Communications & Theatre
Ms. Laura Tomasello – School Counselor
561-802-6009
9th grade
Mr. Brian Ross- College Advisor
561-504-1199
All grades