ARE STUDENTS FINANCIALLY LITERATE?
Visual sophomore Michelle Serafimovich is a straight-A student, enrolled in three Advanced Placement (AP) classes, and fluent in two languages; however, when faced with the question, "How do you balance a checkbook?" she is incapable of articulating a clear answer.
"Students need to know how to be able to manage their finances so that they don't end up in debt," Serafimovich said. "Honestly, I really don't have any idea how to handle money or take care of myself financially in any way, and the school hasn't provided any education on that topic for me."
Serafimovich is not alone in her economic uneasiness. In 2017, the Program for International Student Assessment (PISA) released statistics showing that one in five U.S. teenagers "lack basic financial literacy skills." Student fiscal capabilities vary, emphasizing the importance of financial education in high school.
"Financial education is important so that kids don't come out of college and find themselves in a hopeless situation," band junior Brendan Arp said. "Colleges have gotten a lot more expensive, and also living in general. If you aren't watching it and you aren't managing it, your finances can get really out of hand, especially now."
Currently, those wishing to study the subject have a few different options. One choice is to enroll in an AP or honors semester-long economics class, which includes a period of instruction about financial literacy. Another option is to sign up for an online personal finance course available through Florida Virtual School. In order to graduate, according to state requirements, students must complete a half credit economics course.
"I don't think the schools have done a tremendous job, in the 40-plus years that I have taught, of incorporating [financial literacy] into the curriculum," social studies dean Tom West said. "Because there are so many things that have to be done, we assume that the parents are doing it. The state has addressed this, and we are doing what we can to make them, at least, semi-literate."
Although there are financial literacy course options available in high school, some argue that an economic education should be taught in schools from an even younger age, and statistics support this notion. According to the Financial Industry Regulatory Authority's Investor Education Foundation (FINRA), students who are required to take personal finance courses throughout their lives have better average credit scores and lower debt delinquency rates as young adults.
"I tell my seniors that there are only two classes in high school that they will use every day until they die: English and economics," Mr. West said. "We teach 12 years of English in American public schools, and we teach one half of one semester of financial literacy. This is why we need to expand the curriculum."
Additionally, everyday financial exchanges are not the only fiscal struggle students may soon face. As of 2017, student loan debt is the second highest consumer debt category, behind only mortgage debt, and higher than both credit cards and auto loans. According to Mr. West, "99 percent of Dreyfoos' student will go off to college, most of them taking out loans." Without background knowledge of personal finances, it is possible that students may be sentencing themselves to a life of debilitating debt.
"When students are taking out money for college loans, they haven't really learned to understand what kind of commitment it is," vocal senior Adrianna Sabat said. "I feel like the banks don't make them understand because they don't care. Whatever happens, they're still going to get their money back somehow."
Despite the educational deficiency in personal finances, there are a number of concerns regarding teaching approaches to the subject. Personal finances are personal, and each family or individual may have their own beliefs or opinions regarding the subject—this creates difficulties in formulating a standardized curriculum.
"The schools can teach on the topic, but it can't be the responsibility of the teacher to divulge their private information and the issues they may have had with debt, or even ways that they have been successful in managing their money," math teacher Chris Coombs said. "That would be crossing a line that could lead to uncomfortable situations for the teacher."
While these obstacles make it difficult to implement a comprehensive financial literacy class in school, some advocates propose that the subject be interwoven with mathematics courses, or even certain social studies classes.
"I do hope for the future that they begin to make a push for more finance in math classes," math teacher Craig Adams said. "But for now, I just make sure my students see as much of it as possible and recommend that they at least take economics as an elective."
Many Dreyfoos students and teachers feel that financial literacy is a subject that has been neglected in the education system. No matter the way in which the subject is taught, they believe that students want, and need to be economically educated.
"You don't want the rug being ripped out from under you, you don't want to fall through the cracks and have to build yourself up again," Sabat said. "You want to have stability and knowledge. My biggest fear is being in debt and it made me realize that I need to start investing and saving now, and the more people who understand that, the more successful our generation will be."
About the Writer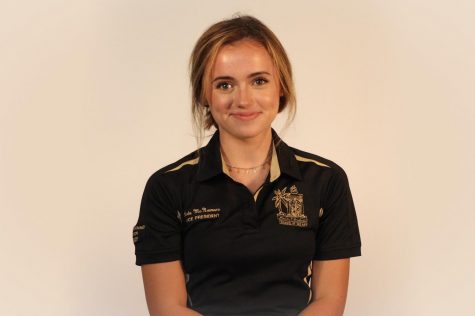 Kate McNamara, Editor in Chief
Communications senior Kate McNamara is a third-year staffer and one of the editors-in-chief of The Muse. McNamara is also one of the vice presidents of...