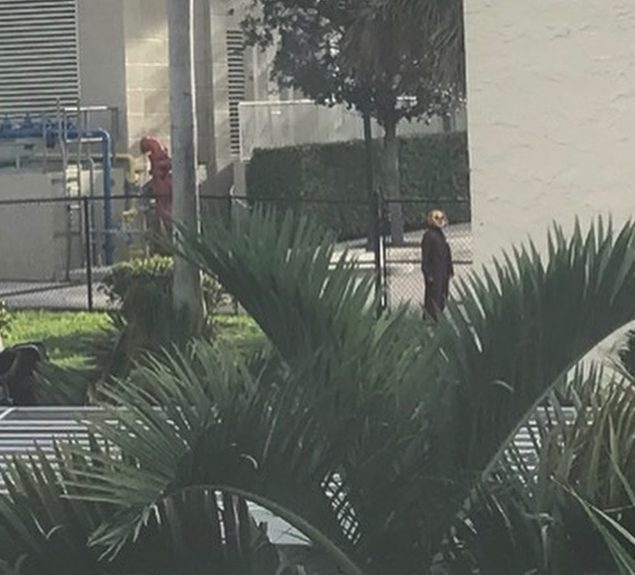 Dreyfoos experienced a clown scare Oct. 4, after a picture circulated amongst students over social media during the days prior that depicted a clown standing outside the fence near Student Services in Building 1. The photo, quickly confirmed by a student to be photoshopped, alerted the campus police officers, as well as West Palm PD, who investigated the incident and confirmed it to be a hoax.
Students reported seeing police officers walking along the perimeter of the school and questioning students. The image made its rounds on Snapchat, Twitter, and Instagram during second period, spreading throughout the student body before being officially reported to the police and District investigators. Prior to the picture being uploaded on social media, parents of students in the county were called in the morning to be reassured that everyone was safe, and business would go on as usual. According to The Palm Beach Post,  this followed threats made Monday night on Instagram towards multiple schools across the county. The Sun Sentinel has stated that these schools were Atlantic High School, Carver Middle School, Odyssey Middle School, Santaluces High School, and Village Academy.
Though a hoax, this incident follows a string of eerie clown sightings witnessed across the country over the past few weeks, with multiple instances being reported across the country of people witnessing clowns walking around and scaring people. Some even believe the nationwide ordeal is an elaborate publicity stunt for the remake of Stephen King's It, set to hit theaters next year. The school district has said those found behind these threats will face criminal charges, citing that a disruption of school activity is a criminal offense.
The image has already become its own meme on social media, with badly photoshopped cartoon clowns on a picture of the Dreyfoos campus being posted on multiple social media accounts.