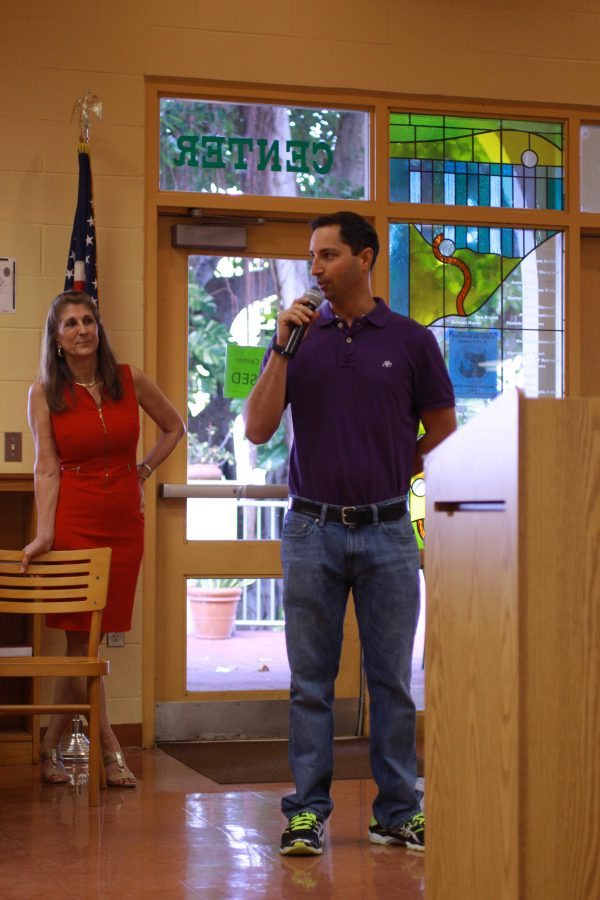 Photo by Jade Lenkersdorf
After teaching at Dreyfoos for many years, science dean Stephen Anand has been awarded the prestigious Palm Beach County Teacher of the Year Award. A combination of faculty at Dreyfoos and district staff members nominated Mr. Anand to be among the teachers who won from each district in the state.
"It was quite a surprise to see a camera team rush into my classroom as I realized what was happening," Mr. Anand said. "I was overwhelmed, shocked, and humbled to be awarded such a great honor."
The award was given to Mr. Anand on Tuesday, March 15. A faculty meeting was held in the media center during lunch where Superintendent Robert Avossa made an appearance and spoke to the staff.
"As a lifelong educator, I'm always thrilled when we get to announce teacher of the year," Mr. Avossa said. "[Students] won't remember the formulas you give to them, they will remember the inspiring hope you give them everyday."
Now that he has won on the county level, Mr. Anand is automatically entered in Florida's Teacher of the Year Award competition. Mr. Anand was the teacher chosen to represent Palm Beach County out of all of the elementary, middle, and high school teachers that applied.
"Every single elementary, middle, and high school in Palm Beach County chooses a teacher to apply for this award," Assistant Principal Corey Ferrera said. "The fact that Mr. Anand was chosen for this award is a huge honor and it brings a lot of positive recognition to [Dreyfoos]."
Mr. Anand gives credit to his students and the faculty here at Dreyfoos for the win, believing they have had a great impact on his teaching career.
"This is the Dreyfoos family and I wouldn't be here without [the staff]," Mr. Anand said. "Were it not for them, I wouldn't be able to achieve this and that is such a great honor."