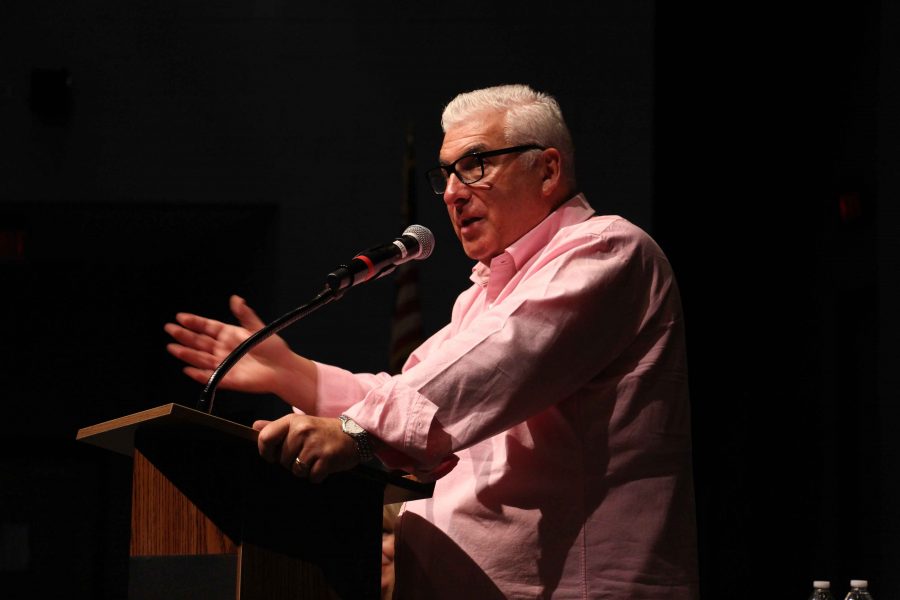 Photo by Jade Lenkersdorf
The father of deceased singer Amy Winehouse made an appearance here at Dreyfoos on Tuesday, Jan. 26 to discuss The Winehouse Foundation, an organization that is trying to combat drug and alcohol use in young people's lives through music and other forms of therapy. The organization began after Ms. Winehouse passed away from accidental alcohol poisoning on July 23, 2011.
The foundation attempts to fight issues like addiction to drugs or alcohol, gangs, and peer pressure with types of therapy such as music therapy. The foundation has become a worldwide organization and has helped thousands of students with music. They would like to have a permanent presence at Dreyfoos to make sure all students are hearing their message and staying on track.
During the presentation, Mitch Winehouse, Ms. Winehouse's father, discussed Ms. Winehouse's life, including her addiction to drugs, aspects of the foundation, and the difficulty of getting through the death of their daughter.
"I hope that none of you are in that situation," Mr. Winehouse said. "We're used to losing our parents, we're used to losing our grandparents, but not our own children. It's awful. But somehow we made our way through it and created the foundation."
Mr. Winehouse discussed the recent movie "Amy" that takes a closer look at his daughter's life and talked about how there were many differences from the truth. For instance, he expressed the importance that she was in fact off of drugs for the last three years of her life, including the days leading up to her death.
"We don't want to rewrite history. We don't want to say she wasn't a drug addict, because she was. We want to show she is more than that," Mr. Winehouse said.
One of her father's partners, Paul Rubin, also made an appearance. Mr. Rubin is a former drug and alcohol addict who joined the foundation to help make a difference in kids' lives and share his story.
"I embrace the foundation and everything that it does, and I would like to see the foundation do stuff at the Dreyfoos school that has never been done before," Mr. Rubin said.
Mr. Winehouse says he came to Dreyfoos because he wants to keep the students motivated and working hard.
"Amy would love to come to a school like this," Mr. Winehouse said. "She went to a stage school, Sylvia Young stage school, [and] it wasn't anything like this, you know, this is fantastic. The kids here are very lucky and should make the most of their opportunities."
Since the death of his daughter, Mr. Winehouse has made it his mission to prevent hardships like the addiction his daughter endured in her life.
"We felt that if we could help one young person not to end up like [Ms. Winehouse] then we've done a good job," Mr. Winehouse said.
The foundation will be hosting a small fundraiser on Friday, Jan. 29, at Neimann Marcus in Boca Raton with all proceeds benefitting Dreyfoos.