Fun fall recipies
Even though the temperature during fall rarely drops below 75, you can get into the holiday spirit by making a few healthy and fun fall recipes.  
 A great recipe to try is pumpkin ravioli. The traditional ravioli that you know and love filled with meat and cheese adds on a bunch of calories, but replacing that meaty center with a fall favorite, pumpkin, can keep this tasty meal under 200 calories. You will need: canned pumpkin, Parmesan cheese, salt, black pepper and wonton wrappers. The wonton wrappers replace the pasta, which also keeps calorie count low without sacrificing taste.
 First, is combine 1 cup of pumpkin, 1/3 cup of parmesan cheese, 1/4 teaspoon of salt and 1/8 teaspoon of black pepper. Spoon about 2 teaspoons of the pumpkin mixture into the center of each wonton wrapper. You will moisten the edges of the wrapper with water, and bring two opposite sides together to form a triangle; pinch the edges to lock in the middle contents. Next, you will place the ravioli into a large saucepan of boiling water with one teaspoon of salt; cook for seven minutes. Next you are going to place 1/2 cup of broth and 1-1/2 tablespoons of butter in a pan; bring these ingredients to a boil; put the ravioli into the pan and toss to coat. As a finishing touch, sprinkle your healthy snack with parsley.
If you are looking for a fun and low calorie desert, quick baked pears are a delicious and nutritious option.  Collect your ingredients: two large pears, two teaspoons of sugar, 1/4 teaspoon of cinnamon, 1/4 cup of sun-dried cranberries or mixed fruit, 1/4 cup of low-fat granola, 1/4 cup of apple juice and 1/2 cup of vanilla low-fat frozen yogurt (divided into four small scoops.)
About the Writer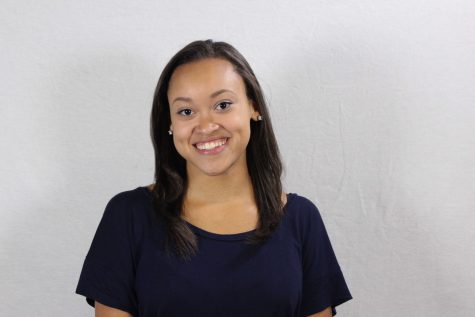 Michelle Birch, Editor-In-Chief
Communications senior Michelle Birch is a Co-Editor-in-Chief of The Muse. She enjoys writing and loves contributing to the production of the publication...