Fashionable Feeds
A Q&A with the founders of @DSOALookbook
Digital media junior Natalie Macadar and communications junior Marion Randolph started the Instagram account @DSOALookbook to showcase student style. After amassing over 200 followers in a month, the pair aspire to make their account an inclusive space for creativity and artistic expression through fashion.
Why did you decide to create this account?
Marion: Last year, before COVID-19, I was thinking that when I was an upperclassman I would start something fashion related at Dreyfoos because the fashion here is so unique. Then I totally forgot about [the idea], until it randomly came to mind again. So I texted Nat and said "Oh my God! Do you want to make an Instagram page with me?" because we both love fashion yet have such different styles. Instantly, she said "Yeah, let's do it!" and we spent the rest of the day planning it. That day we posted some of our own random fits [and announced] that people could submit their outfits to be shared too.
Natalie: I was really excited because I love fashion, and I've been exploring it a lot through [this time] as well. I loved the idea, especially, because a lot of people think of Dreyfoos as a place where people dress cool […] and I knew we had to show it off.
How did you grow your account?
Natalie: Basically, we followed all of our friends and people that we knew went to Dreyfoos, and they started following us back little by little.
Marion: Yeah, and also students would submit outfits, we would post them, and then they would repost them on their stories. So people followed us after seeing our account there.
Natalie: We also have some people who don't go to Dreyfoos that follow our account, who are interested in seeing what students here wear. That has a lot to do with our account size.
Why do you think that followers gravitated toward your account?
Marion: Students want to see what others are wearing and use it as inspiration for their own wardrobe. I'm not sure how many [incoming or aspiring] freshmen follow it, but they might reference our account to see what things are like here.
Natalie: I agree with that. People who don't go to our school also gravitate toward it because, honestly, I think many of them wish they did. It gives others a little look into our life. It makes them feel included, which is amazing.
Why do you think so many students at Dreyfoos are interested in fashion?
Marion: I think that kids at Dreyfoos know that they can be themselves, and don't care what other people think of what they wear, because fashion is such a huge element of expressing who you are.
Natalie: I totally agree with that because Dreyfoos is a school of artists. So compared to other schools that have people who dress [more conventionally], everyone here not only shows their creativity through their artform, but also through their appearance.
Why is fashion important, in your eyes?
Natalie: I think fashion is an artform. It's a way to express yourself, on yourself. You're using yourself as a canvas, but it is something that is replaceable. Unlike tattoos or body piercings or paint on a canvas that stays where you put it forever, clothing is something you put on and take off. Your body is a blank slate, and every time you put on a new outfit you make new art.
When did you become interested in fashion?
Marion: When I was in fifth grade [my school] had a little book fair. My mom was really sick at the time and she had just come home from the hospital, so I didn't have any money for the book fair. But I found this book called Making the Cut, and it was a fashion book about this girl in a design contest. I really wanted it but I didn't have the money, so my mom's friend who was there bought it for me. I read it the whole night and knew that this is what I wanted to do, that I wanted to pursue fashion as a job. Last summer I took an online class at Parsons Paris and finally got into it then.
Natalie: I didn't even know that, that's so cute. For me, though, I've played dress up forever. I also did theatre until about eighth grade and was super interested in the costumes. I've always thought I had a good fashion sense, but then I look back at what I wore in middle school and it was truly terrible. Freshman year, I was influenced by an old friend of mine who finally got me into streetwear, even though it was pink camo at first, and started exploring clothing because it made me more confident. I think when I got into thrifting my entire closet changed and I found my true style.
Do you both intend to pursue a career in fashion, and if so, what would you like to do?
Marion: I learned about the different careers I could pursue [in my class] this summer. What I would want to do is study marketing, or specifically fashion marketing, in college and maybe work with designer brands. Like, have you seen "Emily In Paris"? I would like to do something similar to what she does.
Natalie: Yeah! So I want to pursue photography, not necessarily commercial photography but rather artistic photography. Urban, street, and skate photography interest me the most, and fashion is actually a huge part of that. Whenever I take pictures, I don't like to set a lot up, but I do like to see what the model is wearing because it gives off a certain vibe. Basically, I would love to get into streetwear fashion photography in the most candid form, not just to try to sell the clothing.
In what ways do you think COVID-19 led to the formation of your account?
Natalie: In my head, if we weren't in a pandemic and we were all in school, all the [submissions] would be taken at school, from the field, in front of the garage, or in the bathrooms. Our entire feed would look the same, whereas now it's people that are in their own lives, in their own houses. So it makes the feed and the vibe messy in the best way possible.
Marion: Also, I know that a lot of people, through quarantine, have discovered their fashion sense and focused more on it. They've grown more confident and now want to share it.
Natalie: Yeah, it's been a whole year now. I'd even say I dress differently now.
Do you have any else you'd like to say?
Natalie: Find us and send us pictures! [Our account] has plateaued a bit since its start.
Marion: Plus, we have something planned that will give students more of a reason to submit. We are going to do weekly themes so students have ideas of what to base their outfits around.
Natalie: Yes! Also, we will post anything you send in, unless it's utterly inappropriate. We want to be inclusive of everyone at our school. We aren't going to judge your outfit, we just want to see what everyone wears. Even if you think it's "too basic," send it in! Don't be scared.
DM photos of your favorite outfits to @DSOALookBook on Instagram to be featured on their account. Submissions are open to all students.

Brooke DeBeer, theatre senior


Corinne McErlain, communications freshman


Axel Marquez, digital senior


Brody DeMoya, digital senior


Felipe Obando, digital junior


Gabrielle Sanchez, visual junior


Elan Warren, visual sophomore


Makila Augustin, communications junior


Nicole Biclar, visual senior


Sabine Saladrigas, visual junior


Veronica Longoria, communications junior


Hannah Braun, vocal junior


Logan Wolff, visual senior


Lucy Steigenga, communications senior


Maily Nguyen, band senior

Your donation will support the student journalists of Dreyfoos School of the Arts. Your contribution will allow us to purchase equipment and cover our annual website hosting costs.
About the Writer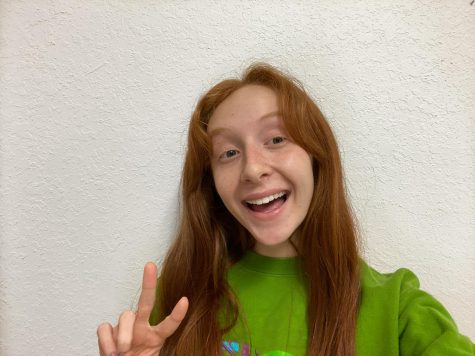 Rachel Dippolito, Writer
Rachel Dippolito is a first-year staffer and Writer on The Muse. In her free time, she enjoys listening to Grateful Dead live albums, frolicking in a field...